Ok, so it's hammering it down, as they say round these parts, and the steps up to the arena doors seem mighty long, but there's a glitterball to be won, and for this self confessed Strictly obsessor, on her seventh visit to the tour in seven years, it would take more than a bit of rain to dampen these spirits.
Strictly became something of a champion in itself this year, battering the X Factor in the ratings and taking pride of place on the weekend schedules, and I for one, was glad to see it do so. A family favourite with a bit of something for everyone, the tour is something a Strictly fan would be crazy to miss, as the beautiful sets, costumes, live music and professional dancing makes it feel like you could be in the studio, if you were one of the 4.8 million who didn't manage to get the tickets for the real thing.
Tickets aren't cheap for the super fans, with Gold Circle seats being around the £75 mark (which are for the first two rows only, directly around the floor), seats in the general tiers range around £25-£45. I've sat in most places now for these tours, and if you have the money, it's worth it to attempt to get Gold Circle, as they say, you only get what you pay for.
This year's show was presented by Mel 'from the bake-off' Giedroyc, entering popping out of a giant cake, and having seen the show in all it's forms, I have to say she is by far the best of all the hosts they've had and she is more than worthy of a mention in this review. She has a warmth about her that you cannot help to be drawn to, she clearly is a huge fan of the show and speaks to the judges and pro's with an ease and likeability that I often struggle to find in a presenter (Tess could learn a lot from her). Although it's clear that some of the jokes are tried and tested every evening, there were mistakes made (including mistakenly calling Aliona….Areola), but her ability to improvise was her strength and she had the audience on her side all the way through.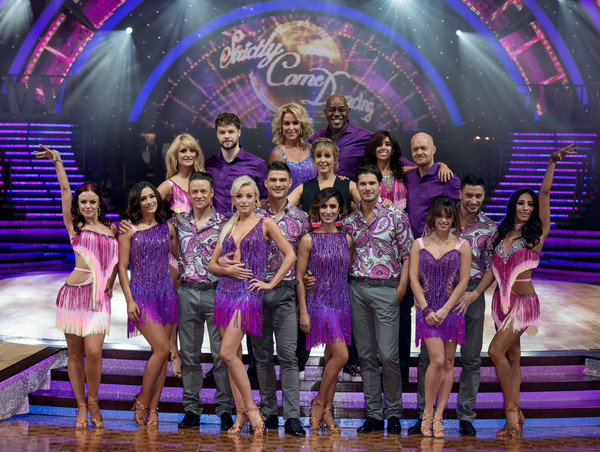 There were seven celebrities this evening, from this year's series we had Jay and Aliona, Georgia and Giovanni (openly kissing on stage during their dances much to the 'ooooh' of the audience) Harriet and Karen (due to Natalie being taken off the tour due to injury) Gleb and Anita (he was a ladies' favourite for the whole evening, realising he may as well flaunt that chest while he can) Helen and Aliash and from previous series Jake and Jeanette (what's a man to do when his TV character is in prison) and Kevin and Frankie (the Saturdays clearly aren't that busy at the moment).
The judges for the evening were Len Goodman, Craig Revel Horwood (director and choreographer of the whole tour) and Bruno Toleoni, which was a nice return from last year where only Craig was an original judge panel member.
There are a few other professional dancers, but let's be honest, no one cares about them, and at times they get in the way of you wanting to see the ones you've heard about. There's a live band, always a pleasure to hear, although the singing isn't always spot on, some singers fair better than others, 'Defying Gravity' was painful to hear, just as it was in the television show, purely as a very strong musical theatre song sang by a club/pop singer is never going to work.
At times the dance numbers have clearly been changed to accommodate the set, and having been lucky enough to attend the live series in London this year it must be daunting to the performers to go from such a small studio set to this large arena, hence the inclusion of other professionals in some routines, presumably to fill out the stage a little more (a giant ballroom floor with a central podium where most of the dances are performed).
The group numbers are always my highlight, this time revisiting a Hollywood number from the live shows, a beach themed number and 'That's entertainment' for the finale, and either they're all incredibly good actors or they do genuinely all appear to love being part of the tour and seem to be thoroughly enjoying themselves. The show is slick, professional, musical, has pyrotechnics galore, beautiful costumes and set, some impressive lifts and choreography, excellent compere (normally the part you dread but we all started to look forward to her little quips), I really never tire of this night in my calendar.
Jay and Aliona stole the show, and the glitterball, this evening, no doubt due to the fact they saved the best, their Pulp Fiction jive, until last. Gleb and his chest came a close second.
My only sadness over the years of supporting this show and tour, is that so many of the professionals now do their own shows, and I fear for the future of the tour.
In front of me sat two young girls only about nine years old, clearly loving every minute and cherishing every wave in their direction from whoever sent it. They were members of a local dance school with their logo emblazoned on the back of their jackets, and I couldn't help but be thrilled to see such young girls taking inspiration from people in the spotlight who actually had talent that they could learn from. Shows like this are rare to find, it's a cross between a concert, a dance show, a ballroom competition, a theatrical experience…….all in all, it's a one-off, there really is nothing like it.
As I headed back out into the cold South Yorkshire air, I could only hope that there will be enough professionals to make a tour again next year, those girls need something to live up to, and we need more shows like this to show them what talent really is. Keeeeeeeeep dancing people. As Brucie would say…….you're my favourite.
Reviewer: Michelle Ruse
Reviewed: 27th January 2016