"Camper than a row of tents on holiday at Butlins".
Priscilla Queen of the Desert the musical is taken from the 1994 movie of the same name and it follows the story of 3 drag queens on their journey through the outback of Australia on a bus named Priscilla to find a new venue for their act and along the way, find themselves.
From the second the show started you were transported into the camp, colourful and wonderful world that Priscilla is set in. With a huge lipstick taking centre stage and disco lights dancing lights across the whole auditorium, we knew we were in for a treat.
The show opens with the 3 Divas flying on from above stage with a wonderful version of Downtown. The 3 Divas, played by Lisa-Marie Holmes, Laura Mansell and Catherine Mort were a huge part of the show. All with huge voices and great characterisation, they helped carry the show along its journey, singing songs for the drag queens to mime along to and piece parts of the show together.
Next we meet Miss Understanding played wonderfully by Callum McDonald. Full of character and humor, this set the show brilliantly.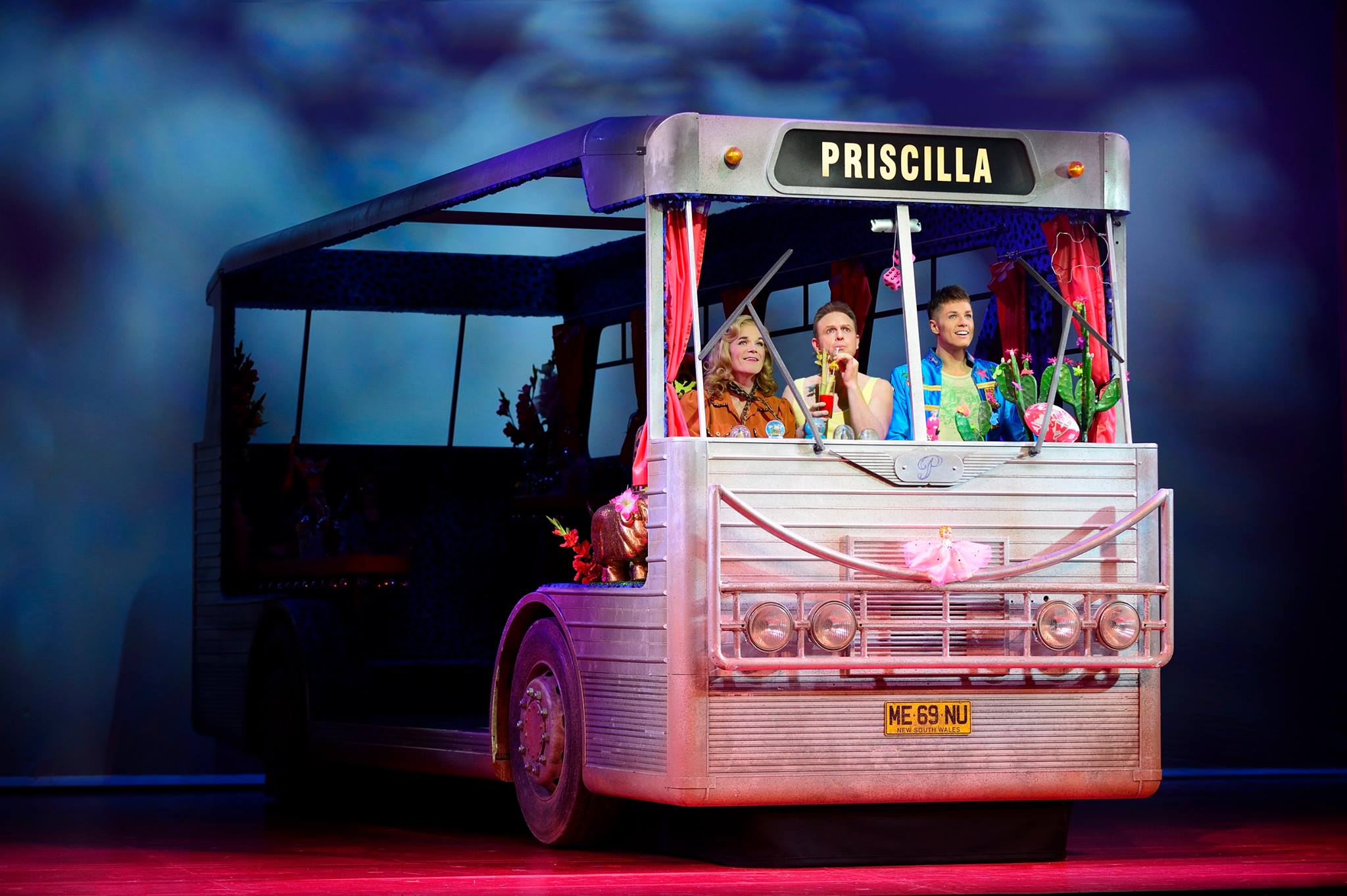 The first main character we meet is Tick (Mitzi) played by Jason Donovan. Tick seems a more complex character than the other 2 leads and was played nicely by Donovan, a character he has played both on the West End and other UK tours. Although Donovan played this part nicely, it did feel as though he was just going through the motions. I'm not sure if this was as it was the first night in the venue or he was injured, but he didn't seem to be giving 100% all the way through. He did deliver a beautiful version of True Colours and there was a touching scene with Benji, played by the wonderful Adam Beaver, which brought a tear to the eye of many an audience member.
The part of Bernadette was played by Simon Green and the part was played with perfection. Such grace when needed with plenty of comedy and a wonderful voice coupled with great moves. At times you forget it is a man playing this part.
The biggest joy of the night for me was Richard Astbury playing the part of Adam (Felicia). Due to the indisposition of Adam Bailey, Astbury was on in his place. Astbury is second understudy for this part and he gave 110% for the whole performance. It was a joy to watch Astbury in this role and his voice was stunning, especially in the part of True Colours he sang. I felt like you started to see the 3 of the lead characters really become a close unit. His dancing skills were second to none and his energy was perfect.
The whole cast gave a wonderful performance, full of energy, humour and joy, leaving me with a glow in my heart and a smile on my face.
Direction from resident Director Tracy Lane was perfect. So much happening in the background while the main action was going on so it wasn't too static on the stage. This was wonderful to see.
The choreography was so imaginative throughout the whole show. Changing from scene to scene yet fitting together wonderfully. Choreography was provided jointly by Ross Coleman and Andrew Hallworth with Matt Crandon and Amy Di Bartolomeo as Dance Captain and Assistant Dance Captain. I take my hats off to you guys, that was a massive job and the routines all looked so clean and precise.
Music was provided by Matthew J Lochran and his band. A wonderful job very well done. This show would be nowhere without the music and songs and they were all done to the highest standard.
The set was quite simple with cloths, small moving parts and a bus which was used throughout the majority of the show. It may have seemed a simple set but it was highly effective and I'm sure will have taken a lot of work backstage so a huge well done to Tom French and his team for their tireless work backstage.
Special mention to Suzanne Runciman and her team on costumes. I have never seen such wonderful costumes. And so many of them. They were outstanding. The costume changes were slick and sometimes happening on stage in front of our eyes so a massive well done on that. Also a mention to Jade Paterson and team on fantastic wigs, there were many used and they looked amazing.
The lighting in this show was phenomenal. From the beginning to the end it carried you through the journey and ambience of the show so a big well done to Alex Lynn and the team on such a fantastic job.
A big shout out to the staff at the Liverpool Empire. They were extremely welcoming and helpful and made me feel fully at home. Thank you.
If you want to see a show that will fill you with joy and laughter and shouting for more then get along to the the Liverpool Empire and catch Priscilla Queen of the Desert while you can.
The show plays until Saturday 30th January.
Reviewer: Damian Riverol
Reviewed: 25th January 2016