We reviewers have a tough job. First and foremost we have to be impartial and honest yet constructively critical and truthful about the many components of a show and theatrical experience. Very often we have to leave all preconceptions behind and enter a theatre with an open mind.
With a new musical it should be easy and we should therefore be blown away by the taking-forward of a new concept by a production company that believes in it so much. With the newest jukebox musical entitled 'Last Night A DJ Saved My Life' after the 80s hit, I was disappointedly left underwhelmed.
This was not because of the dancing as each and every one of the dancers on stage, as they always do, showed that they enjoyed every minute and add an extra dimension to a show that, without the live band - some of who also play acoustic during one song (Guitar Gaz Newbold and Andy Sturges) - and dependence on classic songs from the 80s and 90s, would be quite flat. The acting was good, and it was nice to see The Hoff (leading as Ross) enjoying the experience, clearly suffering in parts but maintaining a smile and plodding on, but comedy man Tam Ryan was the star by far (as Jose, the barman at Ross' club, who I guess was based around Manuel of Fawlty towers), even reacting and wanted to get a piece of the audience's Hoff-related chants of admiration. The show was slightly vain toward the 'ticket-seller' but it is nice to hear him sings with a voice likened to that of Barry Manilow – shown off during the great songwriter's "Even Now".
The singing elsewhere by other members of the 'leading 'cast was not the worst but not the best either and I, as other had, expected a guy who sings professionally - supporting The Nolans (I' refrain from possible reasons why) - to have been better than he was in this show and I am unsure whether his cheeky Londoner charm was suited to the role. Shane Ritchie Jnr did act well (as holiday club rep and aspiring DJ Rik) but was very tentative with the limited dance moves. His rapping was much better, even if he did jump off the DJ box just to declare that he was "Lyrical Jessie James" - this Liverpool-ness was confusing and contrary to the fact that the start of the show and introduction was that we would be transported to Ibiza!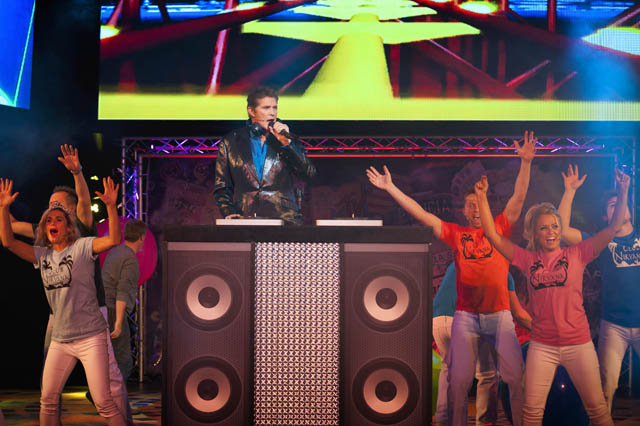 Star singers were the leading ladies Stephanie Webber (Ross' daughter Penny who has not seen her father for years) and Kim Tiddy (Ross' latest love interest Mandy) when they shine in their solos (the very ironic "I Think We're Alone Now" and her duet with Rik "Finally" - when he proved another asset with his own Hoff-related pun –-a oppose to the more risqué one) and duet ("Ain't Nobody").
Opening with a warm-up man who I considered unnecessary as the crowd attending would have hopefully enjoyed the show regardless, if it hadn't been for the faint plot, it has to be said that there were element of pantomime like audience interaction, a great group of talented dancers, a comedy character, an evil villain (club bouncer Ebenezar - yes he has a song of that suggestion - played by Barry Bloxham, who sets trouble up with his 'ecstasy empire'), beautiful 'ugly sisters' in the form of Shazza (Emily Penny - whose Christina Aguliera-esque riffs are very much welcomed and commended) and Amber (Natalie Amanda Gray) and the constant urge that I had to "Boo!" and shout "Oh Not It Isn't" and "She's Behind You".
The story was there - interestingly showing the love between a father and daughter, which is not commonly shown, and based in a nostalgic place and time - but it could have been brought out more. The microphones kept going off but the simple yet clever multi-use set, open stage and bright colourful lighting were brilliant! Audience members were encouraged to take photos throughout and post them on social media, some of which were added to a loop that was shown on the stage during the interval.
Thankfully music plays a huge part in this show; featuring tracks like "Instant Replay", "Relight My Fire", "Everything I Do" and "I'll Always Be There", it also includes the cheesy 90s party classics "The Only Way Is Up", "Pump Up The Volume", The Spice Girls' "Spice", The Venga Boys' "We're Going To Ibiza", Whigfield's "Saturday Night", Lou Bega's "Macarena", Rick Astley's "Never Gonna Give You Up" and a finale medley of other recognisable favourites. I only wish the flights I go on were as camp as the one in the beginning of the show, with dancing and singing cabin crew and passengers.
Overall a good night's entertainment, even with the odd moment when you are unsure whether to clap between songs, with some good aspects. Certainly one to see if you love the eras, or indeed The Hoff, or if you just want/need a night out!
If you do attend, tweet your photos with the hashtag #LNADJ
Reviewer: Chris Oatway
Reviewed: 19th January 2016