This was something of a triple first for me. A new theatre company, Play With Fire, that I had never seen before (not surprising since this was their inaugural production), in a venue that I'd never been to before (not surprising either since Hope Mill Theatre is itself an extremely new venue), and to watch a play that I had never heard of before.
The theatre, a converted space in an old mill in Ancoats doesn't really sound very welcoming or theatrical, but think again, it is actually really quite wonderful and extremely versatile. There is a spacious bar area with a warm atmosphere, and once you enter the theatre itself, then you can see that the possibilities of using this space in pretty much any configuration are endless. King's Arms and 3MT beware - there is a contender to your crowns, and a very worthy contender it is too! Tonight's play saw the central part of the space being used as a stage with audience in a semi-circle round two sides. It was up-close and intimate, and worked splendidly.
The play, by Lyle Kessler, is set in 1980s Philadelphia, and is actually quite Pinteresque in both its structure and themes. The only thing missing being the long scripted pauses associated with Pinter. It's a very good play. Why have I never heard of either it or the playwright before?!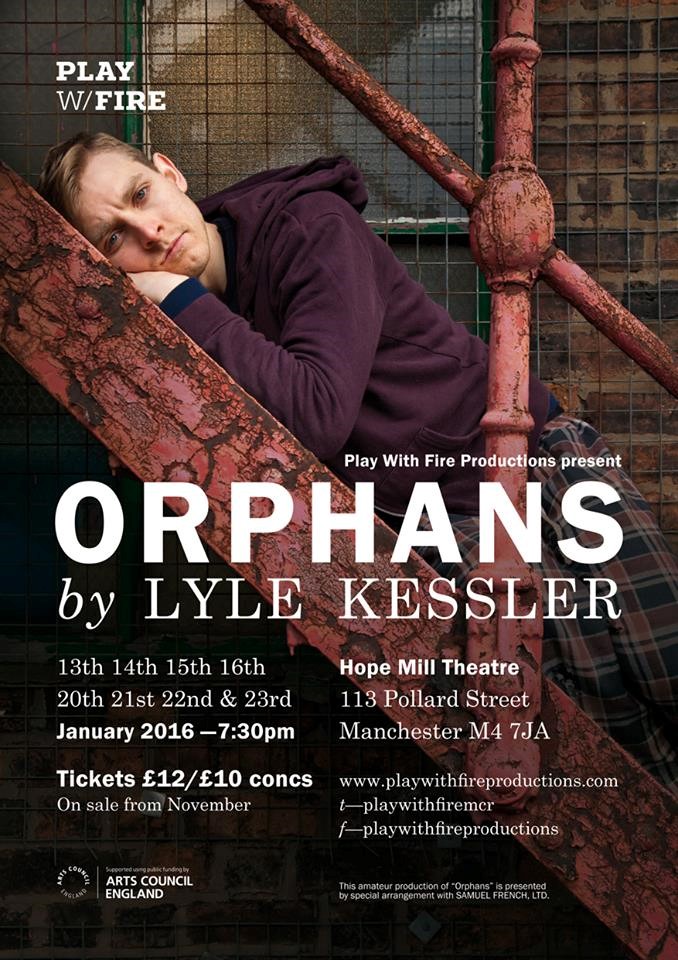 I don't want to give away the more intricate details of the plot at all, so suffice to say that it tells the story of two brothers who are effectively orphans after their mother dies leaving them to fend for themselves. They resort to a life of crime with the older brother going out pickpocketing or worse, whilst keeping the younger brother inside all the time through misguided affection and lies. The older brother, Treat, is something of a loose canon and teeters on the brink of abject violence, whilst the younger brother, Philip, has been driven a little crazy with neuroses living in the constant fear and shadow of his more dominant brother.
One night, Treat brings home a very drunk businessman with the intention of kidnapping him and becoming rich on the ransom. However, the businessman is not all he first appeared to be, and soon turns the tables completely on both Treat and Philip. It is obvious that Harold (that's his name) is on the run from certain criminal elements in Chicago, but soon, despite this, manages to ingratiate himself first with Philip, and then later and more reluctantly with Treat becoming in effect a kind of surrogate father to them both.
It is a very dark play but suffused with humour, and the characters are real, flawed human beings, not creations of film fantasy. It makes for compelling viewing, being both hard to watch and a delight to watch at one and the same time.
This is credit to the quality of both acting and directing, which were in this production, absolutely solid. With superb direction by Alyx Tole, with assistance from a very able director in her own right, Amy Liptrott, you know that this play is very safe hands; but add to that the cumulative talents of the three actors, James Oates, Shaun Hennessy and Daniel Bradford, and the play takes on a life and dimension of its own.
I really enjoyed everything about this production. The set worked really well and its design added rather than detracted; I loved the time-lapse segues; again both LX and FX adding to the narrative, not detracting, and the costumes were also almost perfect.
As I have already said, the acting was outstanding. The three actors working so well together in this very tight-knit and extremely well written piece of theatre.
It's only the middle of January, but I have a sneaking suspicion that this production will be one of the most outstanding to come out of the Fringe scene in Manchester this year! If you only go and see one Fringe production this year, make it this!
The play opens officially on the 13th January for an 8 night run at The Hope Mill Theatre in Manchester. Play With Fire are most certainly a company to keep an eye on, and I can't wait to see what they will decide to produce next. In the meantime, go see this play - you won't regret it!
http://www.playwithfireproductions.com/productions.html
Reviewer: Alastair Zyggu
Reviewed: 9th January 2016