Chitty Chitty Bang Bang has landed at the West Yorkshire Playhouse prior to an extensive UK tour beginning in Southampton this coming February. This production produced by Music & Lyrics and the West Yorkshire Playhouse is a stunning revival of this fun musical.
Chitty Chitty Bang Bang is the only children's story written by James Bond creator Ian Fleming and the screenplay for the silver screen was written by Ken Hughes and Roald Dahl! Chitty flew into the London Palladium some 13 years ago to rave reviews and breaking box office records, the rest they say is history.
For those expecting a carbon copy of the West End and touring version of this show you may be disappointed. Chitty has been stripped back and made use of the most modern technology to bring it right up to date. Gone are the huge set pieces seen in the past and the show is so much better as a result. Designer Simon Higlett has produced a simple yet stunning set on which this story plays.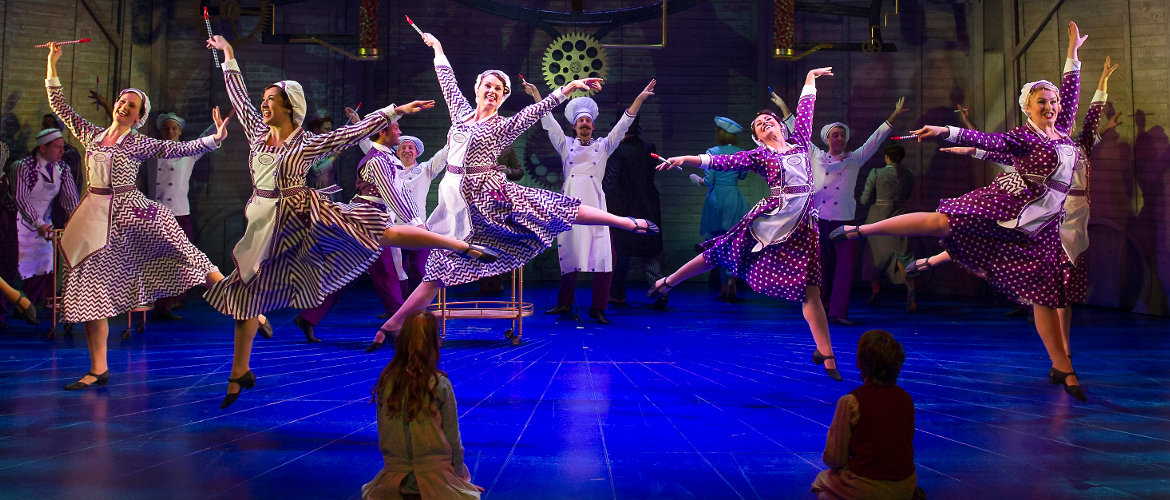 Despite a less than amicable first meeting Caractacus Potts (Jon Robyns) and Truly Scrumptious (Amy Griffiths) are a perfectly matched couple who fall in love with the encouragement of Potts's children Jeremy (Henry Kent) and Jemima (Caitlin Surtees). The chemistry between Robyns and Griffiths is a joy to watch, both blessed with stunning voices they are faultless throughout. Last night Kent and Surtees were also faultless, one of three pairs of young actors taking on the roles in Leeds.
Over in Vulgaria the Baroness Bomburst (Tasmin Carroll) is planning the birthday of the Baron (Don Gallagher) who loves toys. His dream is to own the car which has won countless Grand Prix's, namely Chitty, and he tasks his two spies Boris (Sam Harrison) and Goran (Scott Paige) to buy the car from England. When they fail they kidnap Grandpa Potts (Andy Hockley) mistaking him for his inventor son and fly him to Vulgaria to build another Chitty which the Baron has now discovered can float and fly.
In pursuit of the kidnapped Potts, Caractacus, Truly and the children are transported by Chitty to Vulgaria in order to rescue Grandpa. With the added problem children are banned in Vulgaria can they evade the clutches of the Childcatcher (Stephen Matthews) and rescue Grandpa?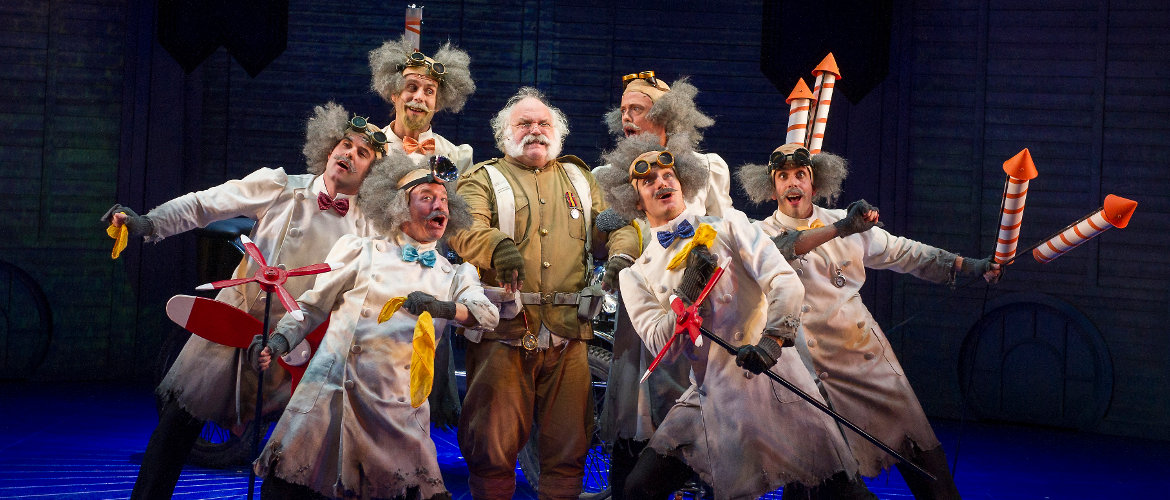 Each and every member of this large company are simply superb. The comedy from hapless spies Boris and Goran is timed to perfection with jokes so bad they draw groans from the capacity audience. The Baron and Baroness are delightfully childish in their roles and played skilfully for the most laughs. The Childcatcher is portrayed as a more evil character than in past productions with dark projections accompanying his appearances on stage.
As superb as all the cast are in this production it is the staging that shines. A simple yet striking set based on the Potts windmill remains throughout and utilises video projections to transform it into a myriad of different locations. Lighting from Tim Mitchell brings the whole piece alive giving it a cinematic feel in places.
For me the true triumph here is the choreography from Stephen Mear. It is mind blowing and perfectly executed. With three huge show stopping numbers, 'Toot Sweets', 'Me Ol Bamboo' and 'The Bombie Samba' the energy on stage is mesmerising.
For those wondering about the famous car, yes it flies. Again with the improvements made in this version it's not going to gain the same number of air miles as in previous productions, but that is an insignificant fact. When Chitty takes to the sky it's a magical moment which both young and old watch in awe.
Chitty Chitty Bang Bang is back and better than ever! I urge you to catch this sumptuous show during its UK and Ireland tour. Full details and dates including Christmas season 2016 at the Lowry in Salford can be found at http://www.chittythemusical.co.uk/
Reviewer: Joe Mellor
Reviewed: 10th December 2015