The frolicking of Christmas pantomime is a tried and true theatrical tradition but I would suggest an alternative in pursuit of family entertainment this season; Unity's fourth annual Christmas show The Princess and the Pea is an appreciated departure from yuletide tropes without being any less affable, charming or engaging.
The Princess and the Pea has been lovingly crafted under the direction of Nina Hajiyianni. She and her company were able to create a world that the children can easily identify as a traditional fairy tale while using minimal set pieces. The four-strong ensemble are instead aided with striking light transitions that saturate the space and pull the audience a little further into what I will refer to as a family accessible sense of surrealism.
The story is one that is known by most. The script and musical numbers were in the hands of Kevin Dyer and Patrick Dineen respectively. The dialogue had enough jokes to make children laugh and adults groan and vice-versa. The songs were plentiful and varied though I would be surprised if the children were able to catch all of the lyrics as some of them teamed exposition with a high tempo. The cast is fairly evenly dispersed in vocal capabilities and come furnished with an accordion because why on earth not?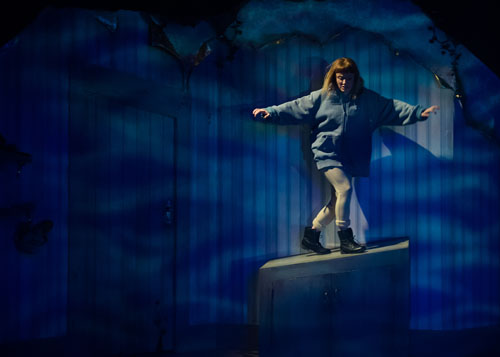 To complete the task of creating background characters to furnish scenes, providing enough heroes and villains and a personification of the Pea itself, the ensemble simply had to consist of terrifically transformative actors. The levity of the show gave me the impression that each of the four actors had very fervent comedy groundings. Josie Cerise who played the Princess and Duncan Cameron, her Prince, showed especially agile performances that had the audience following their graceful bounds about the stage. Cameron's physical commitment punctuated his amiability flawlessly and Cerise bought a sense of braveness to her character that warranted not pity but support from the audience. I was fond of the depiction of the two as being themselves, almost childlike. Keddy Sutton's predominant role as the Queen held the challenge of following a pleasingly droll introduction with a summoning of death only 10 minutes in. Sutton successfully introduced the audience to the balance between silly, severe and earnest. The fourth and final cast member is Graham Hicks who shone as the Pea and in his supporting roles. It seems a great temptation in family shows to break the fourth wall, so the choice to have only Hicks do this serves the performance justice.
Seeing the show in the middle of a Wednesday gave me the impression that there were a few children in the theatre for whom this was their first show. I would recommend, if you know a family member who is in need of a genial adventure, to come along and let them see this show which neither patronises nor intimidates. It is an endearing romp.
Reviewer: Jess O'Neill
Reviewed: 9th December 2015
Photograph: Brian Roberts