Jasper Carrott is a British comedy legend who has been on our screens and on stage for almost five decades. Career highlights include his own television show in the 80s and 90s and teaming up with Robert Powell in the 90s to produce the popular comedy 'The Detectives', as well as his own game show and a sitcom.
Alistair McGowan got his big break as an impressionist providing voices for 'Spitting Image' and had his own television show, 'Alistair McGowan's Big Impression'. He is also a star of the West End stage, as well as the big screen.
Tonight, both these talented men shared the bill. Alistair opened the show with half an hour of amazingly accurate and funny impressions, including Gary Neville, Alex Ferguson, Frank Skinner, Raymond Blanc, Keith Lemon, Paul Hollywood and June Brown, amongst many others. Noticeably absent was his Jimmy Saville impression - for obvious reasons - although he has recently played the title role in 'An Audience with Jimmy Saville' in London and at the Edinburgh Fringe.
His material was a little football heavy but extremely professionally executed and delivered. I think a little less reference to sport would have been preferred by some of the audience but he easily managed to get warm, appreciative laughs and much applause nevertheless.
With his fast and rapid delivery and genuinely likeable persona, it was a treat to see such talent at close quarters. If you closed your eyes, you could easily believe that all the celebrities he was impersonating were actually on the stage.
It was then Jasper's turn - clearly very much beloved by the audience. He is obviously familiar with Manchester and Salford as he made many colloquial references.
Straightaway, it became apparent that a recurring theme in his material would be the thorny subject of age and getting older. However, this clearly struck a chord with most of the (mainly middle aged plus) audience - everyone loves reality humour. In fact, I think Jasper Carrott in the 1980s was my first introduction to reality humour - even as a young teenager, I found him hilarious (and a bit risqué sometimes which was an added bonus). We laughed at him saying he doesn't bother with drugs because standing up quickly has the same effect and also that his list of requirements backstage included Deep Heat and a stair lift.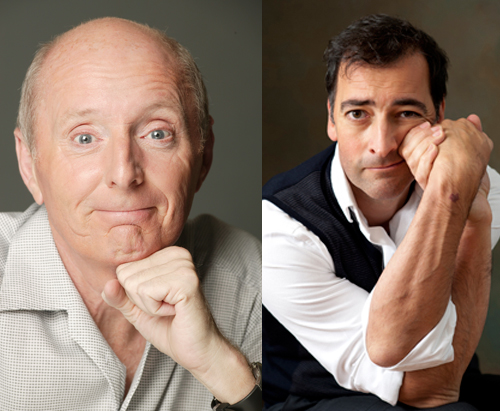 Jasper has a great comedy face. As my theatre companion summed it up "he has the perfect face for a comedian because you only have to look at him and he makes you laugh". I couldn't agree more. His expressions are comedy gold and his delivery style is honed to perfection - he has excellent comic timing and intonation and can make anything funny. Some of the funniest parts of his routine are where he absolutely hoots with laughter himself - it's irresistibly hilarious!
Jasper said he hasn't toured since 1998 - well all I can say is that he's still got it - because he never lost it.
After the interval, they both did a further set lasting just over thirty minutes each. The laughs and applause didn't stop coming. One of my favourite parts of Alistair's set was his amazingly accurate impression of Eddie Izzard. Not only did he sound exactly like him, the material (about moths) that he used was absolutely hilarious - I think Eddie himself would have been jealous.
Jasper finished his second set by playing his guitar and basically providing jokes to music which the audience lapped up.
It was extremely refreshing to see two comedians on stage who aren't only known for appearing on panel quizzes or cooking shows and it was great to have the classic comedy entertainment of impressionism from Alistair paired with 'old school' style stand-up comedy from Jasper. No contrived political correctness - because it wasn't necessary - and no swearing just for the sake of it. Yes, there was some crudity, a few rude words peppered here and there and some risqué jokes but it was all perfectly put together and you came away feeling you had been thoroughly entertained by comedy craftsmen.
These are two British greats who we should be immensely proud of.
Reviewed on: 29 November 2015
Reviewed by: Nicky Lambert