Relatively Speaking was Alan Ayckbourn's first smash hit way back in 1967 moving Noel Coward, who knew a bit about well-crafted comedies, to send the budding genius a congratulatory telegram.
As you might imagine a light hearted comedy written just as the Swinging Sixties was getting going has dated somewhat, but in the hands of a strong cast there are still plenty of laughs to be had as Relatively Speaking sets the template for Ayckbourn's trademark clever structuring and ear for a good gag.
This is classic comedy of errors where Ginny (Lindsey Campbell) is getting ready to set off to her parents leaving young beau Greg (Antony Eden) behind. It seems odd to the modern audience that a young couple getting ready after spending the night together was somehow shocking, but this was first produced just as the so called permissive society was really kicking in.
Some critics have suggested this set up in Ginny's bedsit was Ayckbourn trying to shoehorn in the sensibilities of the Angry Young Men who had just battered tired old British theatre, but whatever the intent it is far too long and in 2016 just a bit boring.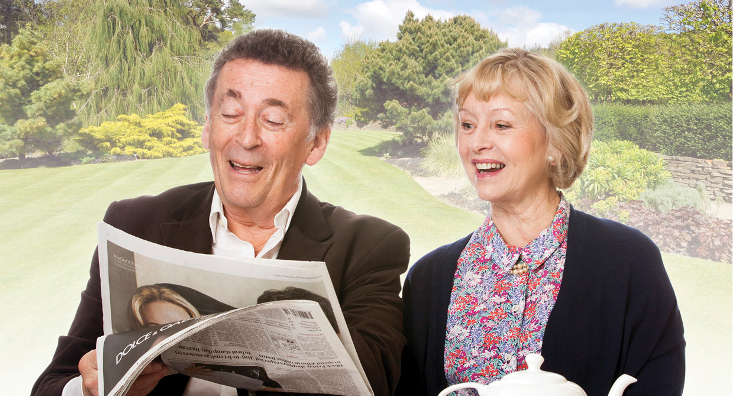 What Greg doesn't know is Ginny is not going to see her parents but her older lover Philip (Robert Powell) to end it so she can accept Greg's unexpected proposal of marriage. She sets off as does Greg arriving before Ginny to meet Philip's wife Sheila (Liza Goodard) in their country cottage.
As this point much hilarity occurs as Greg thinks Philip and Sheila are Ginny's parents. Philip thinks Greg is Sheila's young lover and wants to marry her. Philip even ends up pretending to be Ginny's dad. All the word play and confusion is cleverly done, but the whole set up relies on Sheila never asking Greg who the hell he is when he pitches up unannounced in her garden.
That initially seems a touch implausible, but we are talking about a very different Britain where a respectable middle class wife might be too polite to enquire.
Both the young actors are perfectly fine, although the less experienced Campbell does show some early nerves, but Eden has real comedy chops steeping easily into the shoes of the late great Richard Briers who was Greg in the original production.
It's when the grown-ups - in both senses - join the action that real fun begins. Powell is still fondly remembered as Jesus of Nazareth, but he is a fine comic actor revealing Philip's monstrous ego and his absurdity as he tried in vain to make sense of the chaos erupting around him. He is matched every step of the way by the much underrated Goddard , who has a long history with Ayckbourn, which shows giving the slightly daffy Sheila real substance as she proves the wisest of these daft sods.
At times this well-staged revival felt like a superior version of Heartbeat and it is clearly the work of a master finding his feet with one West End flop under his belt. But no matter as the knowing laughs for the mature couples in the audience shows he has the compromises of middle aged love totally spot on.
If there is a market for endless touring productions of Agatha Christie whodunits then it surely follows we should see more of the early works of our funniest playwrights. Relatively Speaking may be a bit dated but is still agreeably funny thanks to two old hands who are still on top of their game.
Relatively Speaking runs at Leeds Grand Theatre until Saturday 3rd September. To book ring the box office on 0844 8482700 or go online www.leedsgrandtheatre.com
Reviewer: Paul Clarke
Reviewed: 30th August 2016
North West End Rating: ★★★