I have been fortunate to see all the professional incarnations of Sister Act that have played in the UK from the original London production, the last UK tour starring one Cynthia Erivo and also a production in Aberystwyth featuring Jenny Fitzpatrick. So how does this new tour measure up? Directed by Craig Revel Horwood it is a packed evening which musically and vocally hit the mark however the staging in my view is the most inferior of all productions that have gone before it.
The story, for those who are not familiar revolves around Deloris Van Cartier (Alexander Burke) who witnessed her lover Curtis (Aaron Lee Lambert) murder a member of his staff after they are found to be a Police informant. Deloris is whisked away to hide in a convent by Police chief Eddie (Jon Robyns) for her own safety where she clashes with Mother Superior (Karen Mann) over just about everything. Whilst in the convent Deloris is tasked with coaching the Nun's choir transforming them from tone deaf singers to glorious singing angels.
Burke as Deloris is as powerful a performer vocally as you could wish for and she takes on the role of Deloris with gusto and on the whole makes a fantastic job of it. There were a few moments where her lack of acting experience showed, however when she sang all this was forgotten.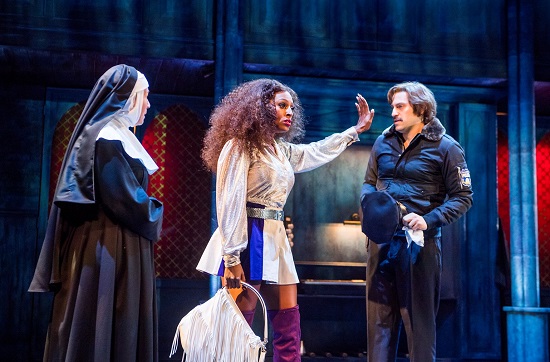 Jon Robyns as Eddie, or Sweaty Eddie as he was known by Deloris from when they knew each other years ago is solid throughout. The nervousness of the character was played superbly as was his performance during "I Could Be That Guy" which was faultless and showed his musical theatre pedigree. It was good to see the costume changes remained from previous productions during the number.
Karen Mann played the straight laced Mother Superior as good as I have ever seen, and Tim Maxwell-Clarke as Monsignor O'Hara was also strong.
If there are stars in this show it is the superfluity of Nuns. All played their roles with individuality and you couldn't help connecting with each one of them. Standout performances came from Rosemary Ashe as Sister Mary Lazarus, Susannah Van Den Berg as Sister Mary Patrick and not forgetting Sarah Goggin who arguably stole the show as the timid Sister Mary Robert.
At times the scenes with Lambert as Curtis and his three stooges seemed superfluous and elongated, although provided comic moments. But my main issue with this show was the fact it used actor-musicians. Some shows lend themselves to such casting, Jersey Boys, Return To The Forbidden Planet and Buddy spring instantly to mind, but not Sister Act! Their use worked to a certain degree in the bar scenes but seeing Nuns singing in the convent and playing instruments just didn't sit right with me throughout.
The set by Matthew Wright was adequate and served its purpose, although more could have been done to separate the convent scenes from the bar and office scenes. The costume design also by Wright was accurate and fitted the era in which the show was set. Lighting from Richard G Jones was at times a little laboured, but in saying that there were some nice moments throughout.
There is no denying Sister Act is a fun, feel-good musical littered with superb one line jokes and was warmly received tonight by the capacity audience and but for the use of actor-musicians would have been a 5 star show from me.
The popularity of the show has meant a second visit was scheduled for July next year before this run even began.
Reviewer: Paul Downham
Reviewed: 29th August 2016
North West End Rating: ★★★★
Photo: Tristram Kenton