With the almost daily news of Islamic extremists causing terror around the world; there has probably never been a more difficult time to be Muslim. Written by Hassan Abdulrazzak, and performed by Asif Khan, 'Love, Bombs & Apples' is a series of four monologues; the Palestinian guy desperate for sex, the naive Pakistani that ends up being arrested for plotting terrorism, the Bradford chav that compares Apple to ISIS, and the American who has to choose between family and love.
Although never actually stating it 'Love, Bombs & Apples' is a subtle way of addressing current political issues. Two of the monologues deal the Palestinian and Gaza Troubles, one character is unfairly arrested because he is a Muslim and wrote a book about terrorism, the other is attracted to the idea of fighting for ISIS in Syria.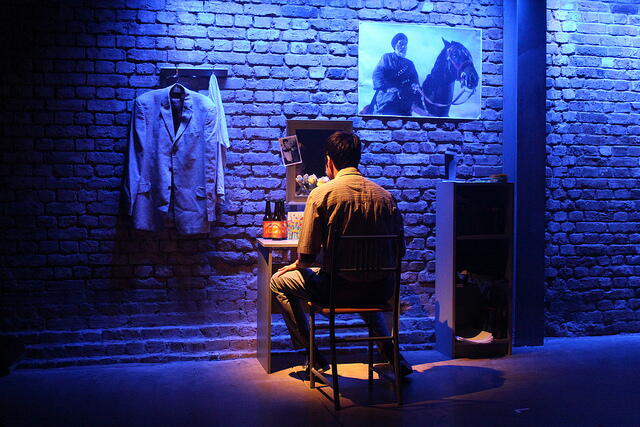 One of the strengths of this production is its set and sound; both are of top quality. The simple, yet effective set looks like a normal bedroom. However, Khan somehow manages to use almost all items on stage in his performance. This performance sees one actor taking on all four roles. Khan does a great job of making each character unique, even the mannerisms were different for each one. A performance like this needs a strong actor and Khan fulfils that role.
"It's gonna get ugly" is the final line of the play. This stuck in my head for many reasons. Considering this is a play about Arab culture it's hard not to think if that line is describing the current political situation.
The first three monologues were great, however I did feel the final one about the American guy was too long. However, in general this is a good show. Perhaps with a larger audience the atmosphere would have been a bit better.
Reviewer: Francis McKevitt
Reviewed: 11th July 2016
North West End Rating: ★★★