Animikii Theatre, who created 'Origins', was supported by Off the Ground Theatre, who opened this evening's performances for PhysicalFest. As part of Young PhysicalFest local youth theatres and schools were invited to come together to create a piece.
Creature by Off The Ground Theatre
The result was 'Creature' which saw eight very talented performers take the stage covered in body paint, giving them an animalistic or tribal appearance.
Izzy Balchin, John Collins, Nick Crosby, Stuie Dagnall and Matty Gradden created an extremely powerful performance that took us on a journey of emotions. We saw their characters grow and develop in the course of their piece: moving from a place of exploration of their newly formed bodies, wide-eyed and childlike; to a place of intimate bonding, friendship, community and, at one point rejection for one of the characters. Every performer gave their all to the piece, this was apparent at the end, as sweat poured and heavy breaths were heard, I was extremely impressed and absorbed.
It was beautifully directed by Grace Goulding and Dan Meigh. It also had original music by Eric Blakemore, this was another narrative that took the performance to another level of emotional impact.
I didn't realise that there would be a supporting act tonight, it was a very pleasurable surprise, a real treat for the eyes and the emotions.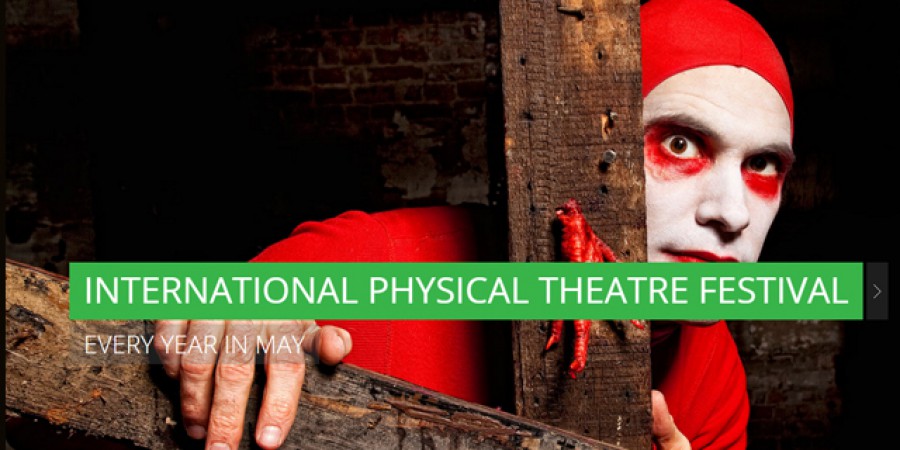 Origins by Animikii Theatre
The stage was dramatically set, creating a virtual cube-like structure and Charles Sandford, as Cain, entered into the shadows and walked the perimeter. We see and feel his torment, as his body and expression contort. Enter Adam Davies, as Abel, the phantom memory of Cain's murdered brother, who brings even greater anguish the mind of Cain in his place of exile.
We then see the journey of Cain, as he returns to Eden, in an effort to bury the demons of his past. Then suddenly we are transported back to the brothers in happier times, before the incident that initiated the murderous rage of Cain. This was light, playful, childlike; a very necessary counterpoint to the much darker events that were portrayed next.
Adam and Charles gave very affecting performances, physical and emotionally wringing out every drop of the characters they portrayed. I was completely transported to the ancient world of this interpretation of the story from the Christian and Jewish faiths. Once again the music, composed by Oscar Thompson enhanced the powerful performances and, at times, I was completely caught up by it, taking me away into my deep thoughts in an almost meditative state, extraordinary.
'Origins' was co-created and co-directed by Henry McGrath and Adam Davies, it was a very provocative and powerful piece. Although the piece's denouement, of Cain murdering Abel, was well known and expected, when it was finally portrayed it had a deep impact on the audience - the atmosphere changed. It was a visceral experience and a couple of the audience members had to leave at this point, obviously effected psychologically by the events depicted on stage.
A truly outstanding performance that ended my experience of this year's PhysicalFest with a bang. Well done to everyone involved.
Reviewer: Alan Harbottle
Reviewed: 26th May 2016