Dirty Dusting is the story of three elderly cleaners, Elsie (Crissy Rock), Olive (Dolores Porretta) and Gladys (Leah Bell) who decide to set up a phone sex line after their awful boss David (Lee Brannigan) decides they are "too old" to stay.
In a nutshell, it was light-hearted, fun. Very reminiscent of cabaret-style entertainment, with never-ending euphemisms and crude innuendos that were almost too risqué, but had the audience in stitches.
Olive, Elsie, Gladys were likeable, well-rounded characters. With Olive's obsession with the Girl Guides, Elsie the wild child and Gladys being more naive yet really growing into the sex-line role, they were the kind of elderly ladies you wouldn't mind growing up to become.
There wasn't a whole lot of plot to be honest. It was very tenuous and the odd 'serious' moments seemed jarring in the context, but the jokes were the main focus, so it was easy to not notice this, and not the worst crime in theatre (or even in this show!)
A few slight annoyances. Firstly, the very over-acted, almost caricature that was David the boss. His over-the-top mannerisms seemed out of place and a little too try hard.
The second issue - in the opening scene, when cleaning the office, each woman cleaned the same bit of furniture several times. It was incredibly distracting!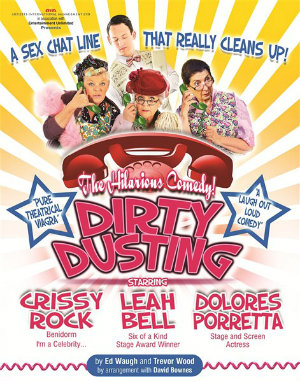 The worst however, was the ending. After the end of the actual plot, David came on and performed an awkward strip tease, right down to tight, red leather boxers and not much else. He then proceeded to go into the audience, which might have been more interesting had we not been sat on the Upper Circle and therefore could not see a single thing…!
The other three also came onto stage in rather saucy outfits (looking pretty great for older ladies, I must admit), and performed a short dance. Honestly, it all seemed completely unnecessary and just tacked on at the end. However, this is could have lived with, had it not been for what happened after the bows.
Once the raucous applause (that I am not sure was entirely justified but perhaps that was just me) had died down, the cast then proceeded to address the audience, giving us details of their Facebook page and asking us to take out our phones and take pictures of them for it. Maybe I'm just old fashioned, (despite being in the lower age bracket of the audience and working in Social Media myself), but this just isn't the done thing. It took away any magic from the play, and when Rock thanked her personal friends, by name no less, for coming, it took on the air of a very amateur am-dram show - certainly not what should be expected when tickets are around £20!
With jokes and innuendoes that wouldn't be out of place in the cheesiest of seaside pantomimes, Shakespeare this ain't. That said, for a fun, slightly naughty giggle, it's just what the doctor ordered.
Though I wouldn't recommend taking your mother in law(!)
Reviewer: Codie Louise
Reviewed: 25th May 2016