In the Concert Hall at The RNCM some 80 youths assembled to play three substantial works to celebrate the Youth Orchestra's 60th birthday.
The opening work was a piece which won a competition held by Stockport Youth Orchestra. Started in 2015, the competition was open to any composer to submit works for young musicians to play. Out of the 25 entries received, three were shortlisted for future workshops and mentoring by the orchestra: pieces by Natalie Ho, Eilidh Pollard and Lauren Marshall; but the outright winner of the competition saw his piece receive its World Premier this evening. It was Ay Caray! by Carlos Agreda. Using two contrasting Colombian Folk melodies which are almost impossible to blend together, thus the title of the piece is a Spanish interjection used when something doesn't work or go as planned. It was a lively and interesting opening to the evening played very competently by the orchestra, conducted in this piece by Christopher Orton, the orchestra's Assistant Musical Director.
The composer was in attendance to take his well-deserved bow.
The second piece was Tchaikovsky's famous and also famously difficult, violin concerto. Tchaikovsky wrote only one violin concerto, and when he had finished it, it was pronounced unplayable, far too difficult for even the most renowned violinist at the time, Leopold Auer, for whom he had dedicated the work. It took four years before the concerto did finally see the light of day, and a violinist brave enough to attempt the piece was found; Adolf Brodsky, to whom Tchaikovsky wisely rededicated the work.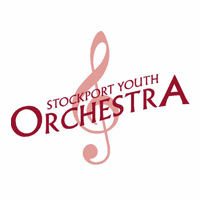 To play the unplayable tonight was the orchestra's star guest, Jennifer Pike. Now 28 years old and a huge international star virtuoso violinist, her roots are here and she was once a member of the Stockport Youth Orchestra, and so came back for this birthday celebration to play with them again and to act as a wonderful inspiration for them. What a truly lovely thing for someone so sought after to take the time from her busy and demanding schedule to recognise where she started and to give many others the inspirational guidance to continue studying and playing.
And she didn't make any compromises in her playing either. The orchestra simply had to keep up with her. Never having seen her play before, (but I do have a couple of CD recordings of hers,) it was absolutely amazing to watch this highly skilled and passionate young lady play with such virtuosity, making even the most difficult of passages (of which there are many in this work) seem easy and effortless. Quite simply an amazing talent!
Somehow, the orchestra did manage to keep up with her, this time conducted by their principal, Tim Crooks.
After the interval, and it was time for the orchestra to shine in their own light now. And since no birthday should pass without some stirring British patriotic music to stir the soul, it was Elgar's Variations on an Original Theme, Enigma (opus 36) that the orchestra chose. Once again conducted by Tim Crooks this got off to a slightly shaky start, but they were soon into their stride again, and didn't disappoint at all with the beautiful and passionate famous Nimrod variation, and the finale, not maybe quite as well known but equally stirring EDU variation, making sure that the orchestra went out with a flourish and a most definitely well-deserved round of applause.
I don't know the age range of the orchestra but (discounting the couple of adults who were there) I would imagine 11 - 20, most being early teenagers. For students so young, and to be playing as a hobby, then the pieces chosen were extremely demanding and they rose to this challenge superbly. A huge congratulations to each and every one of you. What a pity that the concert hall wasn't even half full!
Reviewer: Mark Dee
Reviewed: 3rd July 2016