Irish Folk meets Jewish Klezmer in Manchester - and it rocks!
In the beautiful surround of a former Spanish and Portuguese Synagogue, the evening is introduced by Richard Fay of the University of Manchester, as we are asked to imagine, if you will, back in the day towards the end of the 19th Century, the huddled masses in the valley of the river Irk in North Manchester. On the western side, the largely Jewish communities of Red Bank and on the eastern side the largely Irish dwellers of Angel Meadow. Differences in language, culture and religion meant immigrant communities kept themselves to themselves.
These two distinct groups shared the experience of having left home (the shtetl and the bog), driven from rural and small-town worlds by the lure of opportunity in Cottonopolis without realising its industrialised deprivations. Both communities prospered and both, through participation, contributed greatly to what Manchester has become today.
Their music, whilst very different, also shares similarities. Both are modal, heterophonic, dance-oriented oral traditions and both have waned and waxed over the years.
So in this newly-devised show, we are asked to wonder what if, a century or more ago, each community had caught snatches of melody drifting across the river and, emboldened, had chosen to follow the sounds and cross to the other side?
L'chaim Kapelye is a 6-piece ensemble (Pippa Goodall - fiddle; Jemima Kingsland - flute; Dan Mawson, Ellie Sherwood, Hat Wells - all clarinet; and Lucie Phillips - bass guitar/vocals) based in Manchester who specialise in infectious dance tunes and soulful songs of the Klezmer and Yiddish folksong tradition. Unfortunately Pippa was unavailable and was replaced on the night by Méabh Kennedy, a second year Music student from Ireland - a move which epitomised the spirit of the evening perfectly.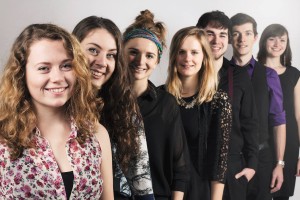 Joining them was world famous Irish musician Michael McGoldrick (Irish flute and uilleann pipes) alongside his band mates Dezi Donnelly (fiddle) and Angela Durcan (banjo and tin whistle) to represent the Irish traditional, Celtic and folk side. Durcan's son, Conal, accompanied on the bodhrán drum.
With an opening piece by Fay, 'The Mirk Over The Irk', we got to hear both sets of musicians before alternating between genres, firstly with 'Odessa Bulgarish' from L'chaim Kapelye before the response of 'Irish Music in the New World', a set of three tunes from the early 20th Century.
We then went off script with 'Flat Bush Waltz' a tune that transcends both genres and the fun really began as both sets of musicians played off each other superbly. As the relationship evolves we see a Klezmer-treatment applied to 'A Night in the Irish Garden of Eden' with Mawson adding bass clarinet before a riposte of traditional Irish to 'Babele/The Butterfly'.
Both groups then came together delightfully in a 'jig and polka' combination to 'Wheels of the World/Denis Doody's (Tolka) Polka' with interweaving harmonies and the audience merrily clapping away. To see the set out we had Phillips sing the beautiful 'Der Rebbe Elimelech' with the musicians and audience now in a frenzy.
The second set opened with another Fey refrain, the melancholic 'In Remembrance of Lost Worlds'. McGoldrick then led on his own penned piece 'Watermans', ably supported by Donnelly and Durcan before echoes of Klezmer drifted in.
Much of the Klezmer legacy in Manchester is owed to Michael Kahan who tragically died in 2008 and it was fitting that the next piece 'Tantz Kahan' was written by Mawson in commemoration of him. The Irish flute, tin whistle and fiddle came in sensitively during the piece in perfect accompaniment.
Another common feature of both communities is the importance of the mother and this was explored in 'Yiddishe Momme' with a vocal accompaniment from Phillips adding real depth.
A further set of traditional Irish reels had the audience going again before the musicians began throwing the pieces round between themselves with consummate ease and artistry as we interchanged between pipe and flute; banjo and clarinet; fiddle and, well, fiddle!
Our final exploration of the night was the role of dance in both musical traditions as 'Galway Bay' was adapted to reflect the commonalities of hornpipe and khosidl between the genres with much good humour now on display.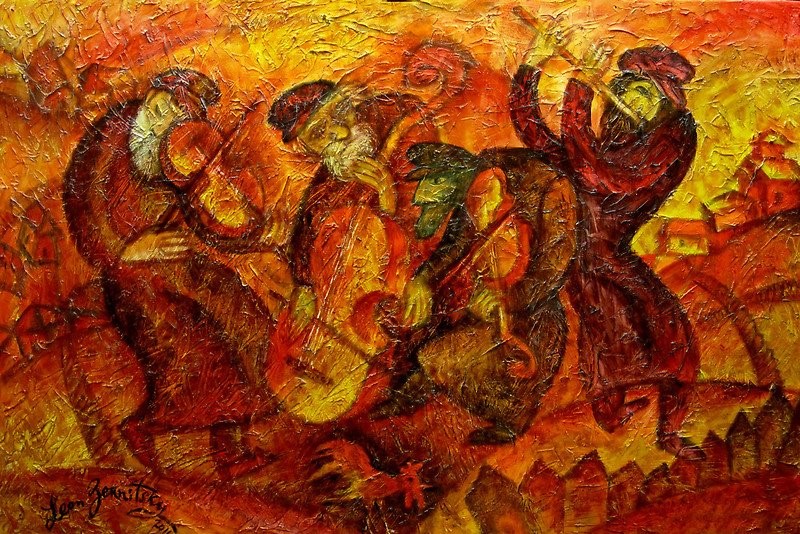 A final Fay piece, 'Murky Reprise and Our Ancestors 40,000 Years Old', closed the set but not the night as the audience demanded more and were deservedly rewarded with a spontaneous set between the two groups led and directed by McGoldrick. I have been to countless music events and this evening ranks right up there with the best of them: two sets of different and distinct musicians harmonising to deliver a great evening of accomplished and collaborative sound. We were asked to imagine - it was easy to.
There are a further two events on Sunday 6th March at 2.30pm (doors and bar open at 2pm) and 7.30pm (doors and bar open at 7pm). Funding has also been obtained to create a documentary about Klezmer in Manchester and this will be premiered at the matinee concert.
L'chaim Kapelye all started out as music students at The University of Manchester playing in the university Klezmer ensemble. They play at variety of events with local Jewish organisations as well as private functions. Full details are available on their website www.lchaimkapelye.co.uk.
Michael McGoldrick is an accomplished Irish flute and tin whistle player and also plays the Uilleann pipes and low whistle. He has recorded four solo albums as well as supporting a number of other artists including Mark Knopfler.
Dezi 'Fiddle on Fire' Donnelly is a Manchester based fiddle player and is both All Britain and All Ireland Champion. Having played the fiddle since the age of seven, he was All Britain champion by the age of nine and had won the All Ireland championship five times by the age of fifteen.
Angela Durcan is a renowned tenor banjo player as well as an experienced teacher and composer of Irish music. She is a founding member of the Manchester based Celtic Rock group, Toss the Feathers.
Manchester Jewish Museum is the only Jewish Museum outside London and is housed in the oldest surviving synagogue building in Manchester, completed in 1874, on Cheetham Hill Road. Full details of events and activities can be found on their website www.manchesterjewishmuseum.com
Reviewer: Mark Davoren
Reviewed: 3rd March 2016