A Rich Musical Celebration of Culture and Heritage
With little known of its history, Klezmer is an Eastern European musical tradition largely consisting of dance tunes and instrumental pieces used for weddings and other celebrations and it was an absolute pleasure to convene in the beautiful surround of a former Spanish and Portuguese Synagogue for this end of year Klezmer celebration, now in its fifth year as Max Dunbar, CEO of the Manchester Jewish Museum, noted in his introduction along with the advice that any of the full house audience were welcome to get up and dance at any time during the evening.
First up was Manklezter, a seven-piece ensemble of students from the University of Manchester comprising Jenny Parker (flute/tenor saxophone), Immy Trinder (flute/alto saxophone), Eliorah Goodman (flute), Hayley Suviste (clarinet), Katherine Blumer (bass clarinet), Xander Baker (cello) and Antony Sullivan (percussion) whose opening cello and gong duet for Papirosen set the mood perfectly before Honga, a delightful cello, flute, and drum trio. Eastern mystery pervaded Misalou before Sat (Time) allowed the saxophones to get a little funked up in a modern twist. Mekhatonim Tsum Tish had the audience clapping before a medley of An Nakht in Gan Edyn/Odessa Bulgar closed the set of this talented ensemble now making the step up from their introduction last year.
Next was the Michael Kahan Kapelye, an ongoing klezmer ensemble at the University of Manchester, with tonight's nine-piece ensemble consisting of Isabel Sanchez (piano), Lucy Hibberd (bass clarinet), Alicia Swaby (flute), Sharissa Lee (violin), Mabon Jones (violin), Thomas Betts (double bass), Daniel Springate (Cello), Dominic Skingle (viola) and Alice Roberts (harp). For young classical musicians who have only just been introduced to the concept of ensemble ornamentation and playing by ear rather than notation, they all demonstrated great composure and competence as they delivered Jeff Warschauer's Piece, Broyges Tantz, Boyberiker Hora, and Freylekhs before being joined by Ros Hawley on clarinet and Adrian Dobson on accordion for an impromptu Doyne which saw the audience up and dancing to take us into the interval.
Opening the second half were the renowned L'chaim Kapelye, although sadly not all the original line-up was available but we were not disappointed by the reduced version comprising Daniel Mawson (clarinet), Jemima Kingsland (flute), and Lucie Phillips (bass guitar and vocals), and who were joined tonight by a friend, Frankie McCormick (accordion). Their opening Hevenu Shalom Alechem had the audience singing along almost immediately before continuing with Firn Di Mekhutonim Aheym, Tantz Tantz Yidelekh, and a new piece, Zay Gezunt. It was no goodbye though as they continued with Tsiveles followed by the moving Papirosen, sung beautifully by Phillips, before the closing Odessa Bulgarish allowed Mawson and Kingsland to delight with their trills.
Professor Camden Reeves, Head of Music at The University of Manchester, spoke briefly to acknowledge the great work by Richard Fay and Ros Hawley which had seen so many students go on to maintain a passion for Klezmer, the ongoing support of the Jewish Music Institute, an independent arts organisation preserving and developing this rich musical heritage, and the collaborative work with the Manchester Jewish Museum which allowed events such as this to thrive.
Our final act was the Hard Times Kapelye consisting of Mike Beaumont (percussion), Derek Davies (tenor and soprano saxophones), Richard Fay (horns), Simon Ingram (fiddle), Bob Shaw (guitar) and Colin Watson (clarinet and alto saxophone) with added support tonight from Phillips on bass guitar. Hats firmly in place, they delightfully took us through Golden Wedding, Reubenstein the Magnificent (written by Fay), Terkisher, A Glezele Veyn before closing with Lebedik Un Freilekh.
But we couldn't end without a proper bit of fun as members of the various bands merged for a 'Frolic' with members of the audience led in an impromptu Klezmer dance through the building by Judith Plowman as this wonderfully entertaining evening came to an end. I'm already counting the days to next year's event although I am assured there will be other Klezmer events going on in and around Manchester as well as at the Museum and the University before then.
The Michael Kahan Kapelye was founded in spring 2011 by Richard Fay and Ros Hawley as an ongoing Klezmer ensemble at The University of Manchester, part of the department's world music provision and is named after Michael Kahan, a Manchester-based klezmer musician who was tragically killed a few years ago in a random street attack. Manklezter were formed from the 2015-16 ensemble. Further details http://www.klezmer.humanities.manchester.ac.uk/
L'chaim Kapelye is a seven-piece ensemble based in Manchester and who all started out as music students at The University of Manchester playing in the Klezmer ensemble. They play at variety of events with local Jewish organisations as well as private functions. Full details are available on their website www.lchaimkapelye.co.uk
The Hard Times Kapelye are a Manchester-based six-piece Klezmer group playing a mixture of traditional Klezmer tunes and original numbers inspired by the music of the Balkans. Further details http://www.hardtimeskapelye.co.uk/
Manchester Jewish Museum is the only Jewish Museum outside London and is housed in the oldest surviving synagogue building in Manchester, completed in 1874, on Cheetham Hill Road. Full details of events and activities can be found on their website www.manchesterjewishmuseum.com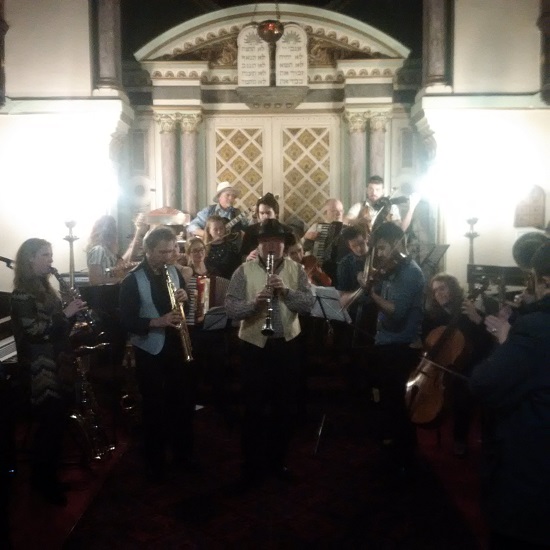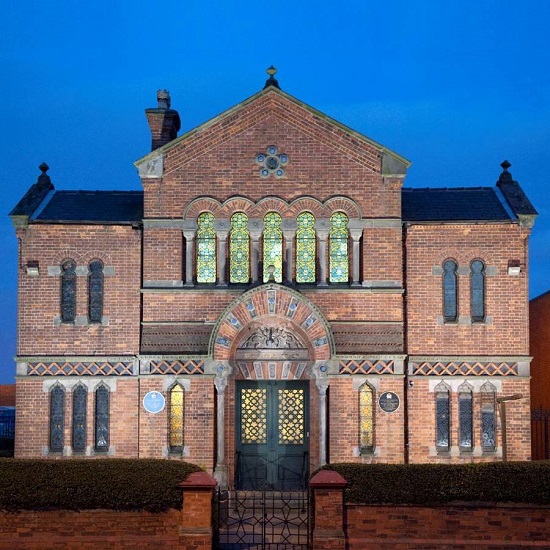 Reviewer: Mark Davoren
Reviewed: 8th December 2016
North West End Rating: ★★★★★