The Kilkennys are an Irish folk band originally created by two brothers Adam and Davey Cashin and a friend Tommy Mackey during their school days and later joined by Robbie Campion. Today's line up has slightly changed with Michael Martin now in the band and missing Adam Cashin. The band take their name from their beloved home town in Ireland, but were originally known as 'Uisce Beatha' performing in local pubs and clubs. Since their humble beginnings the band have now performed at home and international Irish Festivals, including several American venues and in Switzerland, Germany, Holland and the Czech Republic to name a few.
Expecting the 'usual' middle aged Irish band I was pleasantly surprised to see a much younger line up but don't be fooled, they may be younger, but they can certainly sing and play those instruments! The stage was set simply with the four performers fronting it and with the subtle spotlighting. Dressed similarly in shirt sleeves and waistcoats they looked the part and it was good to be introduced to them individually at the start of the show. There was an evident camaraderie between them too.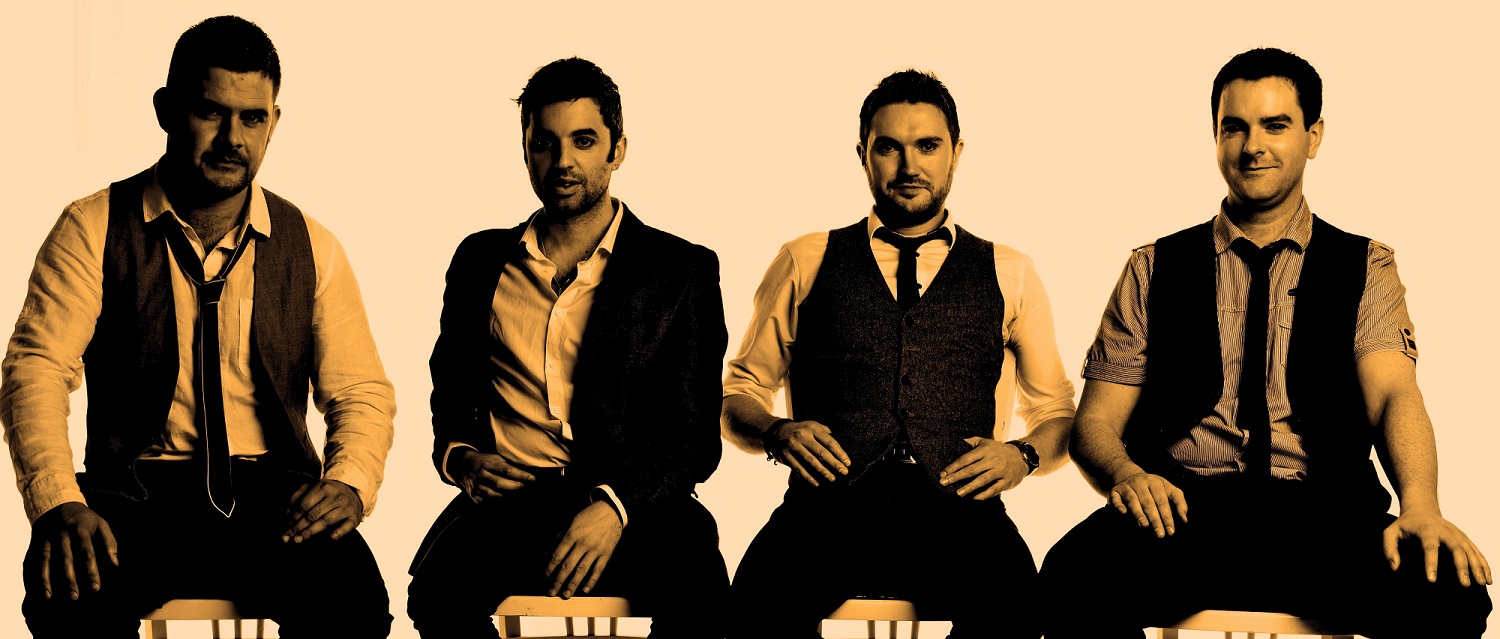 Starting off with a ballad 'You Couldn't Have Come at a Better Time' the bands voices blended beautifully and they had the audience's attention from then on. Playing an array of instruments but unusually no accordion as often associated with folk bands, the band continued to perform some great hits including 'Wild Rover' 'Leaving of Liverpool' 'Galway Girl' and 'Dirty Old Town' plus several traditional instrumental folk dance arrangements . The auditorium last night was unusually light with only just over half of the stalls filled but what they may have lacked in numbers did not affect the enthusiasm for this band and there were whoops and cheers along with clapping from the start, although the encouraged dancing in the aisles didn't occur until the second half.
The band all connected with the audience with a 'competition' between Campion on banjo and Cashin on mandolin as to who was the best, showing their talents with them. I think a draw is the answer! Campion also plays mandolin and guitar and is recognised as a champion banjo player. Cashin too plays a variety of instruments besides the mandolin including guitar, Irish whistle and banjo. He was also lead vocalist tonight and his love of the Clancy Brothers and Christy Moore is evident with some of the song choices although performed in Kilkenny's own style. Martin skilfully played an array of instruments including Bodhran, whistle, pipes and the national bagpipes of Ireland the Uilleann Pipes, amongst others, which I have to admit to being ignorant of their name. He was truly enthralling to listen to and see perform. Mackay treated us to a beautiful rendition of an Irish Sea shanty 'Fiddlers Green' before the harmonies of the other members joined him. Mackay plays bass and guitar in the band too.
The evening ended to a standing ovation and I can only hope that a return to this theatre sees a larger audience as it is certainly deserved. The tour continues and for more information see http://www.thekilkennys.com/on-tour
Reviewer: Lorna Weekes
Reviewed: 17th June 2016
North West End Rating: ★★★★