These impeccably dressed foursome took to the stage and gave an outstanding performance recreating the music of the Four Seasons with an opening song of Frankie Valli's 'My Mothers Eyes'........and it was a sensation from there on!
Bye Bye Baby are the creation of Marc Ryzer who is the Musical Director and although none of the four had met before he had worked with each at various times. It was he who brought them together with a vision of creating the best in tributes to Franki Valli and The Four Seasons and they are well on the way to achieving this after only being formed in 2013 and performing their first professional theatre tour in 2015. Ryzer knew from the onset that the four guys were something special and put them through 3 months of intensive rehearsals along with choreographer Scott Jenkins (also Artistic Director) to perfect the stage show.
It was certainly evident from the opening bars and synchronized dance routines that this group are committed to recreating the fabulous sounds and moves of the 60's group, who achieved several number one hits. The show however isn't just about the music, it also tells the story of how the original group were formed having a string of names before settling on the Four Seasons taken from the name of a bowling alley they were at! The performance continued with other hits such as 'Sherry', 'Big Girls Don't Cry', 'Walk Like a Man' and 'Let's Hang On' unsurprisingly accompanied by an enthusiastic audience with plenty of singing, arm waving and dancing in the side aisles, although I am glad to say it was only the last number 'Bye Bye Baby' that brought everyone to their feet. I am all for audience participation but prefer to keep my seat until the end. The dancing crowd tonight did not distract from the stage performers. Returning after a short interval the hits kept on coming with 'December 63', 'Why Do Fools' and the one giving the name 'Bye Bye Baby'.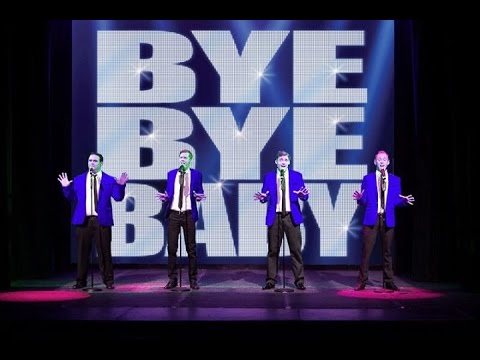 Jamie Ledwith as Frankie Valli has a brilliant falsetto voice and it would be hard to distinguish him from Valli. Richard Campbell as Bob Gaudio and Tim Kay as Tommy DeVito along with the baritone voice of Daniel Goddard as Nick Massi perform faultless harmonies throughout. As individual singers they are all extremely talented and together give the 'wow' factor.
These guys are pure showmen using the stage with ease and their dance routines are second to none. The personalities of each shine through and the audience were swept away from beginning to end. The stage was simple, a screen at the back often favoured by tributes, showing clips of the original group, however I have to admit I really did not pay much attention to what was going on with the screen as I was mesmerised by Bye Bye Baby. Four spotlights from above focused on each member, a spotlight following them when moving around the stage would have benefitted as they were occasionally cast under shadow with their routines.
Supported by a fabulous four piece band under Musical Supervisor Steve Fawbert on Drums, Gary Mullins - Guitar, Dan Giles -Bass and Henry Burnett - Keys. They were an impeccable accompaniment to the singers.
Although the theatre was not full last night I foresee that once the word gets out that a return next year will be a sell out. Returning to the stage for an encore the guys sang a medley of the songs performed during the evening and afterwards met fans to sign autographs and have photos taken. (Tip to the guys... get a white, gold or silver highlighter to autograph, black not ideal on a dark brochure cover! )There was also a CD and brochure available to purchase.
Bye Bye Baby continue to tour and if you get chance to see these 'Perfectly Polished Performers' I urge you to do so, you will not be disappointed.
For more info and tour dates: www.byebyebabylive.co.uk
Reviewer: Lorna Weekes
Reviewed: 10th June 2016
North West End Rating: ★★★★