In these times of #Stay at Home, there are plenty of free online reruns of great theatre. As it was Good Friday, The Show Must Go on offered another Webber/Rice musical, this time the 2012 Live Arena tour of Jesus Christ Superstar.
This was always one of my favourites having grown up with it. I can even boast once owning the original concept album. Over the years I have seen numerous versions from the West End to college and youth productions and of course the film. This 2012 revival was to mark its 40th anniversary and was a Rock Opera in the true sense, playing to a large arena with an amazing live band.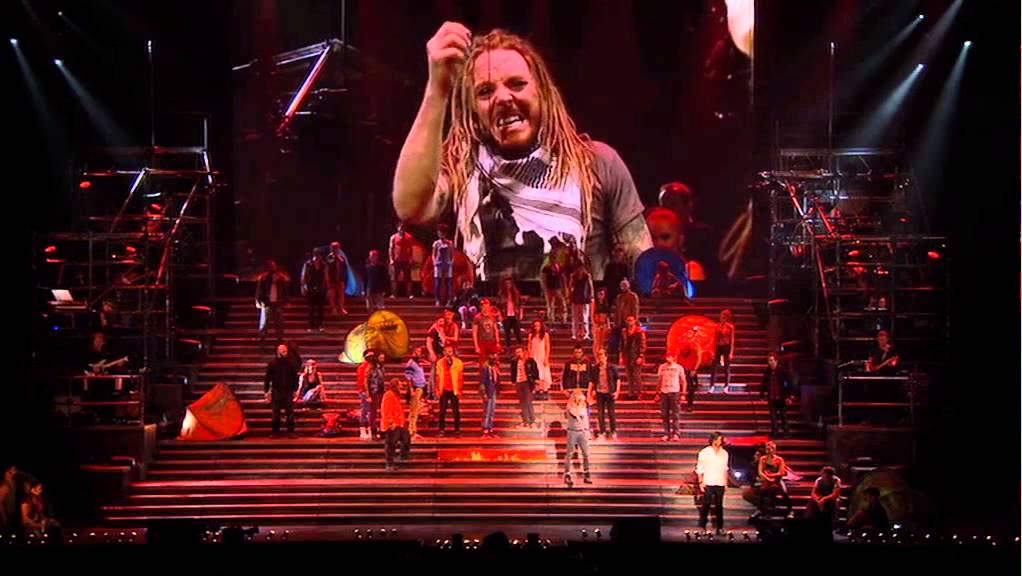 Starring the multi-talented Tim Minchin as Judas, Melanie C as Mary and the then newcomer Ben Forster as Jesus: who had won himself the part from the ITV show Superstar, plus a cameo gem from the DJ Chris Moyles as Herod and Giovanni Spano as Simon (a face later seen on the x factor), it was a breath-taking, all-rocking extravaganza that was every bit as good as I remembered from when I last saw it.
For those who don't know it: I guess there must be some, this opera (for there is no dialogue) shows us, through memorable songs, the dynamic between the three central characters. Mary's relationship with Jesus, Judas' jagged connection with the man who is their leader and Jesus' own relationship with God. It doesn't matter when you set it, biblical Jerusalem, 1960s/70s hippy-land or, as this concept shows, a modern high-tech world, where the Romans are the police state and Herod is a game show host and the public get to vote if Jesus is "the Lord" or a "Fraud".
This bold, imaginative re-working was truly a new take for the new century but showed it still has a relevance, perhaps now even more in 2020. This is a political story more than a religious one: for in a time of oppression, where money and power are the enemy, those preaching love and community are the righteous. The superb ensemble, as hooded rioters and revolutionaries, give us an explosive start as chaos slowly develops into choreography. The energy and vibrancy of them as followers never waivers, as characters make their way up and down the impressive steps that take up the whole stage, giving height and dimension to every scene.
As you would expect from a highly professional show of this calibre, they have the best performers, musicians, technicians and designers, so everything is meticulous in its delivery and every note sung is on point- even the screaming! From the first discordant phrase to the last image of Christ, we are drawn into this world. Some highlights were Minchin's opening "too much Heaven on their Minds" Forster's "Gethsemane", Mel C's "I don't know how to love him", the hanging tree and the 39 lashes, with Pilot as a high court judge, played immaculately by Alexander Hanson. Every bit of it was reminiscent of true progressive rock and still the narrative holds us, well it is the greatest story ever told after all.
You can watch the show by clicking on the link below until Sunday (12th April) below.
Reviewer: Bev Clark
Reviewed: 10th April 2020
North West End UK Rating: ★★★★★