An Authentic Community Theatre with Wider Appeal
Players Theatre in Cheadle Hulme are well advanced with rehearsals and set construction for their upcoming production of Entertaining Angels, a gentle and witty comedy by Richard Everett. Set in a classic English vicarage garden, recently widowed clergy wife Grace is enjoying her new found freedom but the return of her eccentric missionary sister together with other disturbing revelations forces Grace to confront the truth of her marriage.
I met with the director, Val Middleton-Egan, on the recently constructed set and she was keen for me to see the newly-laid astro-turf as well as the stream, which has running water, where much of the revealing scenes between characters are held. She highlighted that the authenticity of the set is achieved by ensuring that all viewing angles onto the stage have been considered and so in this production we see the necessary bric-a-brac behind a partly obscured window being captured along with the bird droppings on the greenhouse roof.
This attention to detail is a true testimony to the original production, starring Penelope Keith and Benjamin Whitrow, which opened the Chichester Festival Theatre in 2006 and played to a record-breaking 26,000 people in just over three weeks. Players Theatre's production may only be for one week but one expects their 100+ auditorium, including disabled accommodation, to be at full capacity each night.
Middleton-Egan is the current Artistic Director of the theatre although she will step down after this production to take on the role of President from next season on a 2-year term. She has been involved with the theatre since 1971 in a variety of front of house, back of house and acting roles, having studied drama at school and college, although surprisingly Entertaining Angels is her first time as a director. She explained that having played a variety of roles over the last 45 years, she just 'felt ready' to take on a new responsibility although she clearly retains fond memories as she recounted her powerful delivery in an earlier production of Steel Magnolias which had reduced both her husband and son to tears, as well as being nominated for Best Actress for her Madame Arcati in Coward's Blithe Spirit.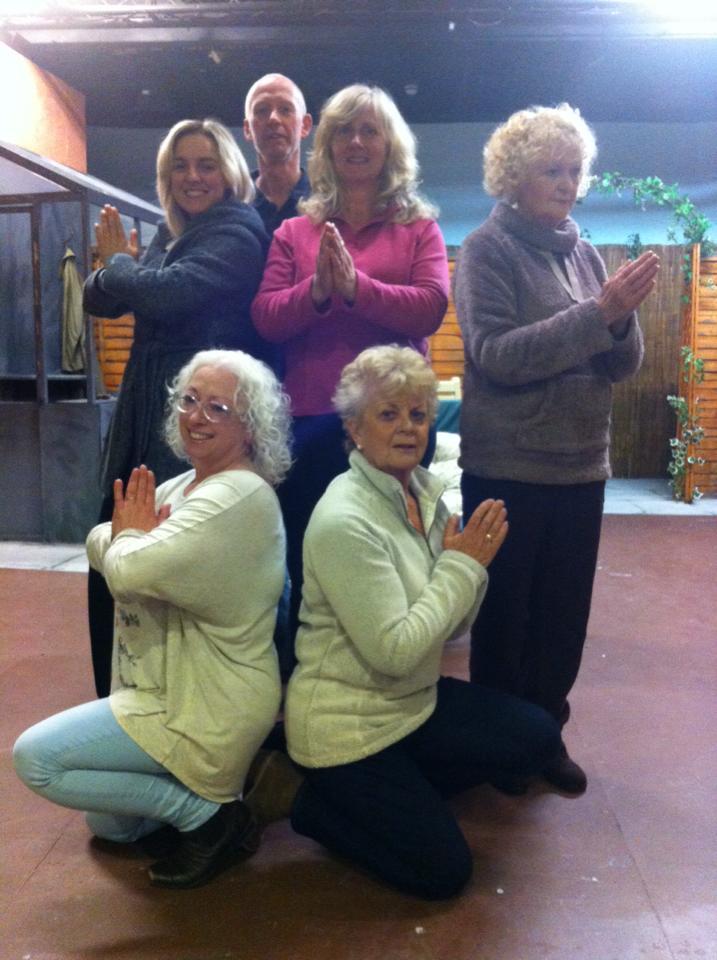 Middleton-Egan said she was keen to incorporate some fringe plays in future seasons but equally forced to acknowledge current audience demands to go away feeling happy and so whilst Players Theatre has a fine record of past productions of Shakespeare, Beckett et al, and the focus at present remains on comedy and farces. Interestingly she highlighted that whilst recent seasons have consisted of four productions, as well as a Youth Players 2-nighter, historically there used to be five productions per season and she was keen to see this resurrected: I wonder whether this perhaps could be the opportunity to offer at least one more diverse performance within a season.
There are six weeks of rehearsals (three nights per week and one Sunday) to deliver a week-long run and Middleton-Egan was keen to acknowledge the fantastic support work done by her wardrobe, props and set construction teams in bringing it all together. It must be noted that having their own premises is a real blessing as they are able to retain everything for future re-use: in fact they actually hire out their period costumes when not required by a current production which might be worthwhile other theatre groups noting.
There is a strong social aspect to Players Theatre and they host a regular monthly event for members as well as themed suppers, a summer BBQ and a 100-Club: other than a break from proceedings in July, there is always activity of some sort going on. The Youth Players provides a fantastic opportunity for 8-15 year olds to experience not only acting but to learn stagecraft skills and it was pleasing to hear that four youth members were stepping up to perform in next season's productions. Middleton-Egan added that new members are always welcome with an emphasis on giving everyone the opportunity to perform rather than restricting opportunities to known actors or a focus on winning awards. This is very much a community-driven theatre group which is refreshing to see and rightly acknowledged by its selection as the venue for this year's Greater Manchester Drama Federation One-Act Festival (6th - 11th June). For those of us travelling from further afield the directional signage on the local road network off the nearby M60 makes the venue and productions easily accessible.
Entertaining Angels plays from Saturday 14th May through to Saturday 21st May (no performance on Sunday night) with performances starting at 7.45pm. Tickets can be secured by calling 0161 485 7704 or book via the website www.playersdramatic.co.uk
Reviewer: Mark Davoren
Previewed: 2nd May 2016