Liverpool's St George's Hall are proud to announce a unique evening of entertainment in their historic Civil Courtrooms, where ticket holders become the jury on a personal Civil Court Case between two of Merseyside's top comedians, Civil Court Case No. 45 The Trial of Tomlinson Versus Boardman. The event will take place over three nights from Sunday 13th to Tuesday 15th March and tickets are now on sale.
Mr Ricky Tomlinson and Mr Stan Boardman have been neighbours for over 30 years and also good friends, until Ricky went on holiday and asked Stan to look after his dog. Ricky gave Stan £60.00 for dog food to feed the dog for three weeks whilst he was away. Ricky says Stan never fed his dog and wants to know what happened to the £60.00 he gave him.
Stan is counter-suing Ricky for £3000.00 worth of electricity which he says Ricky stole from his house to work his fly-mo and to cultivate plants that he grows in his loft!
The trial also stars top female comedian Crissy Rock as Boardman's sister, John Gorman from Tiswas/Scaffold fame as The Judge, BBC Radio Merseyside's Billy Butler and his wife Lesley Butler, Johnny Kennedy, Saul Murphy plus a full supporting cast.
Alan Smith, manager of St Georges Hall said "St George's Hall is delighted to welcome a number of the Liverpool comedy "Glitterati" to the hall to perform in the Civil Courtroom, it's such a delight to be able to have such quality performers appearing in the court, and bringing comedy, laughter and joy into a space that has also had more than its fair share of sorrow and hardship. I love the contrast that such performances can now bring to the court, and we are delighted to add a new strand to the courts programme of events."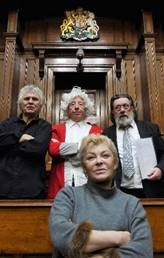 Ricky Tomlinson is probably best known for his roles as Bobby Grant in Brookside and the lazy but loveable Jim Royle in the The Royle Family. His acting credits span over 30 years and include many more comedy and dramatic roles such as the lead character in Mike Bassett: England Manager, DCI Charlie Wise in Cracker, and the poignant portrayal of John Glover, father of Hillsborough victim Ian, in the Jimmy McGovern drama Hillsborough.
Stan Boardman has been a comedian for over 30 years. He first found fame after winning first prize in a talent competition at the London Palladium. His distinctive style of comedy and his original material helped him walk off with the £1,000 first prize, a summer season engagement and the title Star Act Of The Year. He has been a regular on the Gala Show and Opportunity Knocks Variety Awards Shows. He continues to be one of the most sought after comedians on the stand-up circuit.
What will be the Judge's final verdict, will Tomlinson discover what happened to the dog food fund and will Boardman win his electricity bill claim? One thing is for sure, there will be plenty of laughs along the way.
For further information, please visit www.stgeorgesliverpool.co.uk.
PERFORMANCE DETAILS
CASE NO.45 TOMLINSON VERSUS BOARDMAN
Sunday 13th – Tuesday 15th March 2016
The Civil Court Room, St George's Hall
Entrance via North Hall (opposite Walker Art Gallery) St Georges Place, Liverpool, L1 1 JJ
Door Open: 1 hr before hearing
Court Hearing: 7.00pm and 8.45pm each evening (Jury must be seated 30 minutes before hearing)
Tickets: £20 (plus booking fee)
Duration: 60 Minutes (no interval)
Tickets can be purchased at www.ticketquarter.co.uk. Alternatively call 0844 800 0410.