North West End was invited to a press launch at the Unity Theatre this morning, and party poppers, balloons, cake, tea and biscuits, greeted us. I had a look around and saw some floor plans which was all very exciting, what they were going to announce?
The chairman of the Unity Theatre's board announced that they are remodelling the Unity Theatre, as they have been awarded £435,000 from Arts Council England for small scale capital redevelopment funding.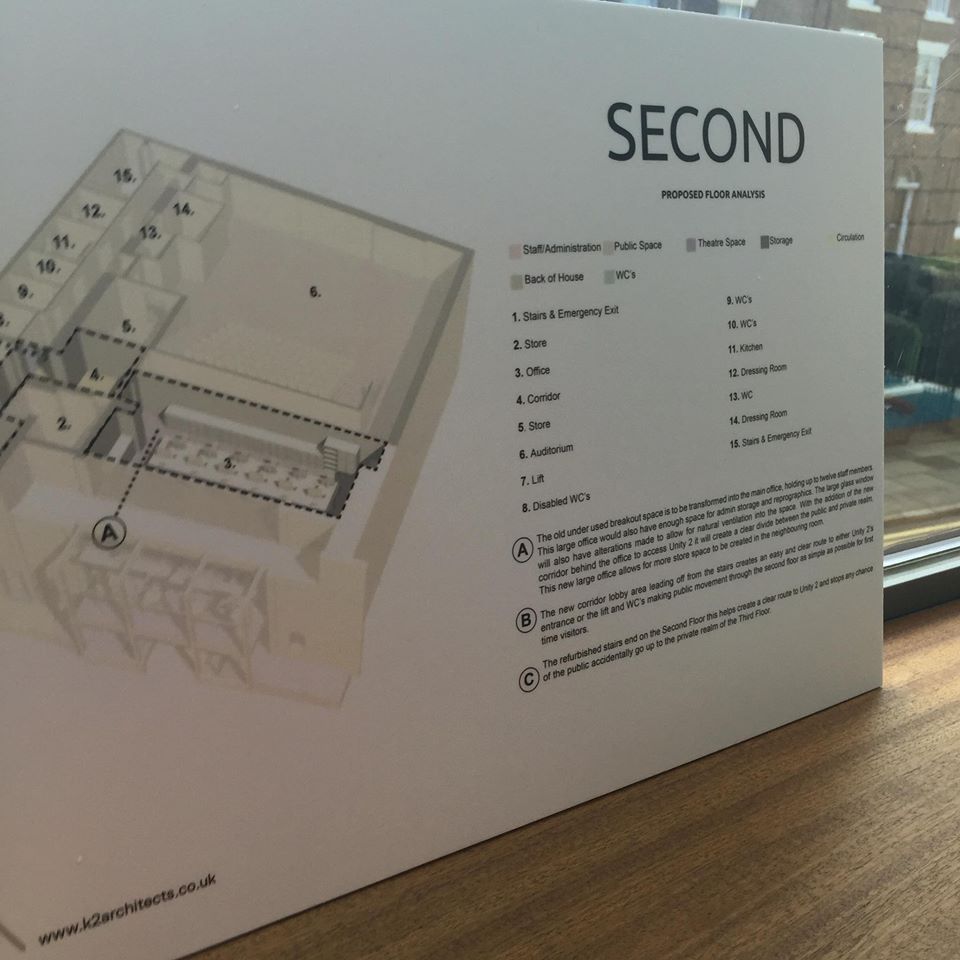 The redevelopment will commence on the 25th June 2016 and it will reopen on the 26th September 2015. Matthew Linley, the Artistic Director and CEO took us on a tour of the theatre and showed us some of the provisional plans for the redevelopment. The aim is to make the theatre more intuitive and a more friendly open space that creative people can come and work, as well as see shows. The two spaces, Unity one and Unity two will be soundproofed so that two performances can be put on at the same time, which will bring more performances and more audiences to the theatre.
One of the main parts of the redevelopment is creating a larger clearer main entrance, which will look more welcoming and inviting, as at the moment the entrance is quite hard to find for new members of the public arriving. Navigation will be easier around the building, as where the original box office is will be taken and stairs put in its place. A second bar will be placed on the ground floor, which is open to the public, not just if you are seeing shows. The new second floor will provide pleasant office space, which is useful for writers who are starting out, or people needing to do work who can do so in the café/bar.
So many people will benefit from this, it will provide more opportunities for developing companies to showcase work, drop in workspaces, more opportunities for research and work. It will be a simpler and easier building to navigate. This is a great opportunity for the Unity Theatre and will make a positive impact on theatre companies and the whole surrounding area.
Sam Pears – 11th February 2016