The rock musical Little Shop of Horrors will head to The Met, Bury from 16th - 19th October. Local group Whitefield Amateur Operatic & Dramatic Society, who have been performing popular musicals since 1922, will this year take on the popular comedy horror musical in time for Halloween.
The well-loved musical, made popular by the 1986 film starring Rick Moranis and Steve Martin, has stunned audiences on both Broadway and The West End. Set in the dilapidated area of Skid Row, Little Shop of Horrors follows the story of a florist shop worker who raises a plant that feeds on human blood and flesh.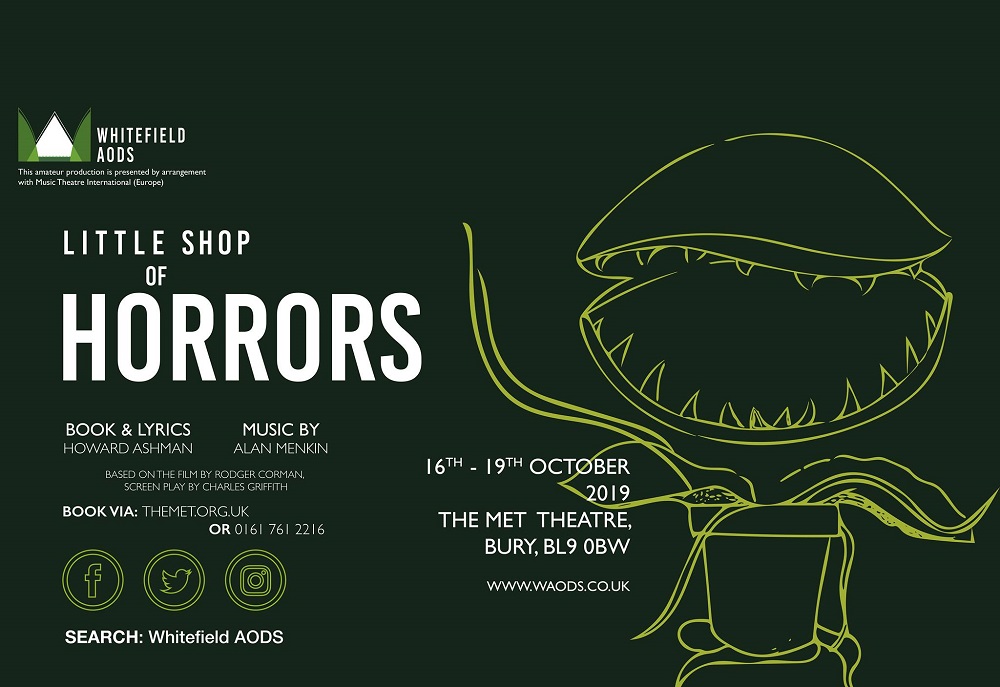 Including much loved songs such as "Grow for me", "Suddenly Seymour" and "Skid Row", the gothic musical has devoured the hearts of theatre goers for 30 years.
The newly refurbished Bury Met will host Whitefield's Little Shop of Horrors following their successful run of Jesus Christ Superstar in 2018.
Director Mal Wood says "Little Shop of Horrors is such a fun show that I'm sure a lot of people have seen, so we've tried something a little different. The plant, Audrey II will be a massive puppet that, at full size needs 5 puppeteers to bring to life. We're also focusing a lot on colour, bringing the stage to life and really making the audience feel like they're part of the flower shop.
The cast have worked so hard, all of them have day jobs yet come to rehearsals on evening and weekends and give their all. It really is a show not to be missed."
Seymour will be played by Ciaran Raffety, Audrey played by Sophie Lord, the dentist Orin Scrivello played by Steven Cheeseman and playing Mr Mushnik is Martin Kelly.
Listings
Little Shop of Horrors
Dates: 16th – 19th October (including Saturday matinee)
Tickets: £16