We've all heard about that famous Merseyside quartet of the 1960's who took themselves off to Hamburg and went onto international success: The Liverbirds.
The Liver-what? Time for a rewind and catch up with Ian Salmon whose play tells the story of four young girls - Pamela Birch, Valerie Gell, Mary McGlory, and Sylvia Saunders – who took on the boys at their own game to much international acclaim but whose story has lain hidden until now.
Salmon recounts how the girls were involved in various beat groups at the Cavern, eventually coming together in 1964 to perform R&B in the style of Chuck Berry and Bo Diddley. As with many bands, the girls went to Hamburg where the beat scene was thriving but unlike the other famous four – it's a quote from Lennon that gives the play its title – they never came home, opting to become one of the top attractions at the infamous Star-Club, releasing two albums and several singles, before eventually breaking up in 1968 following a tour of Japan.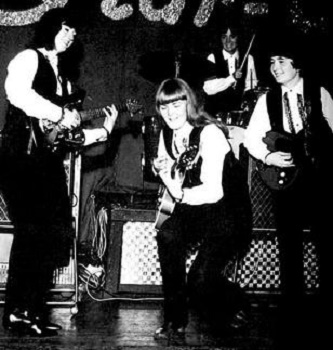 The story came to light after music journalist Paul Fitzgerald discovered a photograph, and Salmon – who after thirty years working for HMV is considered a bit of an expert on music – was amazed not to have heard of them and wanted to bring their story to life: of four brilliant musicians who took a chance and never looked back in what is still today an inspirational tale of empowerment and taking control of your own life.
The resulting musical is a faithful re-telling at The Royal Court Liverpool, a venue with much meaning to Salmon who grew up seeing his favourite bands perform there and aspired to be on that stage, not realising that it would be redundancy in 2014 that would afford him time to focus on fulfilling his dream albeit with the pen rather than the guitar as he continues.
Despite some musical forays in his younger days and a brief band reunion in 2009, he had always been interested in writing including a daily blog and The Anfield Wrap. He had never expected to write plays but his involvement with Merseyside Script Initiative and their Page to Stage programme in 2014 began to open new doors starting with 'Venus Rising' and followed by 'The Comeback Special' in 2015, both of which have been performed again recently. 'Those Two Weeks' – which is being performed again this month at Epstein Theatre – is his most personal work, resonating strongly with audiences as it sensitively captures a Liverpudlian family in the lead-up to Hillsborough: the last time life was normal, it could never be the same again.
It is this connection with people that is important to Salmon, presenting his material in a way that they will find interesting and always willing to take on board a suggested line change from cast and crew if it means the audience will get a better night because of it. Or as he puts it: knowing what people want to see before they know that they want to see it. Well, he's certainly doing that as audience numbers for his plays increase resulting in the bigger theatres wanting to put on his work in this very commercial market.
Those Two Weeks plays at Epstein Theatre from Wednesday 18th September to Saturday 21st September 2019 at 7:30pm with a 1:30pm matinee on Saturday. Tickets from £13 available via https://www.epsteinliverpool.co.uk/events/those-two-weeks/
Girls Don't Play Guitars performs at Royal Court Liverpool from Friday 4th October to Saturday 2nd November 2019 at 20:00 with a 14:00 matinee on Saturdays. Tickets from £14 available via https://liverpoolsroyalcourt.com/whats-on/girls-dont-play-guitars/