I was thrilled when I heard that EBird Theatre Productions were staging Chilean playwright Ariel Dorfman's Death and the Maiden at The Hope Street Theatre in September so it was with much excitement that I caught up with actor Emma Bird and producer Siobhan Noble to discuss what they were doing with the play.
The play was written in 1990, the year that Chile finally returned to democracy with its people coming to terms with the aftermath of Pinochet's brutal dictatorship of mass disappearances, torture, rape, and murder. It captures a 24-hour period when one night a stranger knocks on the door of a survivor of torture and her human rights lawyer husband. She recognises the stranger's voice and is convinced he is the perpetrator of her violation and proceeds to force a confession. But what is the truth she hopes to find?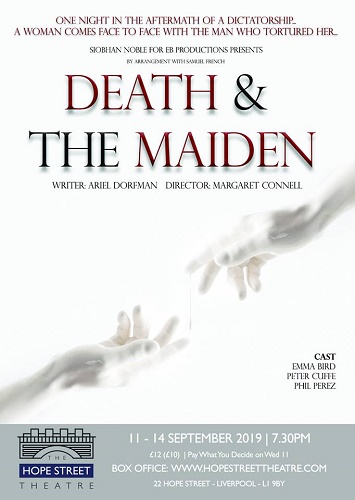 Bird and Noble have chosen to set the play in contemporary times in a non-specific geographical place to universalise the story since the issues it explores – trauma; morality; redemption - still resonate making this much more than a historical piece, indeed it highlights our inability to learn the lessons of history as we witness the ongoing division and polarisation between individuals and nations today.
Both are keen to draw attention to the conflict arising from Brexit with extreme positions to both the left and right being adopted, and the worrying rise of extremism which has most recently seen a left-leaning journalist singled out for physical attack in the UK, whilst the wider global stage sees trade conflict escalating between America and China, and the situation in the Middle East precarious and unbalanced.
Bird and Noble firmly believe that now is the time for people to consider powerful questions about personal moral codes; the pursuit of justice; and forgiveness, and how – or if – personal and political reconciliation can be achieved after violent and repressive division: if we don't find answers to these issues then we will only remain on the merry-go-round of repeating past mistakes.
As they continue, it is equally important for people to be heard, irrespective of whether we agree with their views or not, because that simple acknowledgement in itself can often be enough to dissipate discord, with one of the best examples of this being the Truth and Reconciliation Commission in South Africa which provided the crucial component in the transition to full and free democracy and despite some flaws is generally considered to have been successful.
So, to the ladies themselves: Noble has already made her mark on the city with the much-missed Lantern Theatre Company which she operated with her mother, Margaret Connell – who is directing this play – and which launched many a theatre company and artiste. Noble is currently working with Peter Mitchelson – who is overseeing tech on the play – to re-establish Shiny New Theatre to create theatre in a different way through a podcast base and will shortly be opening up for submissions.
Bird began acting from a young age appearing in Jimmy McGovern's Needle before becoming a regular on Casualty, following which she moved back to her stage roots with The National Theatre. She returned to Merseyside a few years ago to be closer to family and established the successful Liverpool Comedy Improv. Alongside teaching duties, Bird wants to continue performing and directing high quality theatre and collaborating with fellow creatives in Liverpool.
Death and the Maiden performs at The Hope Street Theatre 11th – 14th September at 19:30 with tickets priced £10.75 - £13.00 and available via http://hopestreettheatre.com/whats-on/