SAMANTHA COLLETT
I've been so very fortunate to see a wide range of productions this year. Here are my top three.
Beauty and the Beast: A Musical Parody - Kings Head Theatre, London
Wow! Just Wow! I said that when I reviewed this show, and all these months on I still think the same. I absolutely adored just how clever, witty and contemporary the writing and acting was – if it had been any sharper … ah I'll leave the bad jokes! As for the music - the talent on stage was reminiscent of a West End musical – it really was a very big production for such a small stage. I am now a complete super fan of Fat Rascal Theatre and cannot wait to see what future productions they have in store for 2019. Their brand of innovative, satirical humour and unbelievable talent puts them in an absolute league of their own!
Pizza Shop Heroes - Camden People's Theatre, London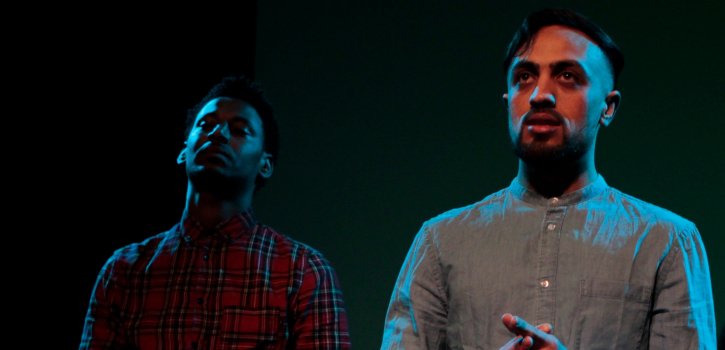 This play is an eye-opener – and one which every person lucky enough to have been born in Britain should watch. It lifts the lid on immigration and shows you the journeys these brave actors have taken when they travelled as unaccompanied asylum seeking children to the UK. You will never look at a foreign face the same way again. It's a heavy topic, but a hot, very important topic, and it's one which needs to be understood more. Phosphoros Theatre did a brilliant job of presenting the issues in an innovative way without shoving an emotional ramrod down your throat. You don't have to care – but it would be good if you did.
Fannytasticals - Etcetera Theatre, London
I'm not normally one for an "overly female oriented" production, but this brilliantly funny and cleverly deep production got me re-thinking why that was. The talented troupe used everyday situations with remarkable wit and comic songs to get under your skin and show you just how very great (although difficult) it is to be a woman. Brave, out-there and unashamedly pushing the envelope of decency, this brand of humour is awkward and makes you cringe – but only because it is so bloody right! Truly, a feisty festival of female hood – and makes you feel proud of being a woman.
ISLA ROBINSON
2018 has presented a huge variety of new theatre productions which have been both vibrant and exciting. This year I've witnessed the wonderful work of a vast amount of talented writers, performers and directors. Narrowing down a top 3 has certainly been a challenge.
The three I've narrowed it down to happen to all be new writing which has been beautifully put together.
Say My Name (Unauthorised Breaking Bad Musical Parody) at Theatre N16, London
My first choice has to be the epic unauthorised parody musical of the Breaking Bad franchise, 'Say My Name'. Performed with great success at the recently closed Theatre N16 (which I sincerely hope will resurrect again) this is a beautifully bizarre reimagining of Walter White's journey from Chemistry teacher to drug lord.
Compressing a five season storyline into an energetic one act musical is a fine achievement. The piece is witty, highly entertaining and has superbly catchy tunes. Two months on and I still find myself spontaneously bursting into the soundtrack when the opportunity presents itself (much to the bemusement of my peers).
The highly talented company plan to record and release an album of the show's songs in early 2019 which will be well worth a listen. Writer and producer Robert Gathercole is keen to revive the production in the near future and I urge theatres to select this as part of their programming.
For its unique brilliance and bizarreness I cannot commend this production enough!
Renaissance Men at The Old Red Lion Theatre, London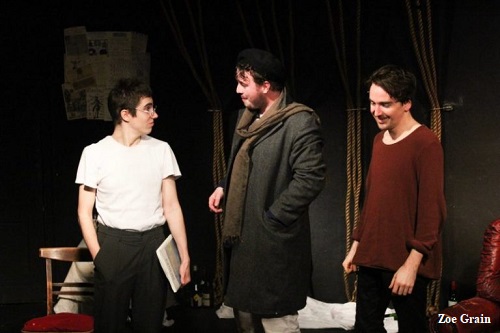 My second choice is the enjoyably dark comedy 'Renaissance men' which premiered at The Old Red Lion Theatre this November. Bag of Beard's new work explored the fragility of modern day male friendships against the comedic backdrop of a get-rich-quick-scheme!
I was highly impressed with the quick witted and cleverly constructed script of emerging playwright James Patrick. From the opening scene I was quickly absorbed in the distinct characterisations and clearly formed relationships. It was clear that the cast had worked hard to create a believable world both onstage and off. This great attention to detail and the winning combination of a both humorous and moving storyline really stood out for me.
A really captivating show that was highly enjoyable! I wish the company all the best for their upcoming 2019 tour. A thoroughly recommended watch.
Testament at Bread and Roses Theatre, London
My final choice for this year has to be Chalk Line Theatre's bold and brilliant production 'Testament'. After an acclaimed run at the the Edinburgh Fringe the show transferred to the Bread and Roses for early October.
This piece was an excellent example of ensemble led storytelling. I loved the unique perspective of grief and trauma through absurd means. I was blown away by the dynamic staging that was slick and brilliantly executed and I can still remember some of the powerfully strong images that were created through affecting physical Theatre.
The performance also showcased great technical skills, particularly notable was William Patrick Harrison's incredible soundscape which intensified the experience.
This show is really deserving of a larger venue and a longer run and I'm delighted to hear of its upcoming UK tour in 2019.