BLUE is an abstract fairy tale for adults about a woman who lives on the Moon. Using poetry, clowning, cardboard and a lobster called Spock, BLUE is a one woman show that explores experiences with mental health and the importance of reaching out when you're not OK.
Blue is a journey that takes us to the Moon, with Spock the lobster and Blue, to explore what it's like on the Moon and whether she likes it up there. Along the journey questions are raised about Blue's mental health.
'Kim Scopes is a funny, cheeky, a wonderful performer and you are guaranteed a frolic like no other' - Mike Bradwell
Sycorax Collective created the piece collaboratively and by facilitating creative community workshops in Slough, with the generous support of Slough CVS, HOME Slough, Creative Junction and Aik-Saath. Funded by the Arts Council England.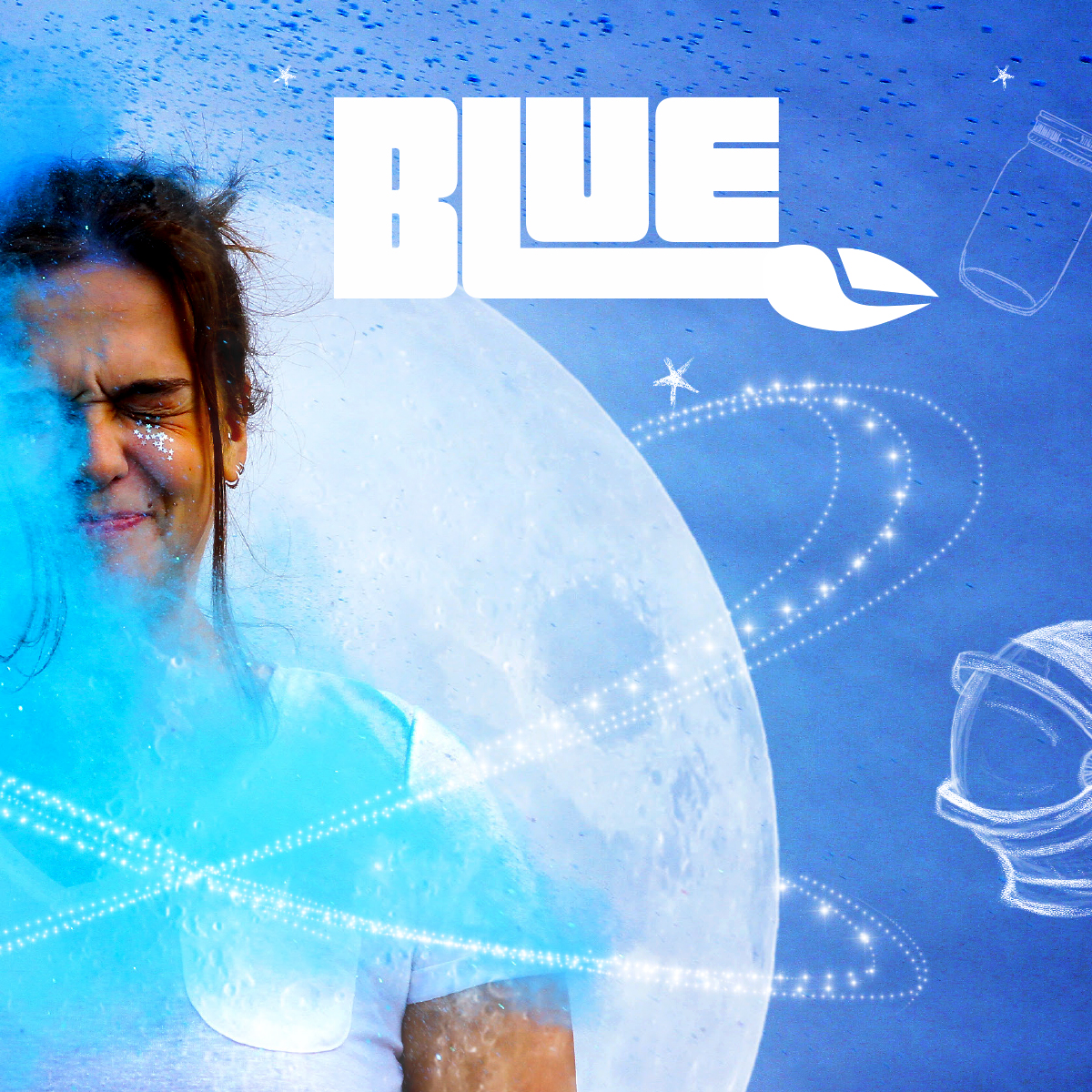 BLUE is written and performed by Kim Scopes, directed by Holli Dillon and features the vocal talents of Andrew James Spooner and Aiysha Nugent-Robinson.
Kim Scopes is an actress, puppeteer and writer whose previous credits include 'A Christmas Carol' starring Jim Broadbent, ITV's 'NEWZOIDS' and 'Boris & Sergey's Vaudevillian Adventure' with Flabbergast Theatre. She has been a supported artist with Finger in the Pie previously run by Alexander Parsonage and Flavia Fraser-Cannon.
Holli Dillon is an acclaimed performer and director. In her personal career, she has worked with the likes of the BBC, ITV, Central School of Speech and Drama, the Crystal Maze, National Theatre, Theatre Deli and Warner Brothers.
Andrew James Spooner is an actor, puppeteer, voice over artist and puppetry consultant. He performs as Furgus Fuzz on Cbeebies 'The Furchester Hotel' and previous credits include 'Muppet Treasure Island', '101 Dalmatians and 'Muppets Most Wanted'. www.andrewjamesspooner.com
Aiysha Nugent-Robinson is an actress, puppeteer and teacher whose credits include CBeebies 'The Furchester Hotel', ITV's 'NEWZOIDS' and 'Becca's Bunch' for Nickelodeon.
Listing information:
Camden Fringe 2018
ETCETERA THEATRE
265 Camden High Street
Camden, London, NW1 7BU
15th - 19th August, 8:30pm
Tickets £8/7
This email address is being protected from spambots. You need JavaScript enabled to view it.
Tel: 020 7482 4857