Rehearsals are over for the finale of Altrincham Garrick's 2017/18 season, the worldwide smash hit musical, Priscilla Queen of the Desert which opens tonight!
Priscilla is the most ambitious musical production in recent years and is set to wow the Altrincham audiences with its striking set bringing the on stage action up close to the audience, not to mention the stunning costumes provided by the acclaimed wardrobe department at the Garrick assisted by Charades Theatrical Costume Hire in St Helen's.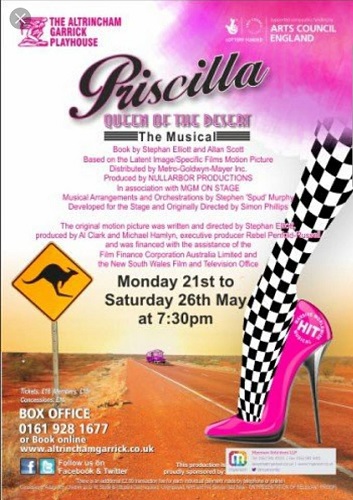 For those not familiar with the story, take two drag queens, a transgender woman and a bus and you have the story of their race to get from Sydney to Alice Springs in time to perform their act at Lasseter's Hotel Casino Resort. Adventures occur along the way, including the bus breaking down and being repaired by a local mechanic which leads to an unexpected and warm relationship, and add as many disco tunes as possible. The result is Priscilla Queen of the Desert which is an uplifting musical with the serious aspect of homosexuality and it's acceptance playing a major part in the show, especially as one of the drag queens is still married and is about to meet his young son for the first time.
Book by Stephan Elliott and Allan Scott, Based on the Latent Image/Specific Films Motion Picture, Distributed by Metro-Goldwyn-Mayer Inc., Produced by NULLARBOR PRODUCTIONS In association with MGM ON STAGE, Musical Arrangements and Orchestrations by Stephen 'Spud' Murphy, Developed for the Stage and Originally Directed by Simon Phillips
The original motion picture was written and directed by Stephan Elliott, produced by Al Clark and Michael Hamlyn, executive producer Rebel Penfold-Russell and was financed with the assistance of the Film Finance Corporation Australia Limited and the New South Wales Film and Television Office
Director Joseph Meighan whose last two engagements at the Garrick were the critically acclaimed The Secret Garden and Annie in 2017 said "I think audiences can expect huge heart from this talented company. Not only will they know every song in the score, but they will feel incredibly uplifted and moved! Priscilla has it all. It's funny, it's cheeky, it's human, the costumes and set will be superb and incredibly visual, and the choreography is hugely energetic and fun! It takes you to every possible and place and emotion and ensures that you leave the theatre that evening with a smile!"
Priscilla has been a year in the planning and resulted in over 400 lighting cues, 300+ costumes and of course Priscilla herself which has been custom made in the theatre's workshop and boasts over 2000 LED lights upon her.
Priscilla opens tonight at the Altrincham Garrick Playhouse and continues until Saturday 26th May. Tickets are priced at just £18 and are available from http://www.altrinchamgarrick.co.uk/shows/priscilla-queen-of-the-desert/