Set up just over 3 years ago, Manchester Musical Youth has quickly become one of the highest regarded youth theatre companies in the area. Growing from a talented group of around 50 11-18 year olds, MMY now boasts 120 young performers over three age groups covering ages from 5 to 18. As well as a 40 strong group of 'Graduates' aged between 18 and 30, who made their debut in March with a highly acclaimed production of 'Rent'.
MMY's reputation has been regularly supported by a host of local nominations, awards and 5 star reviews for musical theatre productions across it's relatively short history. However on Saturday 5th May, at the NODA (National Operatic and Dramatic Association) Annual Regional Awards, MMY joined nominees from across the whole North West at the Mecure Hotel Piccadilly celebrating a total of 5 nominations including Pippa Greenhalgh (Bolton) for Best Lead Actress in a Youth Production, Emily Clarke (Oldham) for Best Female Supporting Actress in a Youth Production, Dave Holden (Co-Founder/Director) for Best Programme, Kimberly Holden (CoFounder/Director) for Best Musical Director and finally Best Youth Production for 'The Pirate Queen'.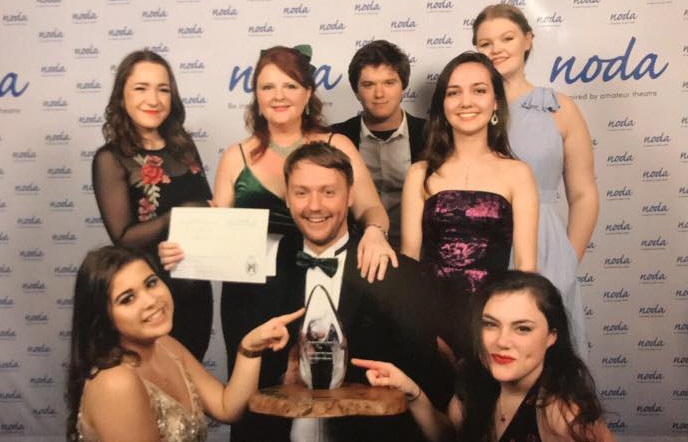 Up against the finest youth companies in the whole North West, MMY came away with a 1st and 2nd in the Best Programme category as well as the grandest honour of the evening 'The Best Youth Production in the North West' for their huge July 2017 success 'The Pirate Queen' by Boublil and Schönberg (Les Misérables, Miss Saigon).
This capped off an incredible first week in May which also saw MMY receive news from Musical Theatre International that they will get to perform the world amateur premiere of the brand new West End hit version of 'Half a Sixpence' this July at Z-arts in Hulme. This is in addition to the exclusive license already arranged to perform Mary Poppins Jr in August, usually reserved for schools, and an invitation to join the mass choir in Albert Square on the 22nd May to honour the victims of the MEN Arena bombing.
Husband and Wife team Dave and Kimberly Holden (Irlam) reflecting on their journey said 'We are incredibly proud of the achievements of MMY over the last 3 and a half years, and we are really excited about what the future brings. It's such a privilege to work with youngsters that have not only such incredible talent and professionalism, but also a wonderful sense of community and family. It really never feels like a job'.
Find out more about Manchester Musical Youth at www.manchestermusicalyouth.co.uk Their next major production, 'Half a Sixpence' (18th – 21st July) is on sale now. Tickets are available from Z-arts Box Office on 0161 226 1912 or www.z-arts.org/events/half-a-sixpence/