Marking 56 years since the very first broadcast, this production of the classic BBC TV comedy STEPTOE AND SON embarks on a nationwide tour until 22nd April 2018.
The cast will be headed by Jeremy Smith and John Hewer as Albert Steptoe and son Harold respectively. Jeremy trained at the National Youth Theatre and was also a member of The Young Vic Company and has toured in several productions ranging from farce to Shakespeare. John Hewer works as a writer and director, but is best known for his iconic portrayal of Tommy Cooper in "Just Like That! The Tommy Cooper Show" and for his performance as Tony Hancock in "Hancock's Half Hour – The Lost Episodes".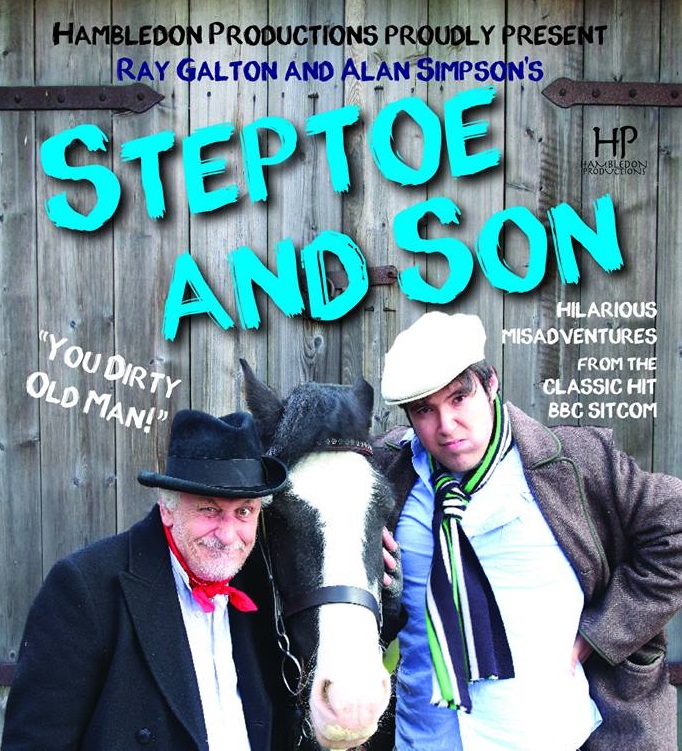 STEPTOE AND SON ran for 8 series from 1962-1974 and spawned 2 film spin-offs and several guest appearances and is fondly remembered as one of the greatest and most influential programmes. Telling the story of two warring rag-and-bone-men in their Shepherd's Bush scrapyard home, Albert and Harold became household favourites across generations and still they continue to entertain audiences today. One proclaims he's a "a poor old man" while the other protests that actually he's "a dirty old man!" In actual fact, both are telling the truth.
This production has been fully endorsed and supported by the original writers, Ray Galton and Alan Simpson. Hambledon Productions have been granted exclusive access to the entire 'Steptoe and Son' archive to adapt a range of episodes for the stage in this nostalgic but fresh recreation of original episodes.
Ray Galton O.B.E. said, "The affection for the original shines through in this fine production. The performances are marvellous!"
Features the classic episodes: Divided We Stand, Men of Letters and Come Dancing and excerpts from The Bath and Steptoe and Son – and Son!
STEPTOE AND SON is produced by Hambledon Productions with the kind permission of Ray Galton and Alan Simpson.
STEPTOE AND SON is suitable for 12+.
Website: www.steptoe.hambledonproductions.com
Facebook: www.facebook.com/HambledonProductions
Twitter: @PlaySteptoe @HambledonProds
TOUR DATES
24th February - New Theatre Royal Lincoln - 01522 519999 www.newtheatreroyallincoln.co.uk
25th February - Neverland Theatre Skegness - 01754 879262 www.neverlandartscentre.co.uk
3rd March - Skipton Little Theatre - 07527 141176 www.skiptonlittletheatre.org.uk
9th March - Riley Smith Hall Tadcaster - 01472 388019 www.rileysmithhall.org.uk
10th March - Coronational Hall Ulverston - 01229 587140 www.corohall.co.uk
11th March - Penistone Paramount - 01226 767532 www.penistoneparamount.co.uk
14th March - Epstein Theatre Liverpool - 0844 888 4411 www.epsteinliverpool.co.uk
16th March - Darwen Library Theatre Blackpool - 0844 847 1664 www.darwenlibrarytheatre.com
17th March - Millgate Arts Centre Delph - 01457 874644 www.millgateartscentre.co.uk
18th March - Phoenix Theatre Castleford - 01977 664566 www.castlefordphoenixtheatre.co.uk
23rd March - Doncaster Little Theatre - 01302 340422 - www.doncasterlittletheatre.co.uk
24th March - Robin Hood Theatre Newark - 07733 179986 www.rhtc.co.uk
25th March - Nuneaton Abbey Theatre - 01780 766455 www.abbeytheatre.co.uk
3rd April - Alnwick Playhouse - 01665 510785 www.alnwickplayhouse.co.uk
4th April - Queen's Hall Hexham - 01434 652477 www.queenshall.co.uk
5th April - Live @ The Library Oldham - 0161 770 8800 www.oldham.gov.uk/liveatthelibrary
6th April - Otley Courthouse - 01943 467466 www.otleycourthouse.org.uk
7th April - Bishop Auckland Town Hall - 03000 269524 www.bishopaucklandtownhall.co.uk
8th April - Lancaster Grand - 01524 64695 www.lancastergrand.co.uk
11th April - The Seagull Theatre Lowestoft - 01502 589726 www.theseagull.co.uk
12th April - The Fisher Theatre Bungay - 01986 897130 www.fishertheatre.org
13th April - Royal Hippodrome Eastbourne - 01323 802020 www.royalhippodrome.com
14th April - Harrow Arts Centre - 020 3773 7161 www.harrowarts.com
15th April - Lowther Pavilion Lytham St. Annes - 01253 794221 www.lowtherpavilion.co.uk
18th April - Whitby Pavilion - 01947 458899 www.whitbypavilion.co.uk
20th April – Middlesbrough Theatre - 01642 815181 www.middlesbroughtheatre.co.uk
21st April - The Forum Northallerton - 01609 776230 www.forumnorthallerton.org.uk
22nd April - The Customs House South Shields - 0191 454 1234 www.customshouse.co.uk