After sold out shows in the USA, Australia and Europe, the world's favourite Liverpool-born Beatles tribute band – THE MERSEY BEATLES – are embarking on an historic UK Tour including a not-to-be-missed show at Rhyl Pavilion.
The band's GET BACK 2018 TOUR visits the very same towns, cities and historic British venues that the original Fab Four first rocked in the 1960s. Tickets are onsale now via www.ticketmaster.co.uk or www.rhylpavilion.co.uk
Fewer than 80 of the 200-plus British venues The Beatles played between 1957 and 1966 remain today.
Many of the historic dance halls, theatres and cinemas that shook to the original Merseybeat sound have been demolished – including Rhyl's The Ritz Ballroom which was destroyed by fire in 1968. The Beatles first concert in the North Wales resort was in July 1962 at the Regent Dansette Ballroom which is now home to high street stores Burton and Dorothy Perkins.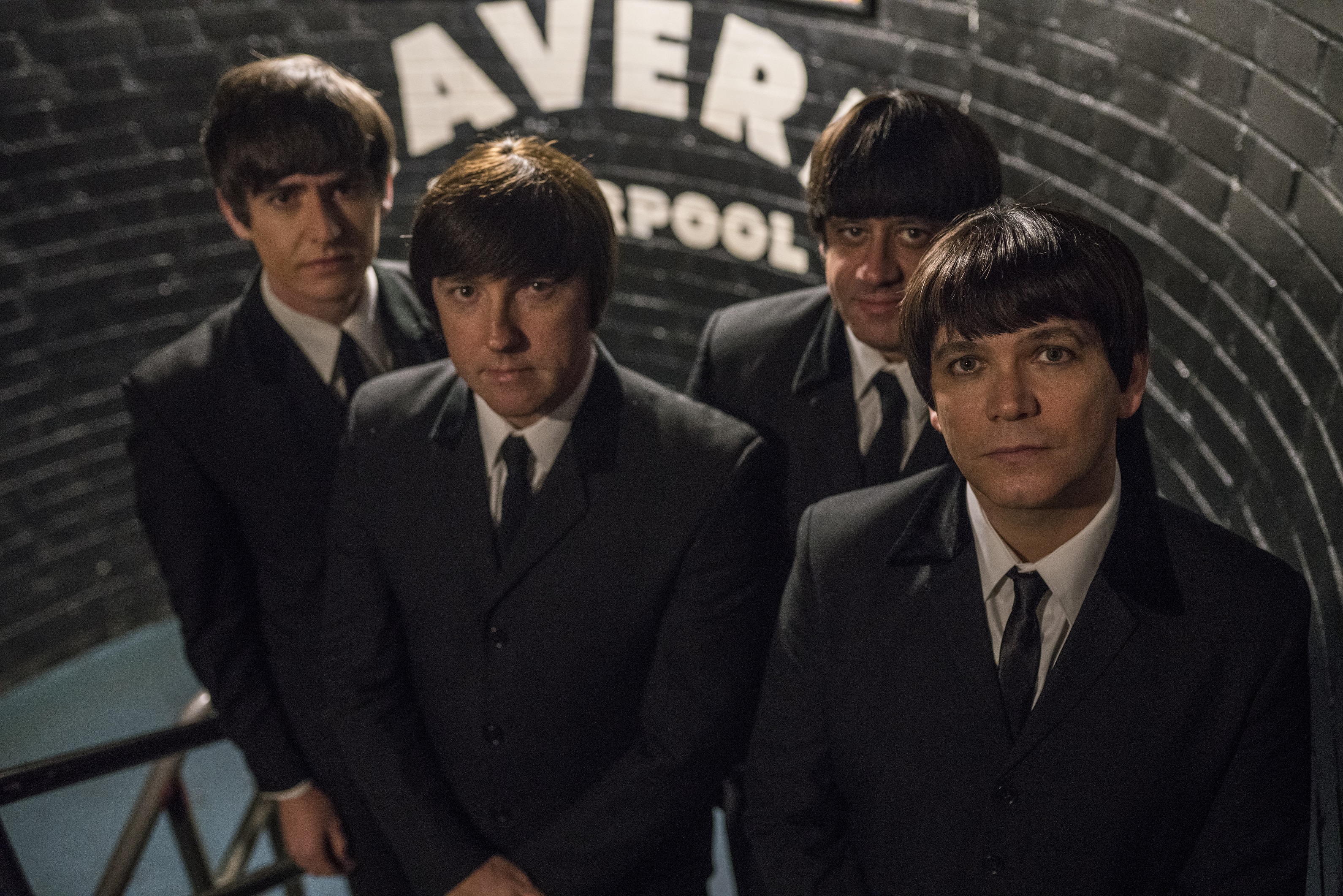 Now, in a unique bid to celebrate both The Beatles' music and the towns that helped shape that world-changing Rock 'n' Roll sound, The Mersey Beatles will play Rhyl Pavilion on Saturday November 10th as part of their 17-date UK tour.
When it comes to stage performance, The Mersey Beatles brilliantly exude the inner and outer spirit of the original Fab Four from the costumes, the haircuts, the instruments and, of course, that unmistakable and legendary Liverpool-born sound.
And their stunning two-hour show – which brilliantly captures all the hits from Love Me Do to Let It Be – has won rave reviews around the world.
Julia Baird, John Lennon's sister, said: "The Mersey Beatles are the most authentic I've heard... and I've heard them all."
Joe Flannery, Beatles' manager Brian Epstein's assistant, added: "When I saw them play in The Cavern, they perfectly recreated the atmosphere that the original Beatles produced. It was just like listening to The Beatles again."
Formed in 1999 in Liverpool by four school friends, The Mersey Beatles have toured the world many times over. And the band – Mark Bloor (John), Steven Howard (Paul), Craig McGown (George) and Brian Ambrose (Ringo) cannot wait to hit the road in 2018.
Steven said: "This tour is going to be amazing! We are, of course, all Beatles fans and, as Liverpool lads we've been obsessed with the band since we were in school. It's going to be great to follow in the Fab Four's footsteps and truly recreate those special shows."
Mark added: "We pride ourselves on bringing a true Beatles experience, covering all the eras from the days of The Cavern Club, through Beatlemania to Sgt Pepper and the band's final gig on the rooftop of the Apple offices. We cannot wait to Get Back to where it all began for the greatest band of all time."
Tickets are onsale now via www.ticketmaster.co.uk or www.rhylpavilion.co.uk
Box Office 01745 33 00 00
GET BACK – THE MERSEY BEATLES 2018 UK TOUR

OCT 31 PORT SUNLIGHT – Hulme Hall
NOV 6 STOCKPORT – Plaza
NOV 8 WHITCHURCH – Civic Centre
NOV 9 BLACKBURN - King George's Hall (Windsor Suite)
NOV 10 RHYL – Pavilion
NOV 13 ALDERSHOT – Princes Hall
NOV 14 BEDFORD – Corn Exchange
NOV 15 NORWICH – Epic Studios
NOV 16 STOKE – Kings Hall
NOV 17 COVENTRY – Albany Theatre
NOV 21 LYDNEY – Town Hall
NOV 22 WALTHAMSTOW – Maud @ Mirth, Marvel and Maud
NOV 23 MARGATE – Winter Gardens
NOV 24 SALISBURY – City Hall
NOV 28 ALLOA – Town Hall
NOV 29 ABERDEEN – The Beach Ballroom
NOV 30 NEWCASTLE – O2 Academy