The Regent Theatre is Stoke-on-Trent's local commercial theatre that brings huge named shows to our historic area. Most recently it housed 'Sister Act' which is the theatres best-selling week-long show. The theatre is built in the cities town centre, Hanley and is placed in the cultural quarter. Which as part of its 18th birthday event was explained how it was brought to life.
The theatre has an extremely special place in my heart as 18 years ago I went to see my first stage show in this magnificent theatre, the show was 'Annie' and a five-year-old me was completely intoxicated with the theatre. 18 years on and at the age of 23, this theatre still never stops amazing me. They do so much for the local community with outreach work. Including dance shows that every school and dance school in the local area are invited to join in. Which again, a younger me got to take part in. So, imagine my sheer delight when I'd been invited to the 18th birthday party of a venue that has such a special place in my heart, as well as many others hearts too.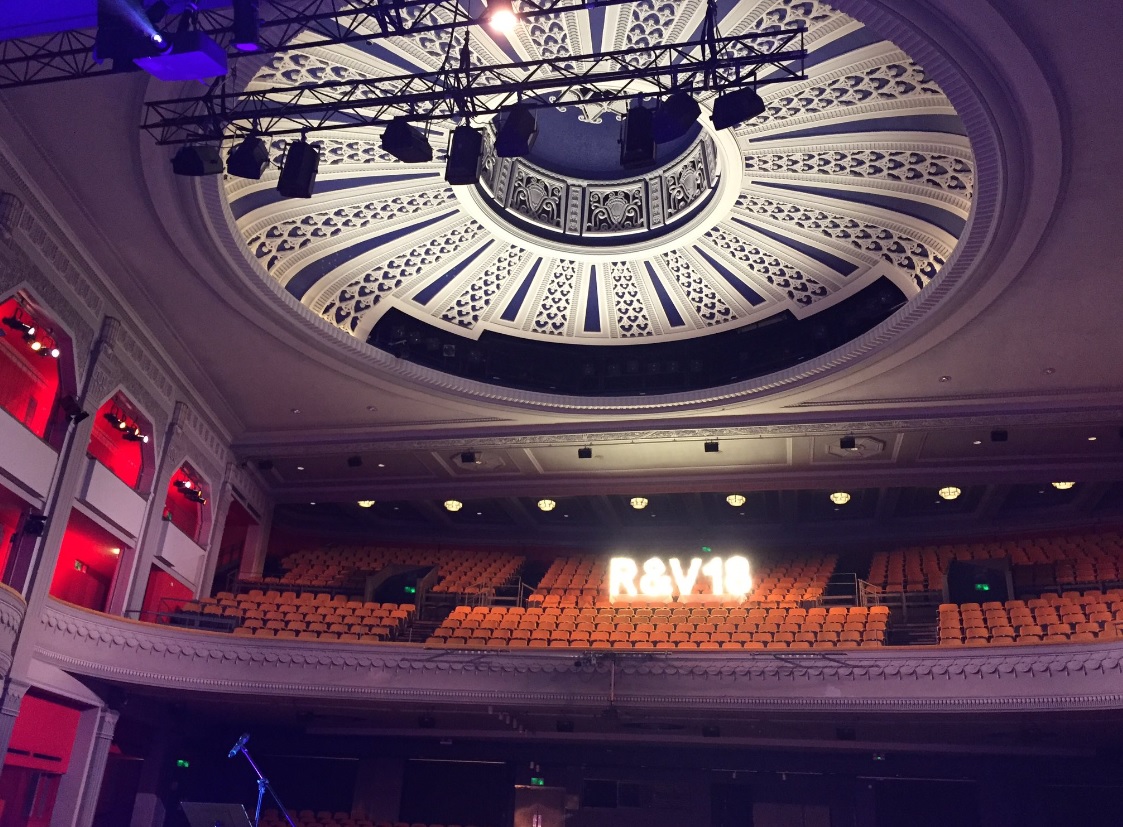 The theatre which reopened under ATG in 1999 with the production of Annie I mentioned above, used to be a cinema. The cinema closed down in the late 1980's and Stoke was in great need of boost. The theatre itself has a Wedgewood style ceiling display, which hangs over the stalls, It's decorated with the traditional blue and white design that's so recognisable worldwide. It perfectly shows the history of our city and adds to the class of this frankly beautiful theatre.
The party took part in the theatres auditorium, it had been dressed with a very classic feel. Blue bow back chairs, fairy lights and huge light up lettering spelling out 'R&V18.' There was such a huge buzz in the air last night. Everyone was just happy to be at such a celebration. Speeches were given by the theatre's general manager, the business manager of the theatre and a local councillor. Special guests performed such as Johnathon Wilkes, who has performed in the regions Pantomime for the past 11 years. He was described last night as a 'local hero'. There was also a lot of talk about the bid for Stoke-on-Trent to be City of Culture 2021. If anyone attended last night they'd agree the city should be a huge contender.
Over all, the night was enjoyable, lively and just an honour to attend. They talked about how bigger and better shows are to come to the Regent theatre. So, here's to the next eighteen years and thank you again to the wonderful staff. They thanked everyone last night including the loyal press, but it's us that should be thanking the theatre for the opportunity.