Living on the breadline in the backstreets of Salford, Greater Manchester, was never destined to be glamorous – but after a lifetime of cooking, cleaning, caring and conspiring, Queenie, Mary and Martha are at their wits' end.
They yearn for change – but at what cost?
Join the Salford Belles in Jack Land Noble's hilarious dark comic soap opera and discover what goes on behind closed doors... when the washings brought in from the rain and the curtains are drawn.
One thing's for sure... "a Woman's work is never done!"
The play was first staged as 'The Barnsley Belles' by The Yorkshireman Company at The Lamproom Theatre, Barnsley in July 2013 and subsequently revived by The Lamproom Theatre Company in October 2016.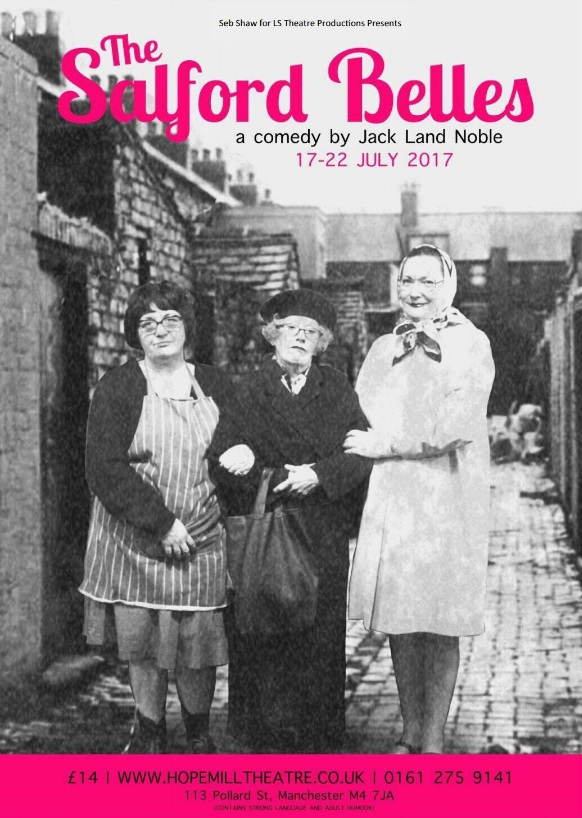 Cast & Writer Biographies:
Alison Carlin - Queenie
Alison trained Media at Salford University before moving on to Contact Theatre where she spent a further year honing her skills. Her next step was to study at the school of life before returning to acting two years ago. Alison's most recent credits are Mary in the Sisters of Kinvara.
Nell in Cleft Lip with One Day Films. Janine in The Agency at 53Two Theatre.
Sophie Ellicot - Martha
Sophie Ellicott graduated from ALRA South in 2011. Since then she has performed in a variety of productions within the Manchester Fringe scene.
Sophie is one of the founding members of BAPS Theatre company and is proud to call herself a BAPS Boobie.
Professional Theatre Credits: Mrs Fezziwig, A CHRISTMAS CAROL, Gallery Oldham Performance Space, Oldham Theatre Workshop Professional Company (2016), James Atherton. Rose, DI AND VIV AND ROSE, Joshua Brooks Studio, BAPS (2016), Louise Wilson & Sophie Toland. Stephanie Cook, BAGHEADS, The Quays Theatre, Ard Knox Theatre (2015), Karen Woods. Renaissance Woman, RENAISSANCE BODY, Swan Theatre, RSC (2011), Lucy Cullingford.
Professional Television Credits: Nurse, CORONATION STREET, ITV (2017), Jordan Hogg. Dancer, THE GARDEN, BBC (2010), Otto Bathurst.
Sarah Maher – Mary
Sarah trained at The American Academy of Dramatic Arts in New York before moving to Manchester to pursue a career in theatre and screen acting. Her most recent theatre credits include that of Lysander in Northern Rep'sA Midsummer Nights Dream and Jane in dystopian drama Welcome to Paradise Road.
In addition to her acting pursuits, Sarah is a recording artist and has released records worldwide with punk band Town Bike
Joshua Lewindon
Josh trained at the Italia Conti Academy.
Theatre Credits include: Robbie in Soho Cinders (Union Theatre);Dimitri in TRACKS (Hope Mill Theatre); Young Frank in Dorothy (Waterloo East Theatre); Raymond in Whistle Down the Wind (Union Theatre); Ensemble/1st Cover Ben in Firing Life (Camden Fringe Festival); Antipholus of Syracuse in Comedy of Errors (Tour/Avondale Theatre).
Workshops and Recordings Include: Brian in CANT STOP IT! (Dominion/Sell A Door); Poole in The Originals (London Theatre Workshop); Jason in Feelgood Academy (Stratford Circus Theatre); Remy in Ratatoullie: Musical Concept (Daniel and Laura Curtis).
Television & Film Incudes: Oscar in Send Location (Freat Film); Jim in The Messenger (Pixelform Studios) Matt in The Hit (RAaW Films); This Morning (ITV); Mikey in Jack Whitehalls Backchat (BBC Three/ Tiger Aspect); Harry Potter and the Deathly Hallows (Warner Bros).
Josh was recently nominated "Best Actor" at the New Renaissance Film Festival for his role as "Oscar" in Send Location.
Twitter: @MrJoshLewindon
Sebastian Shaw - Leonard
Seb trained at Manchester School of Acting
Television Credits include: Adam in Ackley Bridge (Channel 4); Bobbie in Emmerdale (ITV) Johnny in Ordinary Lies (Series 1, BBC); Judge Rinder - Crime Strories (ITV); Paul Alcock in Make it Plumb (TV pilot) Last Tango in Halifax (Red Productions); Doctors (BBC); Sugartown (Red Productions); South Riding (BBC); Ghost Driver in Bedlam (Red Productions); Midwife/ Frank Double in Shameless (Channel 4); Eric in A Passionate Woman ( Rollem Productions); Paradox ( Clarkenwell Productions, BBC); Colin in The Street (BBC)
Theatre credits include: Jud in KES (Lamproom Theatre); Billy Babbit in One Flew Over the Cookoos Nest (Lamproom
Theatre); Phil in Brassed Off (Take Two) Norman on Ladies Night ( Lamproom Theatre).
Seb also is the founder of LS Theatre productions which began in 2008. Since then he has produced and directed productions of RENT, La Cage Aux Folles, and Rita Sue & Bob too to name a few.
JACK LAND NOBLE - Writer
Barnsley's Jack Land Noble is a prolific actor, playwright, producer, director, musician and songwriter. The son of Northern Clubland entertainers, he started in the business at the tender age of seven, learning his trade in the Working Men's Clubs of Yorkshire, Lancashire and the North East of England. Graduating with a First Class Honours degree in Drama from the University of Huddersfield in 2012, Jack is also the founder of The Yorkshireman Company.
Original credits as writer, composer and director include the 'musical-with-muscle' GRAPPLING (based upon the professional career of his grandfather, British 'World of Sport' wrestling legend Jack Land), The Widows Club, The Grocer's Daughter, Barnsley Belles, From Grimethorpe with Love, The Codfather, My Name Is Harry Worth, The Booze Brothers and Booze Brothers Part II: The Fat Pack!
A familiar voice on BBC Radio Sheffield, Jack is a regular contributor to LIVE-ISH! with Bernie Clifton and features in a variety of guises on BBC and independent radio across Northern England.
Following his critically-acclaimed appearance last year as Betty Blumenthal in Snow White & The Seven Dwarfs, alongside Lesley Joseph and Duncan James at the Plymouth Theatre Royal, Jack will return for Qdos Entertainment for the 2017-18 pantomime season as Ugly Sister in Cinderella, alongside Billy Pearce and Colleen Nolan at the Bradford Alhambra.
Away from acting, Jack also finds time to appear as his popular musical alter-egos, The Coalfield Cowboy and Coalfield Crooner.
For more about Jack's range of work visit www.jacklandnoble.weebly.com
The Salford Belles plays at Hope Mill Theatre as part of Greater Manchester Fringe feom the 17th - 22nd July http://bit.ly/2tK4r6t