Due to make its Liverpool premiere later in the year, War Horse visited the city today to give a specially invited audience a chance to see how the mechanics of the show work, meet some of the people who make the show what it is, and ask any pondering questions to some of the expert puppeteers/actors.
Matthew Forbes, the show's assistant puppetry director delivered a presentation about the history of War Horse. We were told about the collaboration with the Handspring Puppet Company, who made all the various prototypes, like that of a hyena, various stages of a horse, and eventually the actual Joey who graces the stage today.
Joey, the incredible puppet horse that has won the show so many awards, and delighted so many audiences around the world is the main character in this production. Being a main character wo doesn't speak means the performers who operate him, must bring him to life using various creative techniques.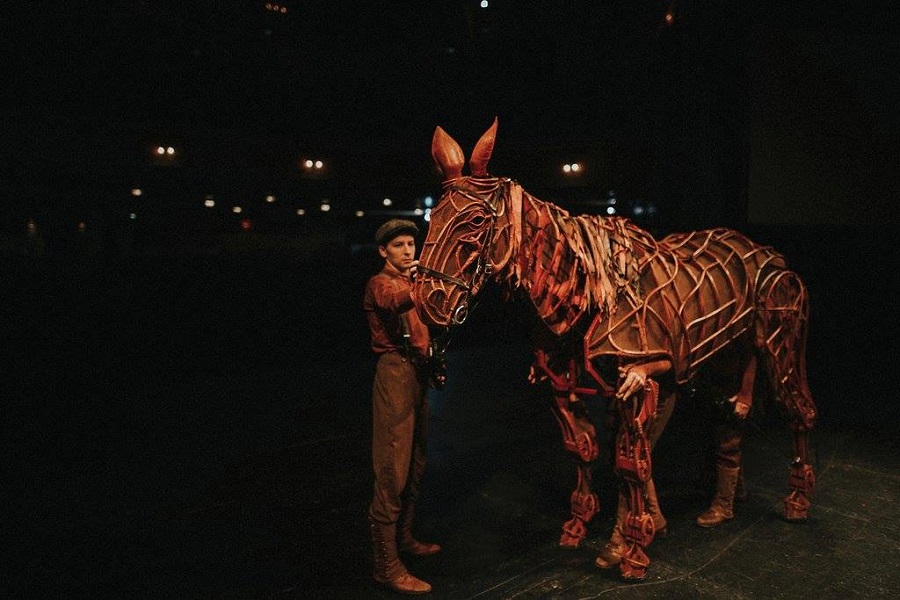 We were treated to a sneak preview of Joey himself, who trotted onto the stage where we were sat. Having seen the show many years ago, in London, it was an emotional feeling seeing this amazing creation brought to life again. From the school children who'd never seen him before, to adults who'd become very accustomed to him, the appreciation and admiration was the same.
Sam Clark, Michael Taibi and Derek Arnold were the three actors who were operating Joey today. Each taking on a vital role in producing Joey's sound, movement and character. We learnt how the three of them can only ever communicate via breath, specific movements, and weight distribution, meaning they must be in sync with each other at all times.
Having seen just a snippet of what makes War Horse so incredible, the room was filled with excitement for November 15th which is when the show opens at The Empire Theatre. The show runs for just 22 performances until 2nd December and is not to be missed by anyone who wishes to be enthralled by a magical piece of theatre.
Tickets are on sale for War Horse at the Liverpool Empire http://www.atgtickets.com/shows/war-horse/liverpool-empire/ and full details on the entire UK Tour of the show can be found here.
Reviewer: Sara Woodruff
Date: 2nd February 2017