A Funny, Engaging and Relevant Production for a Modern Audience
Whilst many of us think of the summer holidays as a time to down tools and take it easy, Brimstone Theatre are doing the very opposite as they crank up rehearsals for their much awaited production of Oscar Wilde's 'The Importance of Being Earnest', and director Rowan Dyer kindly took time out of his busy schedule to bring me up to speed with their progress and to explain what the play is all about.
Dyer noted that Wilde's work can often be lost in its traditional Victoriana setting whereas this production will offer a fresh take with a young cast aiming to engage directly with the audience in a relaxed atmosphere and with some interesting and surprising twists taking place each night.
As Brimstone Theatre are better known for their interest in darker productions, I was curious about this turn towards a classic comic piece and which Dyer was happy to explain. The play is very much about the social conventions we establish for ourselves and which enable us to navigate our way through society - class, money, fashion and appearance to name but a few. The play asks how we can be 'earnest' (sincere) when we are surrounded by the hypocrisy of rules and codes of behaviour which make it nigh on impossible; the comedy arises from a character whose very desire to be earnest can in fact only be achieved by being the very opposite.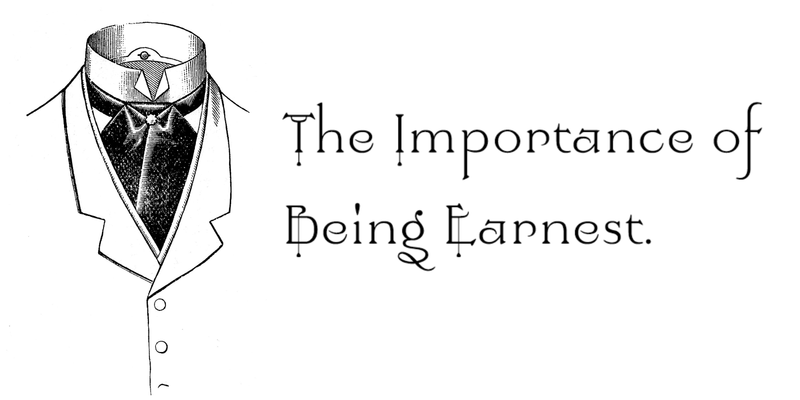 In acknowledging the influence that the Victorian period has had on our culture and sense of being British, Dyer was keen to highlight the parallels with modern society where our mores are driven by social media and a need to be 'liked' as well as the games we watch being played out on reality television with participants ever conscious that their every move is under observation. In this context the irony of Wilde's 'happy ending' to the play is all too evident. It is also a play about strong women and where the real power lies in a relationship, a theme that stretches as far back as Aristophanes' Lysistrata as much as it is seen today - look who's just become Prime Minister.
Given this darker context to the play, Dyer noted Wilde's own life where he was unable to be earnest and true to his self (homosexuality was a criminal offence at the time) and which led him to constructing the identity of a witty and stylish fop to distract from his true intentions. Dyer highlighted the character of Lady Bracknell in the play who ponders over the air of revolutionary change which threatens to burst the perfect little bubble that the characters exist in. The parallels to post-Brexit referendum Britain are clear to see where some now perceive minority groups, with whom we once engaged and absorbed, as a 'threat' and fear their very 'Britishness' may crumble away.
Dyer's involvement in theatre started with writing the music to help out a local writer and grew from there. This is not his first directorial role and he has willingly taken responsibility for music, tech and set design in other productions: most recently he was musical director for Liverpool Network Theatre's production of Wilde's 'The Picture of Dorian Gray', a role he is also fulfilling in their upcoming production of 'The Merchant of Venice'. Dyer's passion is clear to see when he talks about the pleasure of working with colleagues (Sandra Tschackert, Stephen Tyler-Parke and Elaine Louise Stewart for this production) to bring a play to the stage andit is this collaborative approach which lets the natural talents of the cast shine and allows a great classic such as 'The Importance of Being Earnest' to be brought to life as it is unlocked in a fresh, immediate and relevant way for a modern audience to enjoy and appreciate.
Dyer's excitement about this production is contagious. I have always delighted in Wilde's comic interplay but my enthusiasm has just been renewed again as I consider the relevancy of the play's modern day allusions and I really can't wait to see this production. How about you? Why not come along and find out. The Importance of Being Earnest performs at the Black-E from 6th - 9th September 2016.Tickets are priced at £10 (Concessions £8.00) and are available from www.ticketsource.co.uk/Brimstonetheatre
Brimstone Theatre was set up in 2013 by a group of friends interested in exploring darker plays. Productions to date have included Dr Faustus, Antigone and A Christmas Carol. Following its critical success, a much longed for re-staging of Dr Faustus is anticipated. Brimstone Theatre also have a play reading group via their Facebook page which is open to everyone and where an old favourite or something new can be explored.
The Black-E (formerly The Blackie) was established in the 1960's with a commitment to combine a contemporary arts centre with a community centre. Having taken over the former Great George Street Congregational Church in October 1967, it is considered the UK's first community arts project and a centre where all the arts (performing and making, experimental and traditional) engage with all the people who choose to come through its doors (young and old, disadvantaged and privileged). Further details http://www.theblack-e.co.uk/
Previewer: Mark Davoren
Previewed: 12th July 2016