When Reece Dinsdale was unable to play Benedick in Northern Broadsides and New Vic Theatre's touring production of Much Ado About Nothing the producers asked Robin Simpson to step up.
Luckily the experienced Huddersfield based actor had already started rehearsals with the company preparing to play Don John, and he gamely took on the much bigger lead role before the tour kicks off in a matter of days at the New Vic on February 8th.
"It's not a great situation to step into someone's shoes but I was always down to play Benedick at the end of the run because the show is going to an international festival in Germany," reflects Robin. "It was only for a week so I was originally down to play Don John, the evil Brother, but I'm just doing it four months earlier than I thought I would.
"I suddenly have to learn a lot of lines that I thought I had months to learn, but I have now days. It's not like I'm stepping into Hamlet as he has lots of lines, so that would be a nightmare. It is really nice to get the opportunity as Benedick is one of my favourite Shakespearean characters because he is funny, a fool, and I can use some the comic and clowning techniques I've used in other shows."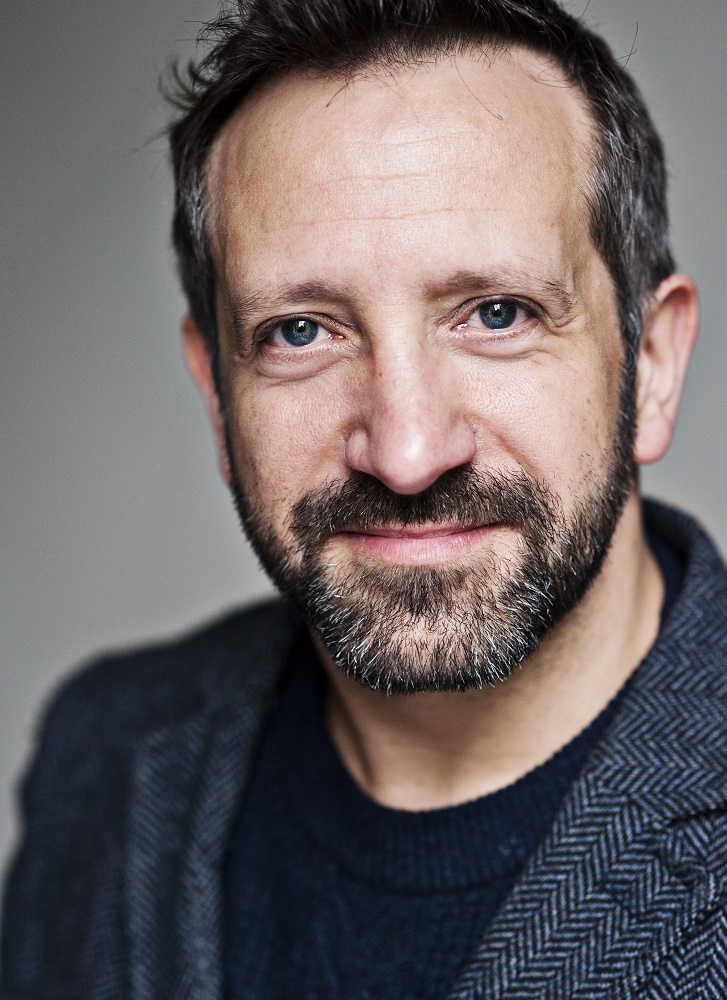 As this is Broadsides they are staging the Bard's classic in their typically inventive way setting it in a more contemporary world, but Simpson has wisely used the time getting to know his new character who would take a place in any top 10 of Shakespearean roles.
"Benedick is a soldier, and in this particular performance he is an RAF pilot, as it is set at the very end of the Second World War. The war had ended, he is returning home and he is very much a comedian. People say he's the joker of the troupe, and he wouldn't want to be called that as thinks he is more witty than silly.
"He is very much a confirmed bachelor so rails against marriage, and all that may entail, but, of course, as the show goes on, he gets, not tricked, into loving someone because his relationship with Beatrice has a past. I think they have feelings for one another even if they fight with words all the time, it's very much a love/hate relationship."
Shakespeare may have been plying his trade as a writer for hire centuries ago, but it is uncanny how he always seems ahead of the curve in revealing the deepest human foibles. In Much Ado About Nothing he tackles the idea of whether men and women can actually be friends, which is now a classic trope in modern screen and TV romantic comedies.
"If you look at any Romcom movies a lot of them have two leads who are incredibly witty and charming that start off not liking each other, so it's Like When Harry Met Sally. In a tragedy everyone dies and in a comedy like Much Ado About Nothing everyone gets married that's how it has to work. It is comedy gold, and it has been used again and again, so whether Shakespeare borrowed it, or whether he inverted it, we don't know."
One of the things that might make Simpson's task a bit easier is that he doesn't have to bother creating an accent for Benedick as this is Northern Broadsides, who were deliberately created by the legendary Barrie Rutter to stage classic works free of the tyranny of RP.
"You do have to fight against that when you come in thinking I'm going to do my Shakespeare, and then think 'oh no,no'," laughs Robin. "You have think it's ok, I can use my normal voice, as normally if I was doing Benedick for any other company I'd think he is an RAF pilot, what's his background so what voice shall I give him?
"With Broadsides I'll just do my voice because that is their remit as they want Northern voices and rhythms which is what they do so well. The play is set in Yorkshire so all the characters will be speaking with Northern accents."
Simpson has just come off a critically acclaimed run as the Dame in Aladdin at Huddersfield's Lawrence Batley Theatre near his home. Playing an OTT role in a classic panto might not seem like ideal preparation for tackling the world greatest playwright, but after weeks taking on raucous audiences full of kids Simpson begs to differ.
"I think practicing your comedy skills is no bad thing when you are doing one of Shakespeare's comedies, and Benedick is the only character in the play that speaks directly to the audience, and looks them in the eye. As the Dame you have feel comfortable talking to the audience so that is very helpful when I do my speeches to the audience."
Much Ado About Nothing will open at the New Vic Theatre, Newcastle-under-Lyme from 8th February – 2nd March and will then tour till the 25th May.
For more info visit https://www.northern-broadsides.co.uk/whats-next/
Tour dates
| | | | |
| --- | --- | --- | --- |
| 8th Feb – 2nd Mar | New Vic Theatre | 01782 717962 | |
| 5th – 9th March | The Dukes Lancaster | 01524 598500 | |
| 12th – 16th March | Stephen Joseph Theatre | 01723 370541 | |
| 19th – 23rd March | Salisbury Playhouse | 01722 320333 | |
| 26th – 30th March | Derby Theatre | 01332 593939 | |
| 2nd – 6th April | Theatre Royal Bury St Edmunds | 01284 769505 | |
| 16th – 20th April | Lawrence Batley Theatre | 01484 430528 | |
| 24th Apr – 4th May | Viaduct Theatre, Halifax | 01422 255266 | |
| 7th – 11th May | The Lowry | 08432 086000 | |
| 14th – 18th May | York Theatre Royal | 01904 623568 | |
| 21st – 25th May | Harrogate Theatre | 01423 502116 | |