The Tiger Lillies have been challenging our ideas about what musical theatre can be for three decades and Adrian Stout has been integral to their worldwide success.
Not only does he play bass, but adds playing musical saw to Martyn Jacques unmistakeable falsetto in their latest show Corrido de la Sangre, which had its world premiere at HOME Manchester commissioned as part of their Viva! Festival.
Their work often feels like it was written in Weimar Germany, but this time they have taken inspiration from Mexico to create a typically dark show about a trio of musicians murdered by a local drug lord. Adrian says there is a genuine connection to their back catalogue.
"Some of the influences in their music comes from the Austro Hungarian army that were there in the eighteenth and nineteenth century," notes Adrian. "The music that we make is coming from a similar tradition that the Mexican music comes from. It's from that European musical tradition where military bands would take folk musicians and put them in the army.
"They would then play songs that would make themselves feel a bit closer to home so all the mariachi music comes from the European tradition. You didn't have trumpets until the Austrians came over and the accordion was another thing taken from European traditions."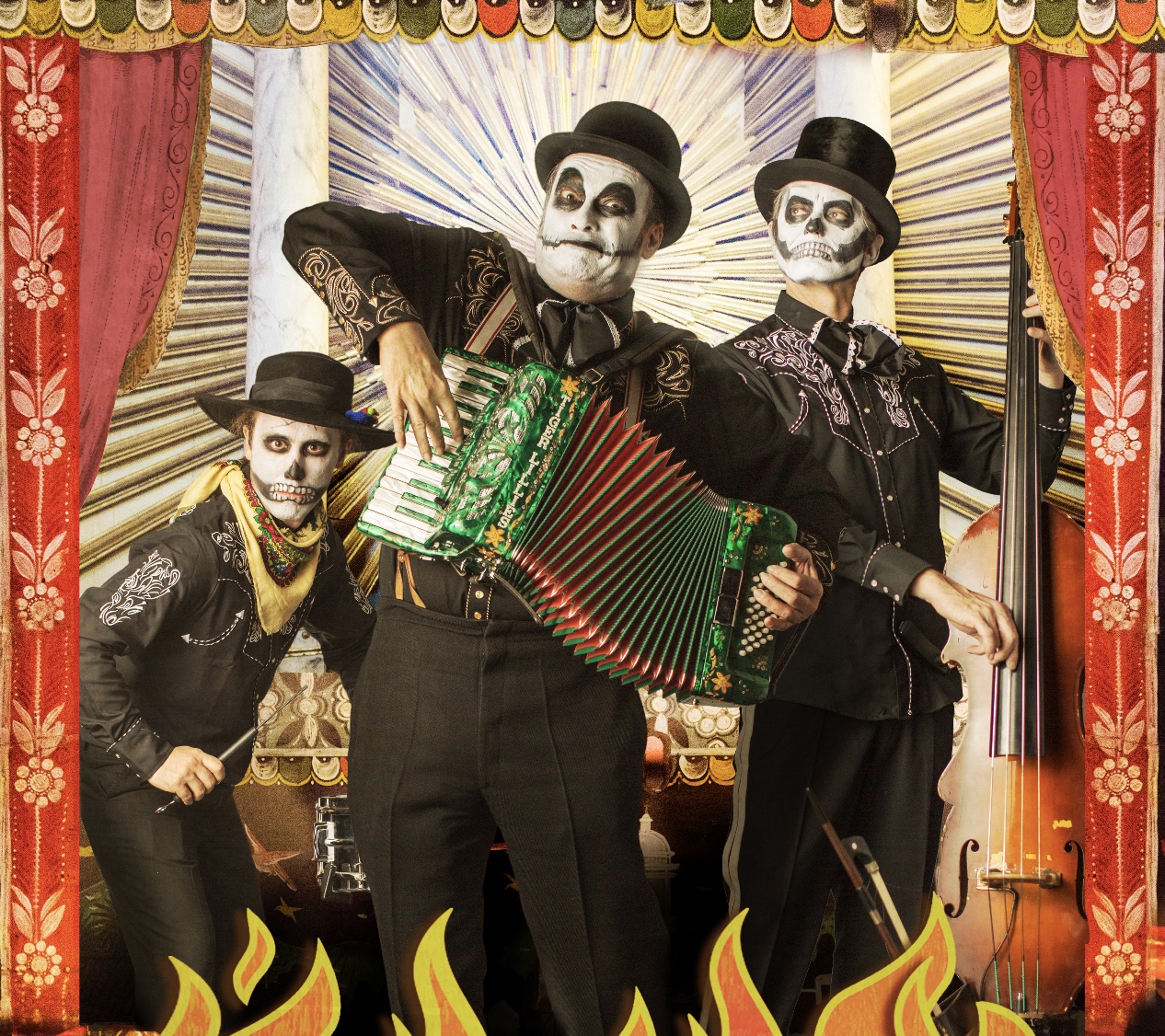 Thanks to HOME's support the band, and show director Mark Holthusen, were able to travel to Mexico to immerse themselves in the local culture work shopping ideas and looking for visuals they could incorporate into the show
"Mark found this Mexican puppet making family so they made the puppets for this show, and adapted puppets they already had to play different characters in the narrative," recalls Adrian.
"We all went over to this hacienda near where they live working for a week and a half playing around with some different ideas while Mark was filming all these puppets. We tried to incorporate some of that Mexican tradition of the way they use puppets to tell stories combining it with the way we tell stories. Hopefully you get that real sense of Mexican puppet storytelling with the Tiger Lillies' way of telling stories."
Their sojourn in Mexico inspired the team to think about a very different look to their usual shows that often appear to be staged in the dankest cellar possible in the deepest part of any city's underground culture.
"Mark really wanted to make sure it was a colourful show, as some of our world is in the more sepia, dark sort of world, he wanted to use a different palate, so we're using lots of religious iconography and the puppets and the desert.
"There is a totally different sort of aesthetic to this so it's quite bright and hallucinogenic at points. As these people going through this story we are going towards an end, a border and the underworld, so there is a story on lots of different levels in the songs and the visuals."
For some bizarre reason the increasingly irrelevant Morrissey has a huge Mexican fan base even inspiring a Mexican tribute band called Mexrrisssey. Equally surreally The Tiger Lillies' European tinged darkness is also big in Mexico.
"We played an enormous opera house with a thousand people coming and we ended up signing CDs and having photos, which took longer afterwards than the concert. Every single person wanted to say hello so we have a lot of fans.
"They seem really excited every time we are over there, so it's great to do something to tap into that Mexican music, and play something relate to that culture as well."
The Tiger Lillies are one of those bands who straddle theatre and music, but Adrian is keen to point out their shows have as much to do with rocks gigs as a conventional theatre show.
"When we've done our shows we've always had a big mix of people who are into music and theatre. I think this show has got really good songs so it is a concert with amazing visuals, we are playing it like a concert so we're not playing it as a theatre show.
"We've be doing concerts since 1989 so people should understand this is a band who do concerts and it's not just a theatre show."
Corrido de la Sangre is at HOME Manchester until Saturday 5th May. To book www.homemcr.org.uk or 0161 200 1500