Sting has sold squillions of records across the globe but his debut musical The Last Ship takes the multi-millionaire pop star right to his working class roots.
He grew up in a tight knit Northumberland shipbuilding community in the North East that like so many were devastated in the Thatcher years, and the singer brings his critically acclaimed tale of a community fighting back in this new UK tour.
Sting has cast some very experienced theatre hands to bring his vision to life including Joe McGann, who made his name in the hit TV series The Upper Hand, and he has reached back to his own roots in Liverpool to play the shipyard's patriarch Jackie White.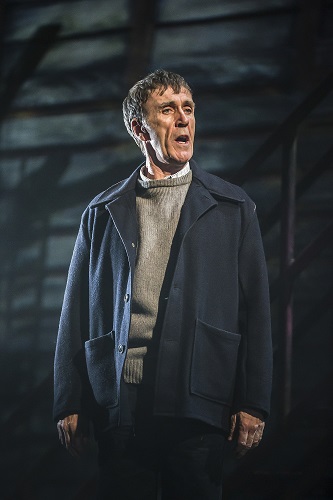 "The Ship is about people, community and what happened when you take away their raison d'etre," says Joe. "It's not just down to shipbuilding, although it is in this case because that was where Sting was born, but anywhere that has lost industry, mining, steelworks or manufacturing, especially during the 1980s when the ideological war was going on to the break the unions.
"Jackie is the foreman between management and the men who is responsible for timekeeping, productivity and keeping his team together. He's the type of man that I recognise from the generation above me that I knew. He's self-taught, working class, he's not dumb, and he's tough but fair and in a great marriage with Peggy. They've been together for years, but it is a marriage of equals as they both work and respect each other.
"People will recognise it and The Last Ship is about whether people accept their fate as it handed down to them, or whether they try to do something about it."
The Last Ship is a love letter to the community Sting grew up in but ironically he decided to try it first stateside, where it had mixed reviews on its Broadway run, although it did pick up two Tony nominations along the way. Sting has taken the tough decision to make substantial changes to the show introducing new songs, and taking some out that were in the troubled Broadway version, which has worked as the British critics have loved the new version.
McGann, Emmerdale's Charlie Hardwick who plays Peggy and Corrie's Richard Fleeshman as his son Gideon have been impressed by the superstar's dedication to the reworked UK version which opened its run on Sting's home turf in Newcastle.
"You have to pinch yourself sometimes, you really do. He has been so hands on and just been a gift to have around. Sting's fully committed to this, it's not a vanity project, as he was at 90% of rehearsals, and was here every single day for the first two weeks. That kind of commitment you can't buy.
"Me, Richard and Charlie did one of those little promo tours and we were sitting onstage during the sound check. Sting starting playing Message In A Bottle and, of course, we all joined in in with the harmonies. Those kinds of moments are priceless."
Shipyards in the eighties were very male working environments, but McGann is keen to stress that The Last Ship is about a dying but defiant community full of strong women, and young men like his fictional son who took a different path.
"Charlie plays a nurse in the shipyard and Frances McNamee is playing Meg who is the landlady of the shipyard's main pub. If you go back to the idea of community you know it was women who kept it going.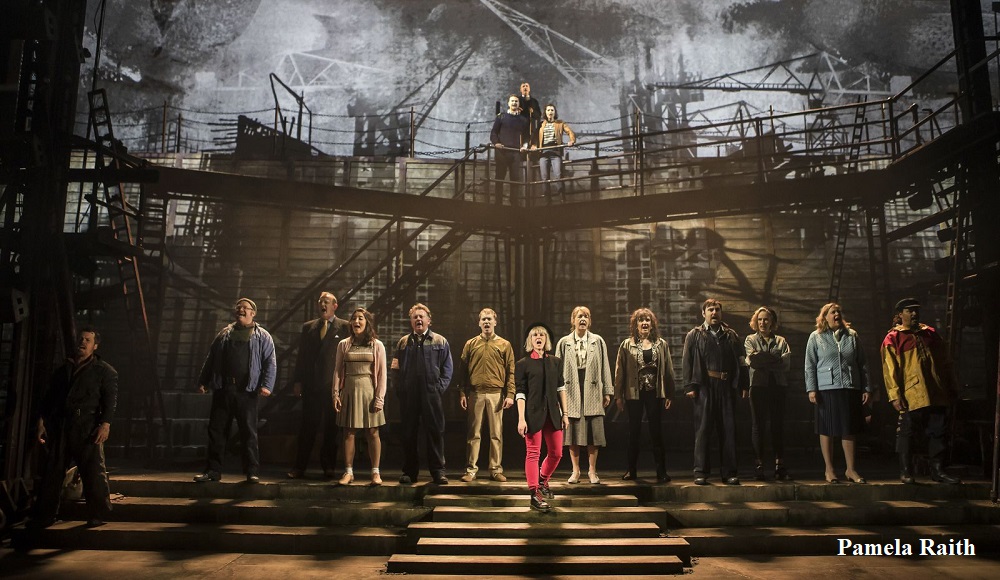 "Richard Fleeshman plays young Gideon who didn't want to follow his father into the shipyard so he went away to sea, and is coming back 17 years later, so we see a lot of the story through his eyes. He sees a lot of the changes in the community and he gets some fantastic songs. Richard has an amazing voice."
McGann is a familiar face on our TV screens, but he is not as well-known as a musical theatre performer despite successful runs as Fiddler on the Roof's Teyve and Walter Hobbs in the West End production of Elf. He is also part of Merseyside's best known acting dynasty with his brothers Stephen, Paul and Mark who all sang as youngsters.
"When we were kids me and our lads were all in the local choir, and the parish priest was the British end of an international choir so we got to go to Europe before our mum and dad could afford to take us away, so that was my background in singing. Everyone in Liverpool sang, and everyone I grew up with sang and played the guitar, so it's no stretch."
The critics might love the new version of the show but for a veteran stage performer like McGann the daily reaction of paying customers is the true acid test whether the show's unashamedly political messages have really hit home.
"I was in the original tour of Blood Brothers in 1982/83 and I've not seen a show land like this since then. Every single show we have had a standing ovation, they've hooting and hollering, and it is really affecting people.
"I was looking out this afternoon at a matinée audience, which would have had a lot of people in who worked in the yards, or had families who did. Towards the end the show I'm right at the back on a high gantry where I've got a chance to the look out at the audience, and watching grown men cry and be affected by the show is lovely."
The Last Ship tours the UK from the 9th April, full details can be found at https://www.thelastshipmusical.co.uk/