It is a tribute to Deborah McAndrew's talent as a writer that we now know her as one of our most talented scribes rather than as Angie Freeman, one of a legion of iconic Coronation Street women who have served behind the bar in the Rovers Return.
As well as her original works for different companies, Deborah has become a talented adaptor of classic texts, and now she's turned her attention to the Dickens' classic Hard Times for Northern Broadsides.
Hard Times is Dickens only truly Northern novel, and it is also the first time Broadsides have tackled his work as they regroup after the departure of founding Artistic Director Barry Rutter last year.
"Thematically it is about the fact that just focusing on facts in the education of children damages them, and it satirises a sort of Utilitarian Movement in the nineteenth century, which sounds very dry," says Deborah,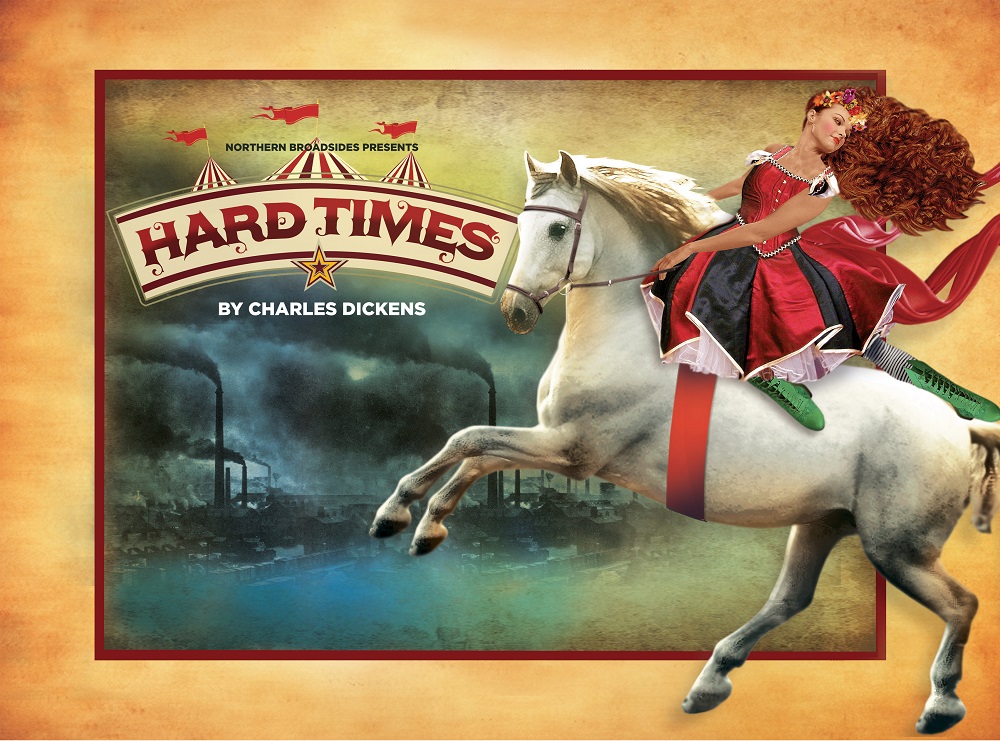 "Actually, it is really pertinent to our times where arts and cultural education have been degraded in our state education system where kids are tested to nth degree. They can describe the clauses in a sentence, but are not taught to appreciate the contents."
The relevance is Hard Times is the sorry tale of a close minded headmaster in a grim mill town who educates his children in a sterile regime that he believes is the only way to learn, but this has disastrous consequences for the characters.
"The main plot is about a family called Gradgrind, and Mr Gradgrind has specifically educated his children Louisa and Tom in a completely factual way, so they haven't been allowed to read storybooks or fiction.
"They're not had music, art or literature, they have been completely starved of those things, and both of these children in their different ways are irreparably damaged by it."
Running alongside this familiar tale of educational dogma gone mad is the trials and tribulations of one of the local mill workers who will eventually cross paths with the middle class Gradgrinds.
"There is subplot of a mill worker called Stephen Blackpool where the two plots intertwine, and eventually become completely mingled together," notes McAndrew. "He's a man whose drunken wife has tormented him for 20 years, she has sold their furniture and stolen from him.
"Hard Times is a good one to adapt as it has two plots, and they cross over. So you can't cut the Stephen Blackpool subplot because it is mixes in with the Gradgrind plot. It's quite tight for a Dickens and is not like Nicholas Nickleby with its endless subplots."
It's sometime easy to forget that whilst Dickens is a master storyteller, he was also writing for a mass audience, so there are elements of soap opera in what for him is a fairly straightforward plot.
It is packed full of big characters like the pompous mill owner Mr Bounderby, who ends up marrying Louisa, and the long suffering Mrs Gradgrind. There's even a circus child who is dumped on the Gradgrinds by her errant father, who ends up disrupting the school with her flights of imagination, and the big top she came from is the inspiration for the set.
"What I'm trying to do with the adaption, which is quite a sad story really, is lift it using the circus as a context, so I've got the idea that the circus never goes away, and it is the underlying presence in the whole story. Louisa is fascinated by fire, so in the circus opening there is a fire-eater, and the circus returns so it keeps it bouncing along.
"It's difficult to adapt a novel for the stage as you feel like it is squeezing a quart into a pint pot, and it is always got to come through you, so you sift so it comes through in a more condensed form. You pick and choose what you as a writer and what jumps out to you to plot that journey."
McAndrew is keen to point that it's not all darkness as like Gradgrind and his sidekick Bounderby are revealed to be absurd creatures who thanks to their ideological obsessions end up damaging those around them.
"I wanted to pull as much of the lightness, humour and fun in it, but this one feels relevant somehow in terms of the way our education system seems to be focusing a lot on testing factual knowledge in children.
"The arts are being eroded in terms of children's education and with Tom and Louisa Gradgrind it is extreme because not only have they not been educated they have been denied them in their home but not been allowed to read fictional story books. Very early fairy tales are children's first ways of processing good and evil and the way we think about morality, relationships that are expressed and discovered through the arts not the sciences.
"I think with the education of children we have got a very, very clear king of thing that has not quite happened quite this way before, which is cumulative, this idea of testing, testing, testing. We've not going to completely damage our children in the way the Gradgrinds are, but there is a lesson to be learnt there that we make sure that the arts, and the humanities, are as much part of our children's education as technology, science and fact based subjects."
Hard Times UK Tour:
Fri 16th - Sat 24th February
The Viaduct Theatre, Halifax - Box Office 01422 255 266 or www.deanclough.com
Tue 27th Feb – Sat 3rd March
The Dukes, Lancaster - Box Office: 01524 598500 or www.dukes-lancaster.org
Tue 6th - Sat 10th March
The Lowry, Salford Quays - Box Office: 0843 2086000 http://www.thelowry.com/
Tue 27th - Sat 31st March
Liverpool Playhouse - Box office: 0151 7094776 https://www.everymanplayhouse.com
Wed 4th - Sat 14th April
New Vic Theatre, Newcastle-under-Lyme - Box Office 01782 717962 or www.newvictheatre.org.uk
Tue 17th – Sat 21st April
Stephen Joseph Theatre, Scarborough - Box Office: 01723 370541 https://www.sjt.uk.com/
Wed 2nd - Sat 5th May
Lawrence Batley Theatre, Huddersfield - Box Office: 01484 430528 http://www.thelbt.org/
Wed 16th - Sat 19th May
Theatre Royal, Bury St Edmunds - Box Office: 01284 469505 http://www.theatreroyal.org/
Tue 22nd - Sat 26th May
West Yorkshire Playhouse, Leeds - Box Office: 0113 213 7700 or www.wyp.org.uk