'Shackleton. Ernest, Henry.' Great explorer and pioneer fondly known as Shackles to his adoring stowaway in this piece from Stolen Elephant Theatre.
With The Studio of The King's Arms in Salford creaking around us it is easy to visualise being a stowaway on a ship. The four black walls, black ceiling and floor help us envisage this tale of a dangerous expedition to the Antarctic with the two-man cast.
With only the sounds of howling winds and minimal props of maps and hats, the unlikely pair explore the difficult relationship between a stowaway and a captain on an expedition as important as this trans-Antarctic endeavour; completed by Shackleton and his team in 1916.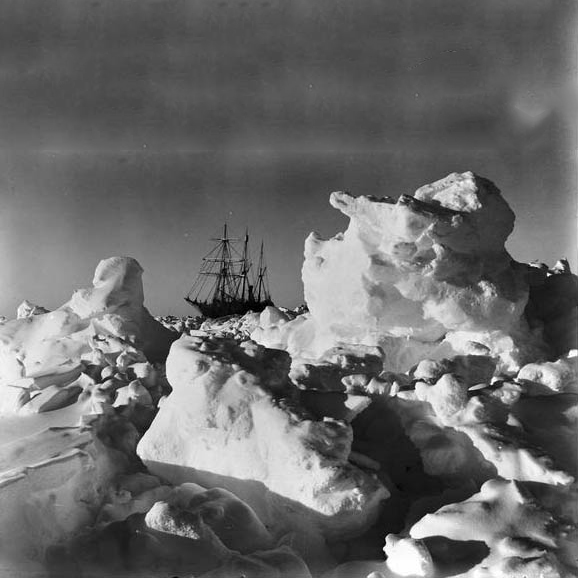 The relationship between the men is difficult at times and even dangerous, but during the hour long dramatisation grows stronger and the once annoying stowaway becomes more like a confidante. There were times when I wondered if the stowaway was actually depicting Shackleton's conscience, or at least the doubt to his almost arrogant determination.
Shackles, The Boss is a great showcase into Shackleton's personality and story, toeing the line between legend and madman. He's played remarkably as very intense, obsessive even, hinting that perhaps you need that in your character to do remarkable things such as pioneer impossible trips as he did.
It's not all threats of cannibalism and gore of seal blood and dead dogs though, there are comedic moments, mostly provided by the stowaway and his ignorance of Shackleton's meticulous preparation for his cause. These lighter moments are much appreciated even in the face of despair at the ending, when you don't know how either of the pair could ever survive.
Admittedly it's not a polished script, but there are varying dramatic techniques employed and two very strong characters that bring the story alive. Hopefully we will see more of this show in the next year and it will grow to become a trailblazer like it's namesake.
Reviewer: Jo Flynn
Reviewed: 27th July 2017
North West End Rating: ★★★