It was all about new comedy this evening at The Comedy Store Manchester, where, on the third Sunday on every month, new comedians come to showcase their acts. The Comedy Store has a 500 seater auditorium although half of it was closed off, leaving the venue felling close and intimate. The venue was purpose built for stand-up comedy so the setting was perfect.
The evening was compered by Alex Boardman, a 43 year old comedian who had the audience eating out of his hands with anecdotes of his mundane life as a married man. He really connected well with the audience and found comedy value in all of the situations he was presented with. In his attempt to find someone celebrating something special, he came across a couple on their first date. It's certainly one they are never going to forget.
The first act, a 24 year old Mancunian called Jamie Hutchinson, provided us with stories with how it was to grow up in Northern England in the early 1990's. His depiction of his overly strict mother and severely prejudiced grandmother were hilarious, and definitely something that most of the audience could relate to. His facial expressions were amazing which really helped with the delivery of the comedy. He gave an excellent performance on the stereotypical Mancunian and was really good at changing his accent, making his performance believable and highly entertaining.
Some of the comedians on the bill were literally brand new to stand up and only doing 5 minute slots. This was the case with Luke Helly. During his short performance he did not give much away about himself and I found him really difficult to connect with. I struggled to grasp his comedy niche, I think it was politics. He talked at one point about becoming a member of a website where you can air your views on certain subjects. In all honesty, his attention is best focussed on that, not in comedy. He was uncomfortable and this extended to the audience who felt uncomfortable for him.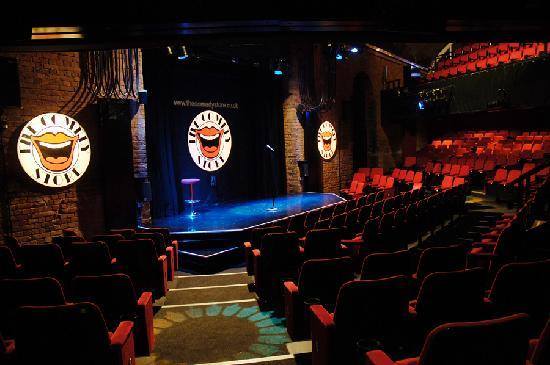 The final act of the first half was a quirky looking guy called Nathan Cassidy. Although the evening is dubbed as 'new comedy', Nathan Cassidy has been around for a while and talked of his years touring the pubs and clubs with the 2015 America's Got Talent winner Paul Zerdin. It was obvious that he has been doing stand-up comedy for quite some time. He was very comfortable with the microphone, his timing and delivery were flawless and he was. By far, the funniest act of the first half. He talked about things that annoy him in every day life and in so doing, made the audience realise that they too are annoyed by these things, they just didn't know it until now.
Ryan Lock started off the second half of the show, a 21 year old student who is completely new to stand-up comedy. Unlike Luke Helly, Ryan Lock was very very funny. His witty one liners were hilarious and the 5 minutes he spent on stage were, for me, not long enough. I am sure that given time to gather and perfect his material, Ryan Lock will become a well-known name within the comedy circuit.
The last act of the evening was Mo Gilligan, an actor and comedian from South East London. 2015 was a good year for Mo as he broke into the mainstream following his success in a number of comedy competitions. It was so easy for the audience to identify with him because of his endearing stage presence. I loved that he talked about his parents and the embarrassing things they do at family gatherings. This is something we can all relate to and left me laughing to myself all night, wondering how my own children perceive me when I think I can dance like Beyoncé after a glass of wine. Part of the show had Mo showing slow motion reactions to things that happen in everyday life. Really very funny until he did one about a man's first sexual encounter. I felt a little awkward during this, and although it was generally well received by the audience, I felt that the performer himself also felt awkward. Having said that, Mo Gilligan was my favourite act of the evening and it would not surprise me to see him pop up in comedy panel TV shows in the future.
As an evening out, I really enjoyed it. The setting was great, the comedians on the whole were funny and the staff at the venue were pleasant and helpful. Anyone looking for a really good, value for money night out should visit The Comedy Store in Manchester.
Reviewer: Annellen Fazackerley
Reviewed: 21st February 2016