After weeks of excitement and anticipation, opening night for Ellesmere Musical Theatre Company's production of the hit musical "9 to 5" based on the Dolly Parton movie of the same name, finally approached, bursting onto the stage of the Montgomery Theatre, Sheffield with such energy and passion from this truly outstanding cast.
I was lucky enough to attend a rehearsal for this production earlier on in the year, and I knew from those few hours that this show was going to be huge! This is the musicals' Yorkshire debut so it HAD to be a success and last night's opening performance exceeded my expectations. The three leading ladies along with the leading man Frankin Hart Jnr (Damien Ross), gave sensational performances with wonderful American accents. Louise Walker was wonderful as timid newly divorced/soon to be divorced Judy Bernly, whom upon finding out that her husband had cheated on her with a much younger woman, decides, after never having worked in her life, with no skills or experience, to take an office job and learn to stand on her own two feet. Judy is timid, shy and naive when we first meet her but soon finds herself and really comes into her own. Louise gave a believable performance and her character and real warmth and passion. Sara Hibbert was an absolute delight to watch as office bimbo Doralee Rhodes, the role portrayed by Dolly Parton in the movie. I have not seen the movie, as personally not a fan of Ms. Parton, however, based on bits I have seen of Dolly in TV and movie appearances, Sara was a perfect impersonator and looked believable also. Helen Kempton gave, in my opinion, the best performance of the evening, as Violet Newstead, playing the role with such ease. From the moment Helen entered the stage, she was a joy to watch, her performance of "One of the Boys" was utter brilliant! Helen has been an active member of Ellesmere Musical Theatre Company since 1982 - when she was just one year old! (Sorry Helen, did not mean this to make you feel old, but rather highlight what wonderful dedication you have to this Company, and what an asset you are to them!)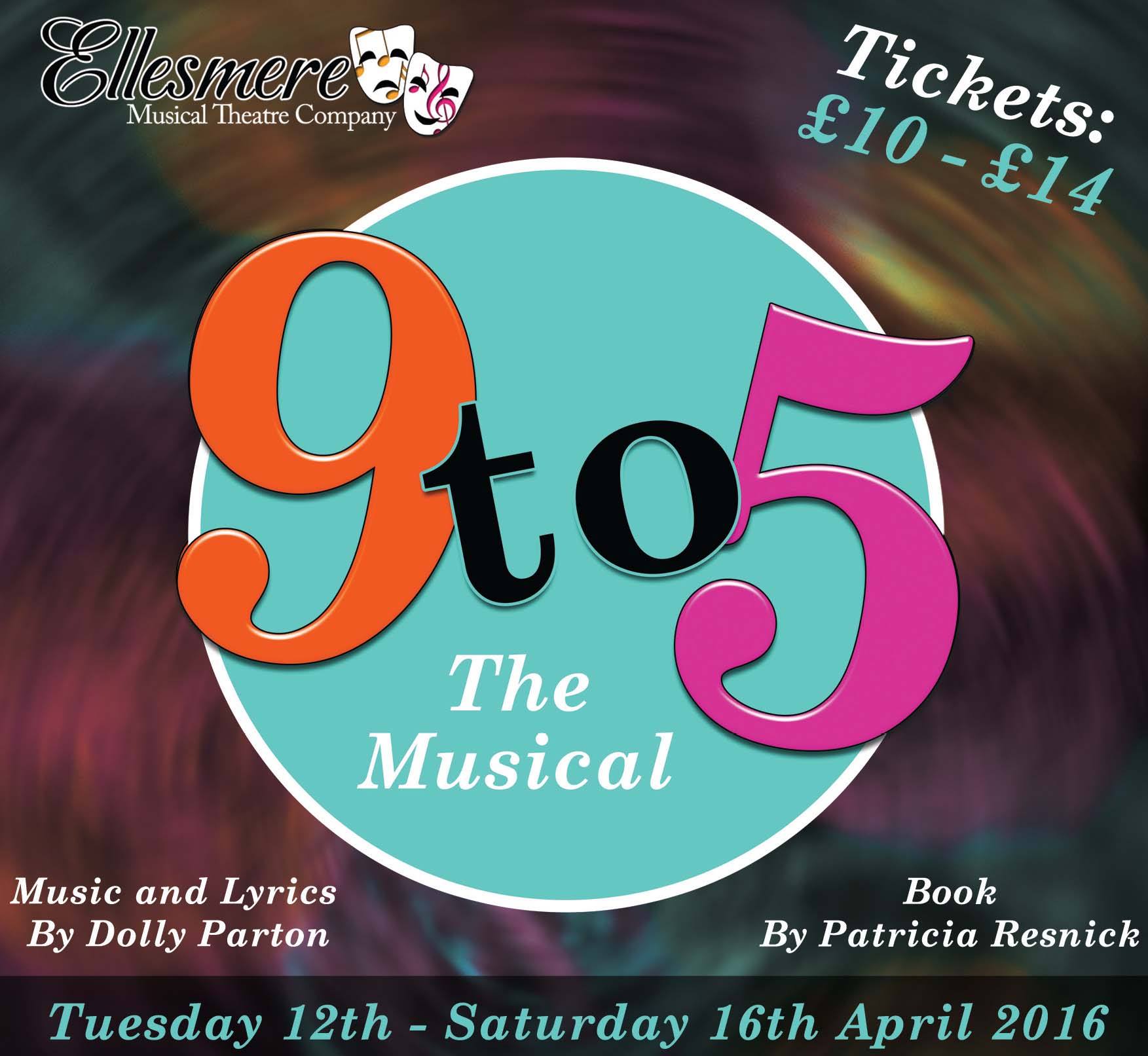 The show is packed with catchy numbers from start to finish, opening, of course, with 9 to 5. Here, as the alarm clocks ring and the workers wake up, we meet the main characters and office workers. Violet, Doralee, and Judy prepare for work and the employees of Consolidated Industries begin another mundane and hellish day at work under Franklin Hart, Jr., Company President. Judy and Violet meet for the first time and Judy reveals she does not have any work experience, but Violet states she will be proud to train her and gives her a few tips and pointers for surviving office life ("Around Here").
Company President Franklin Hart, Jr., is a domineering and equally perverted man, who lusts after his secretary, (Doralee), and has no shame in making those feelings known, which makes Doralee feel uncomfortable.
Judy is having major issues on her first day (such as being unable to work a Xerox machine) and feels there is something more inhibiting her. All three women, in separate settings, share mutual feelings, but all feel they can overcome it and make it all work out in the end. After a drunken drug fueled get together (smoking "marry warna" as Judy refers to it as!), the women all have vivid dreams about killing their boss, and the following day Violet is convinced that she has intact poisoned their boss. In a panic the trio kidnap and gag their boss but are later found out by Judy's ex-husband (whom upon seeing him in chains and a ball gag states that Judy was never that adventurous with him! Judy once again shows her vulnerable and innocent side referring to it as M&Ms!)
The choreography (Jeremy Tustin) was slick and precise, the live band added to the atmosphere but sadly was let down slightly by microphones that did not always pick up and gave some dreadful "feedback" during Act One. At times, particularly on opening lines of songs, the first words were missed mainly due to microphones and at times my friend and I struggled to hear parts and were left clueless as to what was happening in the storyline. This was a shame as the rest of the performance was such a fantastic performance. I also have to add that the lady sat behind us in H21 (I had to look this up in the interval as it was bothering me so much) thought it was perfectly acceptable to talk through the majority of the performance which was not only unfair to the hard work and dedication put in by the cast and entire production team, but to the rest of us around her, and really did not help with me trying to hear the performance.
I was overjoyed to see that EMTC's production for next spring is BETTY BLUE EYES, another musical I knew very little about until recently reviewing another Yorkshire Theatre Company's production earlier this year where I fell in love with the musical. After this evenings production I look forward to further performances by this fantastic local based theatre company.
9 to 5 is currently playing the Montgomery Theatre in the heart of the City Centre until Saturday 16th April. Tickets can be booked by calling 01142 364487. The theatre is a real hidden treasure but rather compact, so I urge you to book tickets now to avoid disappointment, this show has to be seen!
Reviewer: Lottie Davis-Browne
Reviewed: 12th April 2016