On the 25th of January 1996 Jonathan Larson passed away unexpectedly. That evening the result of 7 years work was scheduled to have its first preview Off Broadway. The show was RENT, a modern day version of La Bohème where the splendour of Puccini's world would be replaced with the coarseness and noise of New York. Larson came up with the title and suggested moving the setting from the Upper West Side to downtown, where Larson and his roommates lived in a rundown apartment. For a while, he and his roommates kept an illegal wood-burning stove because of lack of heat in their building, and he also dated a dancer for four years who sometimes left him for other men and eventually left him for a woman. Larson wanted to write about his own experience and today 20 years later this show is as powerful as the day it was first performed.
Tonight Tip Top Productions presented the schools version of the show at the Forum Studio Theatre in Chester and what an absolutely amazing job they did. To start with the Forum Theatre is a beautiful venue and almost made to stage this show. With entrances scattered around the two sided auditorium director Simon Phillips has made the most of the space available to him in with two sides of the venue given over to the audience seated in a 'L' shaped configuration.
It is hard to find fault with the cast assembled in Chester. Totalling 18 they all gave 100% from the beginning proving virtually faultless in the performance of this challenging score. Connor Grace as Jewish film maker Mark acts as narrator throughout the evening with confidence as he opens the show with Jake Hankey as Roger who is a singer songwriter, HIV positive, and boyfriend to Mimi (Catriona Hogg). Josh Hankey play Benny, the landlord that evicts Mark and Roger from their flat after going back on a deal for last year's rent. Brogan Craine and Abigail Sherratt play Maureen and Joanne respectively, they are in a stormy relationship which despite countless arguments and differences survives the test of time. And finally Alex Aram plays Tom Collins a part time philosophy professor who is in a relationship with transgender Angel (Dominic Melluish) who succumbs to Aids during the second act.
Each of the 8 principles above commanded the stage whenever they were on it with Melluish as Angel proving to be the most popular with the capacity audience with his flamboyant costumes and mannerisms. For me however the two stand out performers were Jake Hankey and Catriona Hogg as Roger and Mimi. They played out their tumultuous relationship perfectly with passion and anger, each battling their own demons and without realising it, supporting each other.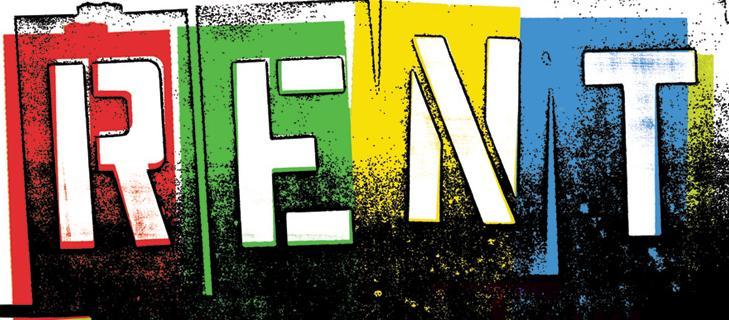 The supporting cast were also without fault. Taking on numerous roles each constantly changing costumes hung up on coat stands scattered around the stage. Vocally the ensemble were as strong as the principles which really became evident during the big numbers such as La Vie Bohème and Seasons of Love which featured some stunning solos.
I must also take a moment to congratulate Mark Shenton on what was an absolutely stunning lighting design, one of the best I have seen in amateur theatre. It was always on cue and involved superb use of the moving head lights, this was highlighted especially during 'What You Own' in the second act.
There were a couple of things that niggled me however tonight. The sound which on the whole was superb with a good balance between the vocals and band, something that would have been so easy to get wrong. The issue I had was that the desk missed a number of cues and microphones were not up in time for the start of various vocals. It was opening night tonight and I would assume that this will be rectified for the rest of the run. It was just a shame as for an almost faultless show the smallest issues seemed huge.
My final niggle, and you may thing this petty but I will mention it. The band were superb throughout dressed all in black in one corner of the stage. However MD Simon Phillips wore a grey T-Shirt. This became increasingly distracting as the evening went on. As I say, petty maybe but as with the sound issues the smallest things are magnified against an almost perfect backdrop.
RENT continues at the Forum Studio Theatre in Chester until the 20th February and if you get a chance I wouldn't miss this show. A ridiculous amount of young talent performing a very difficult show with consummate ease. It is only February bit this production is without question my favourite of 2016 to date.
Reviewer: Paul Downham
Reviewed: 11th February 2016