After last year's spectacular performance of musical comedy "The Addams Family" in October, by York based theatre company Pick Me Up, I was excited to see future productions of this highly talented bunch. I was delighted to see advertisements for 2016/2017 when I first introduced to this Theatre Company, as it was almost as if Director and theatre Genius Robert Readman had raided my private collection of theatre programmes of shows I have seen and adored in the last decade or so whilst working in London. There's Sweeney Todd and Assassins to come in August, (gutted I missed their production of Into the Woods in December 2014), my all-time favourite, Les Misérables later on this month, along with Gypsy billed for 2017. All of which are fantastic musicals and after seeing my second show by Pick Me Up Productions, I know that these popular musicals are going to be given what I now call the Readman Remedy, wowing audiences in York with outstanding high quality performances. I literally ooze with excitement for their upcoming performances!
I was a little apprehensive about seeing Betty Blue Eyes last night however, purely as it was a musical I knew nothing about after friends failed to tempt me to see it when it played in the West End in 2011, (with music by George Stiles and lyrics by Anthony Drewe) and it is a long standing joke amongst my theatre friends that I tend to only see shows I am familiar with over and over again yet avoid new unknown shows, however this is something I am trying to overcome!
I had a vague idea of what the story entailed and went along with an open mind. This was a new theatre venue for me (Friargate Theatre), and my first thought was how small and intimate it was once up the steep flight of stairs, but I loved this as it reminded me of several off West End Theatres such as Southwark Playhouse, Menier Chocolate Factory and St James' Theatre, where you really feel part of the production. The theatre walls and floors were plastered with World War II posters, which reminded me of school history classes and trips to nearby Eden Camp, both of which I adore! Bunting was hung along with a 1940s cartoon playing on a large screen and I instantly felt a rush of excitement for the magic I was about to witness! Cast members in stunning 1940s attire mingled amongst the audience (in character of course) offering retro sweets and general chit chat. We had bravely chosen front row seats (due to the size of the theatre this production is operating on an unreserved seating policy, which mirrors those named off West End theatres).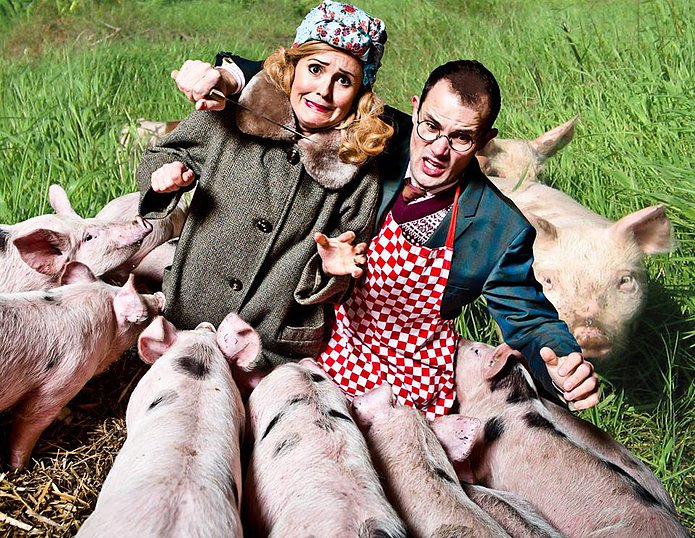 The show opened with the full cast, led by Sam Johnson on keyboard (Sam also appeared to be dressed in 1940s attire which I loved that they was in keeping with the era of the show!) with an overture "Austerity Britain" followed by "Fair Shares for all". The story is based on the 1984 movie "A Private Function" set in post war 1947, Ilkley, West Yorkshire, where despite the war ending two years ago, meat is still being rationed. When Princess Elizabeth is going to marry, a group of businessmen wants to impress (or probably bribe) the local government by giving a big party. They plan to slaughter an illegally raised pig for this event, a pig named Betty. Unfortunately plans go array when someone steals the pig.....
Joyce Chilvers and her Chiropodist husband Gilbert (played by Toni Feetenby and Adam Sowter), are one of the few not to be invited to this upcoming party, which is dubbed as a very "Private Function", Joyce is sick of being a "Nobody" and plans to show the rest of the village that she is a somebody. Toni plays the role of devoted wife and daughter perfectly and her voice in solo "Nobody" was amazing. Comedy comes from Joyce's mother, played by Louise Leaf who had the audience in stitches. The show is filled with laugh out loud gags and has to be the funniest musical I have ever seen (Book of Mormon comes in at a close second). The highlight of the show for me was the brilliant Susannah Baines as Mrs Metcalf seducing poor Gilbert in "Magic Fingers", not only was she hilarious but her voice was outstanding. A totally different role from her previous role as the Grandma in The Addams Family, showing just how diverse as a performer she really is. Betty herself was wonderfully realistic and believable, with Elanor Dunn as the puppeteer.
From start to finish the show was packed with laugh out loud and sometimes "oh my goodness did they really just do/say that" moments, catchy musical numbers and a fabulous 1940s jitterbug style dance in a flashback to when Joyce first met husband Gilbert. Myself along with the rest of the audience were even surprised to hear what we thought was meant to be an air raid siren at the end of the interval which actually turned out to be a fire alarm meaning the cast and audience were evacuated before the start of Act Two. However, as they say in musical theatre, the show must go on, and it certainly did. My only gripe is that despite a slight delay to act two starting, the show was over too soon (despite it being a couple of hours running time) and I was sad to see it come to an end and wish I had time to fit another visit in to see this spectacular performance before it closes on the 13th February.
This may have only have been my second production by this truly outstanding theatre company yet I feel such devotion to them already having been blown away and moved to tears of joy and sadness of their productions, I am constantly hungry for more of their sizzling shows! Roll on Les Misérables, playing at the Joseph Rowntree Theatre in York from 17th February 2016, but before then I urge you to catch this magnificent performance of Betty Blue Eyes, I am already thinking of ways to make a return before it closes later this month!
Reviewer: Lottie Davis-Browne
Reviewed: 5th February 2016