This is Alan Ayckbourn's 61st play - so I can be forgiven for not knowing it. It was written in 2002, and has not had very many airings since sadly. I don't know why - it's a great play. All the hallmark Ayckbourn is there; neurotic gossipy spinsters (which he does so well), everything seeming normal turning out to be exactly the opposite, simple and familiar situations exaggerated, and sparkling acerbic wit. Yet there is something else in this play that is not often seen in his other works; this play is a lot darker, less moments of true comedy, and there's a ghost - or is there??
Without giving too much away - since the joy of watching an Ayckbourn play is that you never really know how the play will end until it actually ends - he is the master of the denouement - this is a three-hander and is set in the garden of what we are lead to believe is a rather large, detached house in some disrepair somewhere in the north west of England. (There are references to Lytham and Southport). The older sister, who has a weak heart and takes medication for it, returns home from Tasmania on the news of the death of her father, somewhat jet-lagged to hear that not only is she the heir to the estate, but her seemingly alcoholic younger sister has assisted their father into the next world by pushing him down the stairs. Their father's nurse (carer) was dismissed but apparently has a letter from their father which implicates the younger sister in quadrupling his medication and planning his murder. She therefore comes back to blackmail them. It's a typical and perfect Ayckbourn set-up.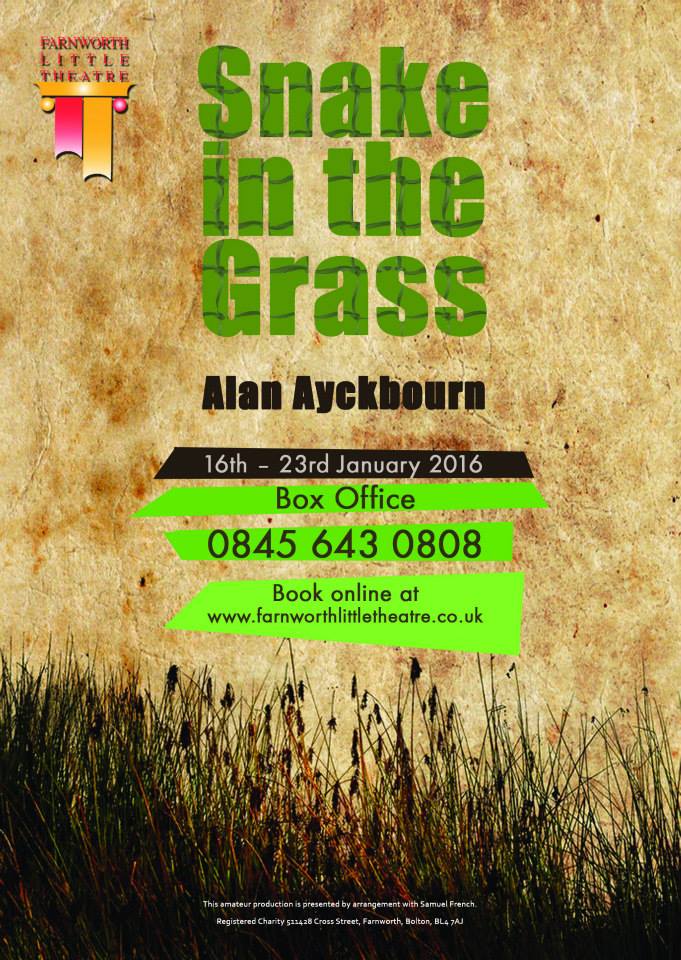 The older sister, Annabel (Annie) was played in this production by Jane Murphy. I would not be lying to say that this actress and her performance reminded me very much of when I saw a younger Judi Dench on the West End stage some years ago in a similar but completely different role. There was also a little Sandi Toksvig thrown in there for good measure too! The younger sister, Miriam, was played perfectly by Donna Cubbage; and together they made a totally believable pair. They worked with and off each other so well. Murphy's dry, hard veneer being scratched away little by little as the play progressed, and her dependence on the heart medication being totally forgotten by the end as so many other things cloud her mind and bring her to her eventual fate. Whilst Cubbage's switches from seemingly calm and caring normality to psychotic and scary were undeniably excellent.
The third character is of course the nurse, Alice, played by Charlotte Carlin. A very worthy performance here, but when faced with such powerhouse performances from the two sisters, Carlin's performance seemed to lack a certain sparkle. I think the basic problem for me was that I really had trouble believing that she could ever have been a carer to anyone.
My first opinion of the set by Sara Hassall was, 'Oh, how wonderful!', but as the play progressed, I became aware that as wonderful as the set truly was, it didn't really quite match the needs of the play. The Summerhouse occupied too much space and became our focal point, when in fact, it is hardly mentioned or used; whereas the exact opposite can be said of the tennis court, and only a miniscule area of DSR was given to that. One other thing too, that for me at least I would have liked to have seen, was some perspective in the set. A plain backcloth behind such a busy and naturalistic set simply didn't cut the mustard for me. The two ideas were at odds with each other and the set lacked not being able to put the garden into its surrounds.
Director, John Howarth, is a man who knows how to bring the best out of the text and obviously has a love and understanding of the playwright. It was very sensibly and competently directed, never becoming over-indulgent, never becoming silly. The only thing that I thought was somewhat long and unnecessary was the musical introductory interludes to each scene, especially the first which seemed to go on forever.
The lighting was very good, distinguishing day from evening and natural from artificial light; not easy on such a small stage with such a minimum capacity, and the ghost effects of self-chiming chimes, and self-rocking rocking chairs etc were indeed very cleverly produced.
This was my first visit to Farnworth Little Theatre, and as such, had no preconceptions of either the building itself ( a small converted church ) or the standard of their productions. This was a most excellent introduction to the society for me. An extremely high standard of performance on stage, and a very friendly welcoming atmosphere from the FOH. I hope to see many more shows there in the future!
Reviewer: Mark Dee
Reviewed: 16th January 2016