The Final Twist by Alfred Bradley and Ken Whitmore is a darkly comic tale about the construction of a murder thriller deliberately intended to mirror the real-life situation and character of those who are going to appear in it, and under the direction of David Hedges it takes more twists and turns than a roller coaster ride, keeping you intrigued and guessing until the very end about what and whom is being set up.
Sir Merlin Foster (Rick Young) is a vain, pompous, and self-styled greatest actor of his generation, who, carrying the burden of a string of flops and five ex-wives behind him, hires a struggling writer, Charlie Nicholson (Richard Parker), to write a play for him. But Charlie has a creative block - the result of gambling debts, a failed marriage, and his most recent play closing after one week - and he just can't write at all. But all is not lost as our famous thespian has in fact already got the plot lined up: a murder mystery containing the perfect method and alibi for Merlin to kill his beautiful and wealthy young wife.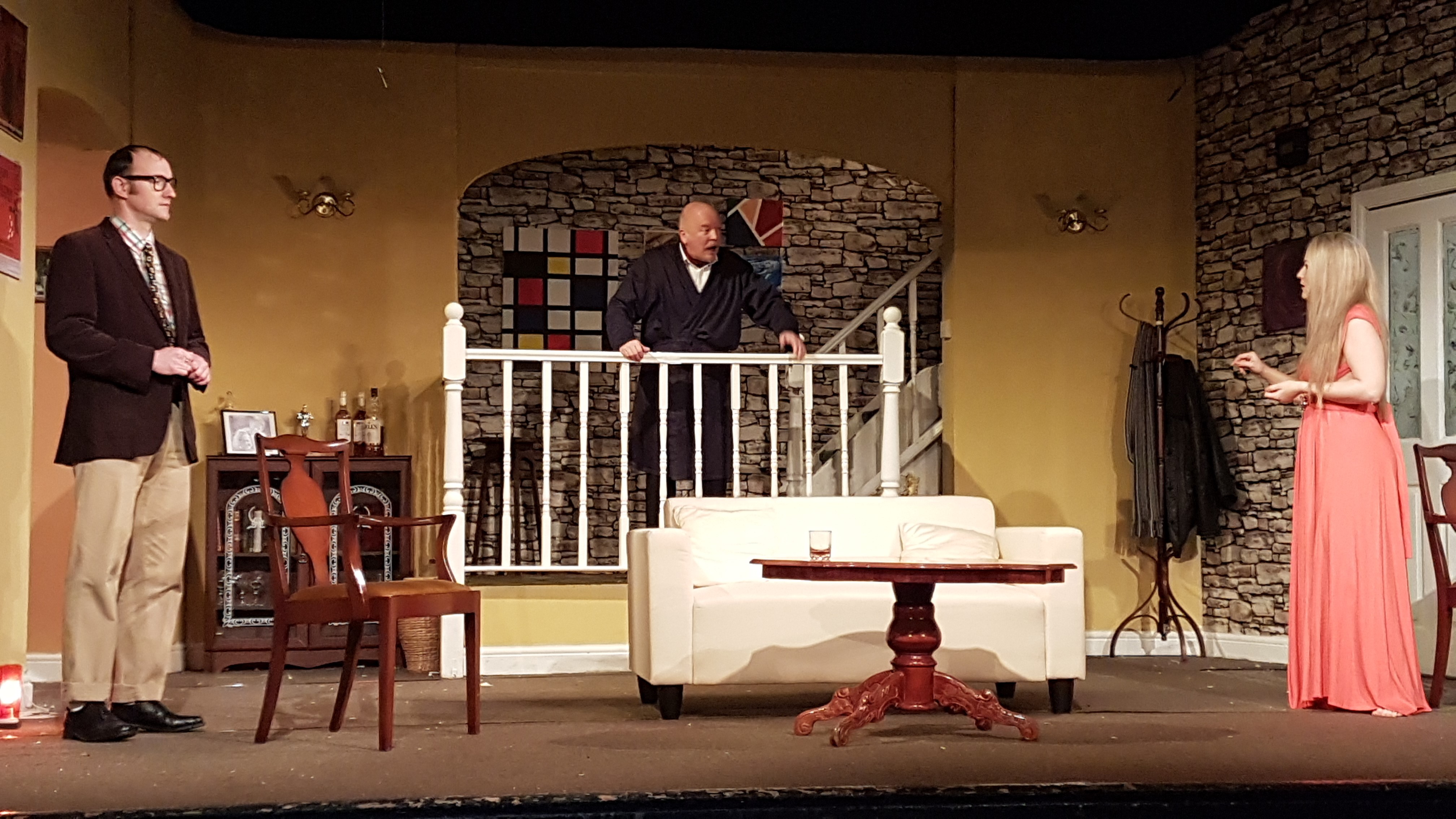 However, when Charlie gets to meet the horsey and alluring young Scottish wife, Eden Dundee (Jenny Martindale), his head is turned - even more so when she offers to help him clear his dues to intimidating debt collector Morten Rifles (George Lowe) - and he begins to question where this play may be heading: is it simply a fool proof plot for a play or is it something altogether more sinister? What can he do to cast its outcome in a better direction?
A play accommodating so many twists and turns, double crossing, and laughs, clearly must be well written but it isn't the surprises that make this such great entertainment: a successful performance relies upon direction and delivery which is where Hedges and cast excel. Young is superb as the outlandish Merlin, a part that could have been written for him as it allows his comic skills to perfectly come to the fore, and Parker equally thrives as the down at heel and nervous Charlie forever stumbling in the dark. Martindale is completely engaging as the feisty young wife with an air of eroticism surrounding her every move. For what is essentially a three-hander, Lowe does well to convey the sinister nature of an enforcer during his brief appearance.
The play is set wholly in the living room of Merlin's country cottage and the set design and construction by Parker and Rob Williams, complemented by the stage management of Graham Swift, is exquisite in every detail down to its wood-burning stove and Mondrian on the wall.
The Final Twist continues at Rainhill Village Hall 15th - 17th February with performances starting at 7.30pm. Tickets at £7.00 (£6.00 concessions) are available from Rainhill Village Hall, Rainhill Post Office, or ticket hotline 01744 813 429.
Rainhill Garrick Society are always on the lookout for new members, not only to appear on stage but to do all the myriad jobs beside: sound; lighting; backstage as well as construction, so if you're interested in getting involved then get in touch, they are a very friendly and welcoming bunch.
Rainhill Village Hall is within walking distance of Rainhill Station or alternatively there is free car parking available – post code L35 4LU. There are also some lovely restaurants and bars in and around the village if you want to treat yourself before the show and make a night of it.
Reviewer: Mark Davoren
Reviewed: 11th February 2018