"Stepping Out", described as 'a new gay play' has been written and directed by Will Cooper and is the latest production from 'The Grin Theatre'. Having reviewed this company before, I was delighted to return to see something different from the warm and wonderful 'Grin Theatre'.
"Stepping Out" tells the story of two teens who are soon to become step brothers when their parents tie the knot. The boys are preparing the church for the ceremony but end up getting locked in with no escape and only each other to talk to. Toby (Robert Bilbao) is loud and proud however Kevin (Duane Williams) is a little more quiet and anxious as he carries around his secret. The pair have a true love hate relationship but when things get heated, the unthinkable happens and family dynamics get even more complicated minutes before their parents, Graham (Mycroft Milverton) and Maxine (Nicola Hardman) are due to wed. Will the wedding happen? Will the boys become friends, brothers or maybe more?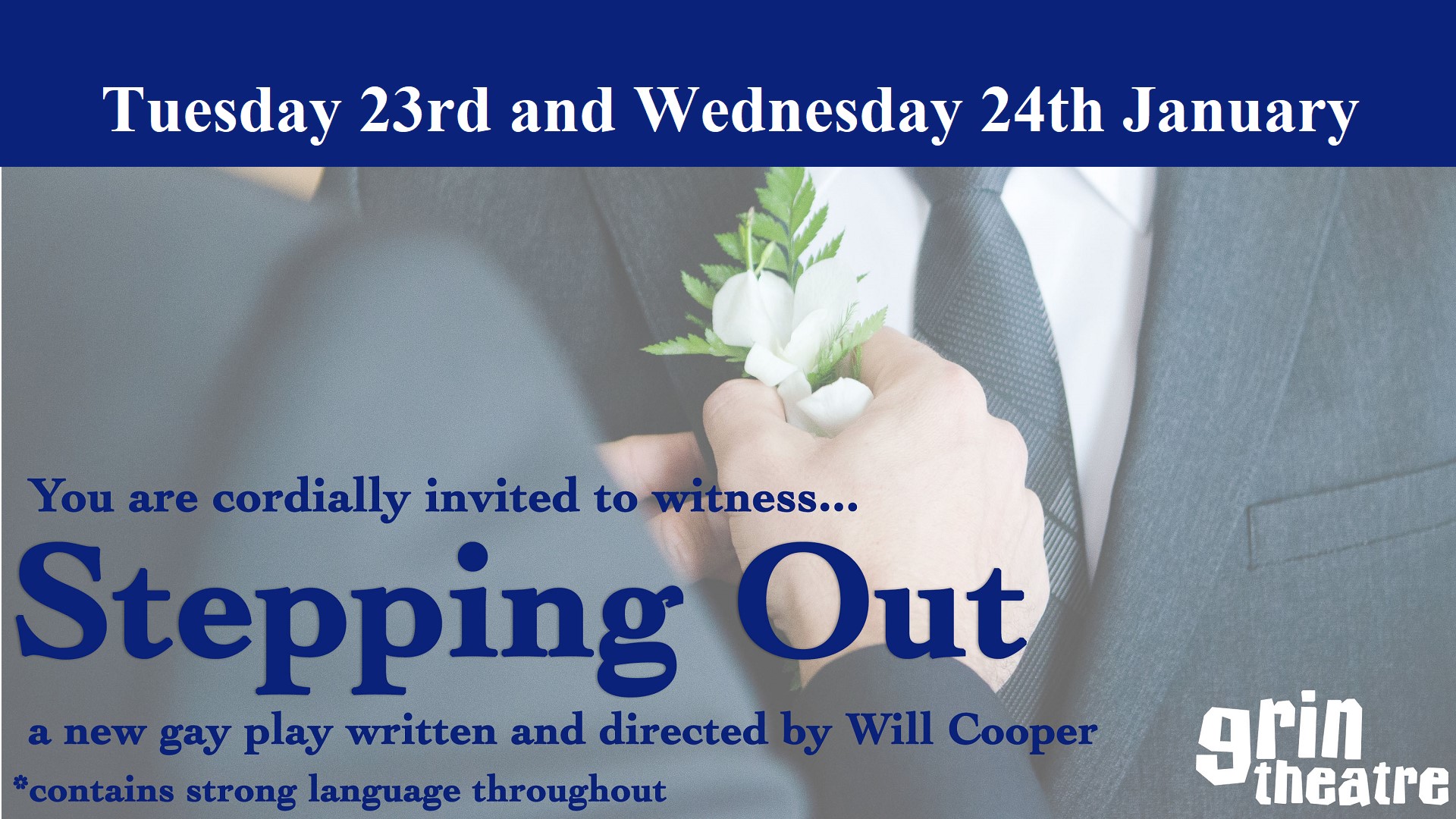 This show is cleverly written and jam packed with humour that meant the audience were engaged and laughing from the very start. Cooper has kept the script very real and there is something really genuine and honest in his writing that is endearing to the audience. I thoroughly enjoyed the sarcasm and many comedy moments, brilliantly delivered by all four actors. Bilbao looked totally at home in his sassy characterisation as he consistently delivered quality one liners. Similarly Williams was very believable and slick in his portrayal of Kevin, making the contemporary stresses he faces very visible. Hardman and Milverton were perfect opposites and gave the audience lots of laughs as well as food for thought bringing up important themes of judgement, perception and acceptance.
The performance was set within a church with flashbacks to significant moments created through lighting changes. This worked well and the actor's use of the audience seating helped to create a free flowing and interesting structure. First night nerves were apparent and the pace was lost on a few occasions, possibly due to the magnitude of lines learnt by the two lead actors in particular but this was generally well salvaged and the play kept the audience attention throughout.
This production highlighted some frightening truths and realities that the LGBTQIA community are still facing living in the modern world, thanks to Will Cooper with this wonderful piece of theatre. It is a strong storyline that brings serious matters of hate crime, prejudice and unjust to the fore whilst also remaining both witty and hilarious throughout. "Stepping Out" got a warm reception and wonderfully big audience tonight at the lovely setting of 81 Renshaw Street. The show continues tomorrow, 24th January 2018 and I advise getting there early to avoid disappointment.
Reviewer: Bláthíne Maguire
Reviewed: 23rd January 2018