Picture the scene: a remote Lake District hotel, a roaring log fire, a spooky wind blowing outside...all the ingredients for the perfect setting for a bit of murder on a Monday night.
"Stone Cold Murder" written by James Cawood is the current production by the Player's Theatre in Cheadle Hulme. We are introduced to Olivia and Robert, a newly married couple who have taken over the running of a Lake District hotel which has just closed for the winter.
Olivia, played by Lorna Kong, is the one character in the play who is on the stage the whole time and she does a sterling job at playing the part of a nervous, paranoid woman who is clearly trying to leave her mysterious past behind her. This includes a sinister ex-boyfriend who she is terrified will catch up with her.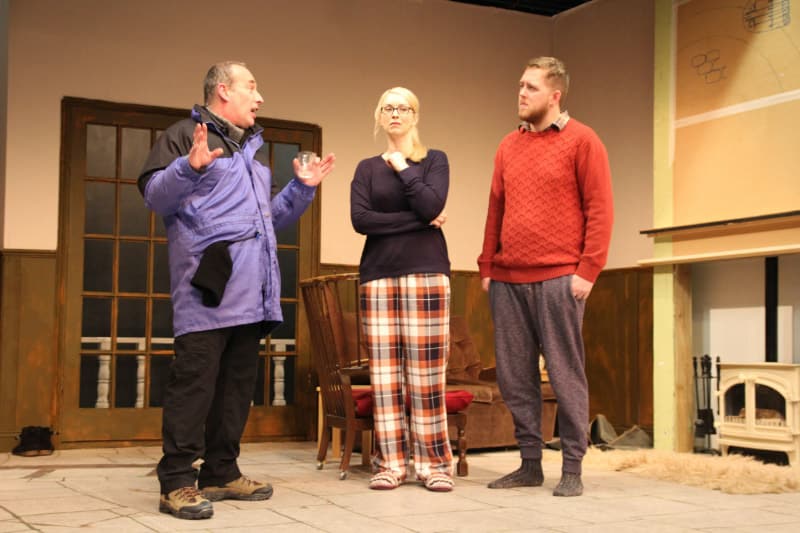 Lorna was extremely compelling, particularly when she interacted with Ramsay (Lee McGregor). Her mistrust of him was palpable and extremely believable. We do start to question Olivia's sanity as her paranoia builds and she does appear to lose the plot at one point. I did like her reactions to Ramsay – at certain timesshe was just staring at him with undisguised hostility and it was very convincing. Her obvious distrust of him was very strongly portrayed. Ramsay himself is a mysterious character, a little odd and you can't decide whether he's good or bad. Lee's portrayal was well measured and plausible.
Ash McDowell, who plays Robert, has to play his character in two different ways and the difference is well marked and clearly defined. Never judgea book by its "knitwear model" cover!
We are introduced to Sam (Ian Tyler), whois an aggressive, unpleasant character right from the start. Ian managed to inject a little humour into his portrayal which was well placed and amusing. It is clear from the off that Samis an unpredictable, angry man with an axe to grind.
The first half set the scene excellently with a good build-up of intrigueand mystery. It was quite creepy at times! The sound effect of the wind was fantastic, extremely atmospheric and quite eerie and was used very well to signify moments of drama. As the first half drew to a close, the tension between the characters was tangibleand I really couldn't imaginewhat was going to happen and how things would turn out.
The second half had a bit more action with several reveals and as expected, there were more twists and turns than a country lane. Whilstthe actors carried the story very well, I felt the plot did become slightly implausible as the body count started to rise but maybe I'm being unreasonable as it is a play, not a documentary! This is not to cast any aspersions on the acting or characterisation, however.
The set was wonderful – very authentically laid out as a small country hotel reception area with a log fire. It was quite cosy and made me want to go for a hill walk just so I could come in and sit by that (also very convincing) log fire! Huge congratulations to all those involved in building the set, it is fantastic.
It is always a pleasure to visit the Player's theatre (and not just because of the marvellous hospitality they always provide). This truly is a community theatre right at the heart of the community and it runs on the passion and love that everyone involved clearly has for every single production.
Stone Cold Murder runs until 25th November.
Reviewer: Nicky Lambert
Reviewed: 20th November 2017