A Sharp Laugh-Out Loud Comedy
Samuel Beckett once observed that nothing is as funny as other people's unhappiness, and so Rainhill Garrick Society's season-opening production of Alan Ayckbourn's Season's Greetings is a perfect choice as we approach the ten-week countdown to Christmas with this black, farcical comedy exploring the life of a dysfunctional family over the festive period when people who may not actually like each other are forced to spend far too much time together with no prospect of escape.
It is Christmas Eve and Neville (Gerald Walker) and his wife Belinda (Judith Martindale) are the hosts entertaining lacklustre former colleague Eddie (Tim Evans) and his yet again heavily pregnant wife Pattie (Sophie Brogan), as well as Neville's accident-prone sister Phyllis (Lynn Aconley) and her hapless GP of a husband, Bernard (George Lowe), who is preparing for his annual puppet show to entertain the children who remain off-stage throughout.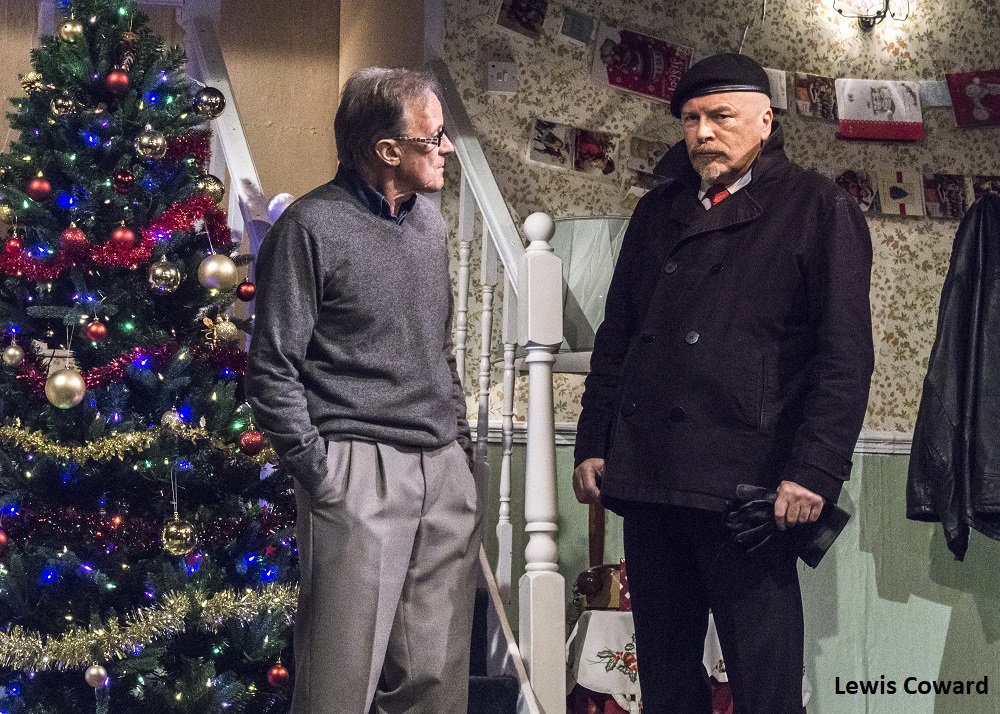 Belinda's emotionally muddled sister Rachel (Alison Mawdsley) is also present, anxiously awaiting the arrival of her somewhat beau Clive (Rob Williams), a writer of precisely one book which no one has read.
But if you're going to set things off with a bang then you need Neville and Phyllis' near psychopathic uncle, Harvey (Rick Young), boasting 30+ years of experience as a security guard and who, armed and dangerous, has a few surprises of his own in store. Add alcohol and an illicit sexual tryst and the emotional carnage that follows is a joy to watch as director Ann Brian wrings the hilarity out of every bit of misery and cruelty that ensues over the following days, and which had me laughing out loud throughout.
Ayckbourn is sometimes criticised for his slow starts but don't be misled, this only serves to set the scene perfectly and to lull you into a false sense of what is about to happen as darker undertones playfully come to the fore.
Sharply written dialogue demands crisp delivery and we have that in droves here: I like to think of Rainhill Garrick Society as a family so there is a certain irony as the comfort and ease of the cast with each other lends itself perfectly to this production with superb performances from all. Walker and Martindale comfortably capture the boredom and neglect that can infect a marriage in which neither party is happy and both feel unloved. Young was already in my mind on my way to the theatre as the perfect person to play Harvey and so I was thrilled to see him delightfully menace and mither throughout.
Set design by Richard Parker with construction by Williams and team impressively captured every room of the house in which the action unfolds as well as where it doesn't. The clever split-staging without any walls ensures that the audience don't miss out on anything as well as allowing the cast to cleverly interplay - exactly as Ayckbourn would want it. Stage management and lighting by Graham Swift and sound by Tracey Duffy serve to add the necessary finesse to this wonderfully entertaining production.
Season's Greetings plays at Rainhill Village Hall on Thursday 12th, Friday 13th and Saturday 14th October 2017 with performances starting at 7.30pm. Tickets at £6 (£5 concessions) are available at Rainhill Village Post Office or by calling 01744 813429.
Rainhill Village Hall is within walking distance of Rainhill Station or alternatively there is free car parking available – post code L35 4LU. There are also some lovely restaurants and bars in and around the village if you want to treat yourself before the show and make a night of it.
Reviewer: Mark Davoren
Reviewed: 8th October 2017