Shakespeare at its comedic and challenging best
Hats off to director Lauren Steele for challenging the misguided unpopularity of this play as there is so much more to it than its title suggests, the key to which is its sadly often-omitted Induction when drunken tinker Christopher Sly (Matthew Hanlon) is conned by the Hostess (Eve Smith) into believing he is a lord and about to watch a play; it is this 'play-within-a-play' that becomes the rest of The Taming of the Shrew and it is meant to be farcical and fantastic in equal measure and which this production, combining one of LNT's strongest casts, achieves with aplomb.
Young noble, Lucentio (Cameron Steen) arrives in Padua to study, much to the chagrin of one servant, Tranio (Sandra Tschakert) and the confusion of another, Biondello (Tahreen Kutub). As he quickly falls in love with Bianca (Leah Wallace), the beautiful younger daughter of wealthy Baptista Minola (Will O'Neill), there is stiff competition from the aged Gremio (Holly Gilson) and younger Hortensio (Alan Molyneux) who is in turn admired by a widow (Jess Ashcroft).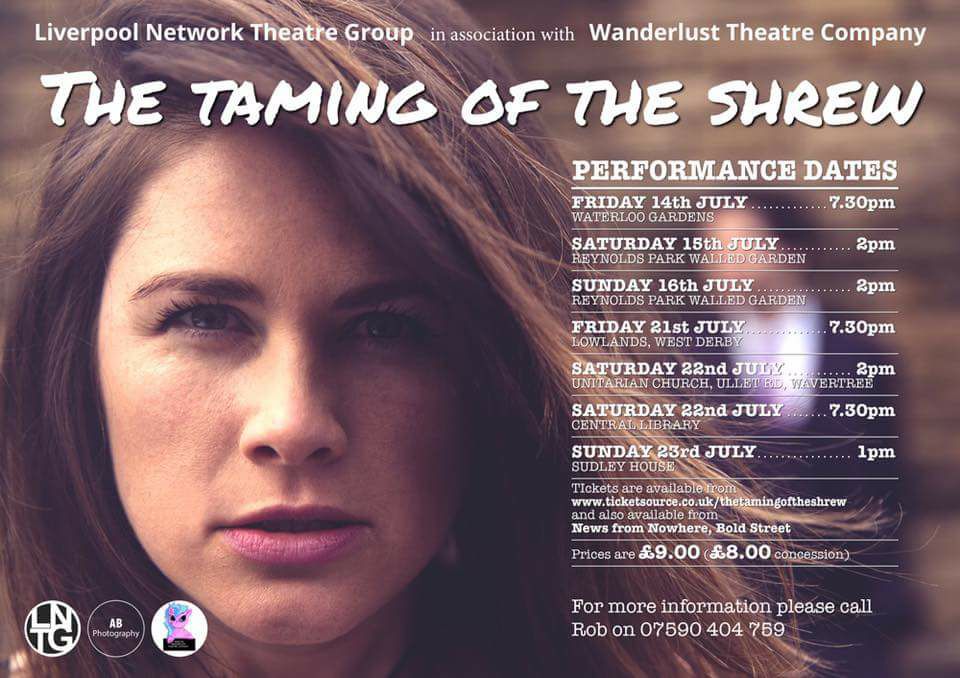 Baptista has made it clear that a husband must first be found for older daughter Katherina (Stephanie Barr), and so the suitors hatch a plan with help arriving in the form of Petruchio (Olee Bass) and his trusty servant Grumio (Beth Easton). Lucentio then decides he needs a plan of his own to outwit the competition and secure Bianca's hand, but the problem with plans is they unravel when you least expect it – like when your father, Vincentio (Frank Kennedy) turns up unannounced.
All awhile the main plot steamrollers on as Katherina appears to meet her match with Petruchio playing her at her own game: despite the modern misgivings, I always felt this pair well-suited and if ever a sequel deserved to be written…but let's not forget either in our 'modern age' that some cultures still subjugate women into marriage and worse, so surely it's good when an intelligent and energetic production like this shines a light on such matters – isn't that what we use black humour for? The audience were amused and enthralled tonight but left with food for thought - that is how it should be.
An all-star cast were at the top of their game with some delightful combinations coming together, notably Steen/Tschakert/Kutub, and Bass/Easton/Barr. Good to see Molyneux back in action; pleasing to see Wallace's progression from last summer's excellent Lorenzo (The Merchant of Venice); O'Neill prolongs the debate as to whether he should act or direct (I think both); Gilson, Hanlon, Ashcroft, and Smith give sterling support throughout, whilst Kennedy provided the coup de grace befitting of the theatre grandee he is. Run extremely close by Steen and Bass, Easton had me hooked every time she appeared, although I'm looking forward to everyone's next project.
Waterloo Gardens (http://www.fowsg.co.uk/) is a delightful venue of which the set/stage management by Brian Shortall and Priyanka Bedia took full advantage whilst Rob Steele's steady hand kept the pace flowing with some perfect musical accompaniment alongside period-perfect costumes from Audrey Helliar.
The Taming of The Shrew next performs:
Saturday 15th July @ 2pm Reynolds Park Walled Garden
Sunday 16th July @ 2pm Reynolds Park Walled Garden
Friday 21st July @ 7.30pm Lowlands, West Derby
Saturday 22nd July @ 2pm Unitarian Church, Ullet Road, Wavertree
Saturday 22nd July @ 7.30pm Central Library, Liverpool
Sunday 23rd July @ 1pm Sudley House, Mossley Hill
Tickets are available from www.ticketsource.co.uk/thetamingoftheshrew and also available from News From Nowhere, Bold Street
Reviewer: Mark Davoren
Reviewed: 14th July 2017