In 2016 Grin Theatre and Writing on the Wall (WoW) launched 'The Play's The Thing' project at the Everyman Theatre in Liverpool, which consists of a 10-week course to introduce local writers to writing for the stage under the mentorship of Grin Theatre's Artistic Director, Kiefer Williams, and the aim that each writer will produce a 30-minute script by the end of the course with the winning pieces going on to full production.
Tonight's one-off event was to perform the winning submission from 2016, Recoil by Georgie Madeley, with actors from Grin Theatre under the direction of James Fennell, as well as a script in hand reading of the winning submission from 2017, Twister by Ian Gray, and it was great to see an almost full-house in support.
In Recoil, Gabriel (Daniel Anderson) arrives at the family home of his boyfriend, Micky, in anticipation of them coming out to Micky's family. On being greeted by Micky's sister, Kate (Rachel McKeown), they discover that an unknown attacker has begun a mass shooting in a gay bar in the nearby town, and Micky's mother (Roxanne Male) and father (Liam Murphy) are forced to come to terms with the fact that not only is their son gay, but since he isn't answering his phone, he may well be caught up in the incident and nobody knows when, or if, he will come home.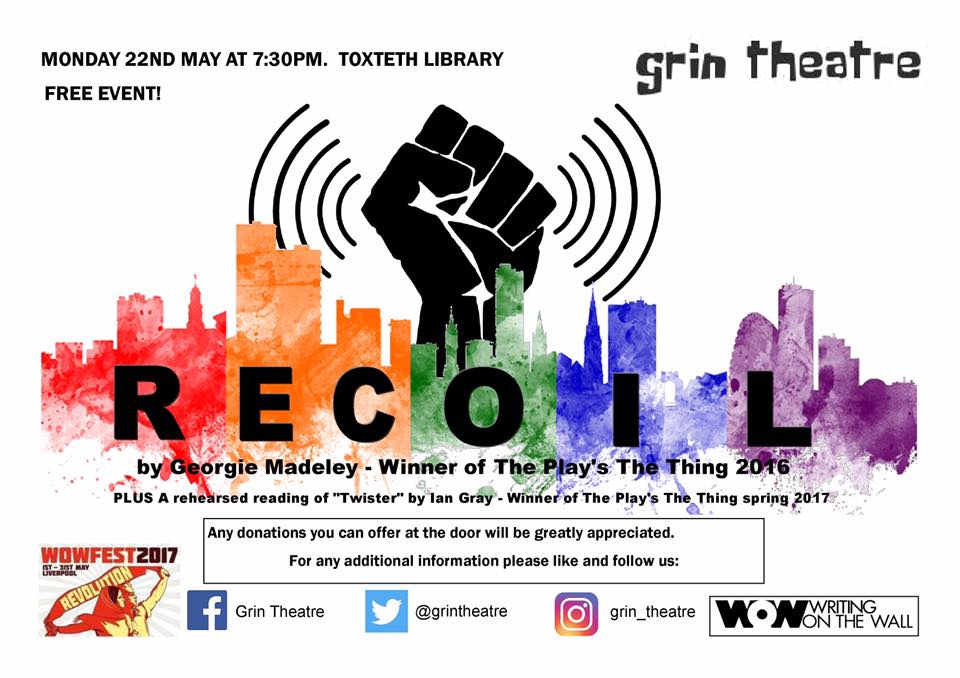 I like the premise behind this play which offers a great opportunity to explore a full gamut of emotions as secrets are revealed whilst worries unfold, however I found aspects of the writing a little cliched and heavy-handed, and sometimes it was unclear to what extent elements were being played for comic or serious effect, which became more evident in the differing approach of cast members to the script. I felt a little short-changed by the set that with a little more imagination could have been quite transformative in how the play was delivered, which is a shame because within the context of the overwhelming tragedy hanging over this intriguing piece, there is a great opportunity to explore its subtext of being gay and what that means to all involved.
In Twister, we meet Grobodkin (Anderson), who has apparently been arrested and brought to a cell by a guard (Male) with a Major Roscoff (Murphy) leading the interrogation, with directions voiced by McKeown. This is a taut and tense psychological drama where all is not as it first seems and there is very much a twist in the tale. The cast, and in particular Murphy, conveyed not only the mood of their characters but also of the piece itself very well and I look forward to seeing a full production in due course.
Tonight's venue was Toxteth Library, an architectural delight of domes, roof lights, and artistic murals which was opened in 1902 by Andrew Carnegie. As well as being a public library, it is also home to WoW and tonight's production, hosted by Emma Hulme, is part of their current WOWFest2017 which runs to 26th May. Further information on WOW including details of community projects and competitions can be found at www.writingonthewall.org.uk
Grin Theatre is Liverpool's longest running LGBT+ friendly theatre company producing provocative and engaging fringe theatre in Liverpool. As the world thankfully becomes more open-minded and embracing, it is now diversifying to include more mainstream theatre in its repertoire. Further details http://www.grintheatre.com/
Reviewer: Mark Davoren
Date: 22nd May 2017